Thursday, 22 January 2009

How to build audience for your station's internet site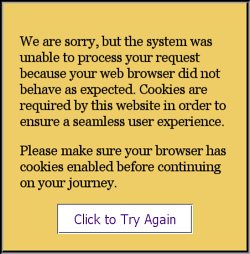 If your website requires cookies for normal navigation, then fire your webmaster.
And besides, "cookies required" is
so 1990s
.
(Spotted at
700wlw.com
.
UPDATE
090123 18:20
: and
The Telegraph
.)
Posted by: Old Grouch in Radio at 21:56:43 GMT | No Comments | Add Comment
Post contains 39 words, total size 1 kb.
Wednesday, 21 January 2009

Still think registration is a good idea?
For those who might care, I've added an update to
this post
.
Posted by: Old Grouch in Radio at 17:59:19 GMT | No Comments | Add Comment
Post contains 19 words, total size 1 kb.

Monday, 29 December 2008

How to build audience for your internet stream
(Not!)


UPDATE
090121 17:55
:
The $300 million button
(HT:
Infinite Dial
)
Posted by: Old Grouch in Radio at 20:29:10 GMT | No Comments | Add Comment
Post contains 28 words, total size 1 kb.
Sunday, 23 November 2008

"...the Liberal Talk Radio Welfare Act of 2009"
Brian Maloney
spots
liberal columnists playing the "paranoid" card:
Quick to protect their Dear Leader from criticism over plans to crack down on political dissent, liberal newspaper columnists have gone on the offensive, blaming talk hosts themselves for daring to suggest the medium may soon be shut down.

It's a classic case of running interference: cover for Obama by calling his intended targets "paranoid"...
"Fairness" isn't going away, despite what they'd like you to believe.
Read the whole thing
.
Posted by: Old Grouch in Radio at 18:01:19 GMT | No Comments | Add Comment
Post contains 85 words, total size 1 kb.
Wednesday, 15 October 2008

The perception is: Your product sucks
Emmis Communications CEO
Jeff Smulyan
:
"The challenge is not really the content. The challenge is the perception. If the content were as bad as some of our critics say, listening would have declined precipitously. It hasn't. It has fragmented less than almost any form of conventional media. The problem is, you must deal with the perception problem."
To be fair (and not take the quote– from Emmis's second quarter earnings conference call– too far out of context), Smulyan is talking about the perception of big market advertising agencies ("
[They]
are saying radio's over.") and of investors ("...If the
[radio]
industry is still viable, which we think it is, reaching 260 million people a week, then it's been oversold.") Both points are true (or arguably true).
"...Up until this time, there wasn't a perception that the radio industry was sort of dead."
So why this perception. What changed?
Dave Wilson
:
...Consider the things drawing

[consumers]

away from free local radio.

Satellite radio offers hundreds more channels than free local radio. Internet radio offers thousands more channels than free local radio. GPS devices let consumers get traffic and weather information instantly, without having to wait for the next report on free local radio. And the list goes on.
...
...Programming is a very significant part of the puzzle, and that the changes that occurred in this area post-1996 have generally resulted in many listeners having a lower opinion of AM/FM radio.

...Local content is important to many, but...far more damaging than less local content, in my view, was the increase in the number of spots broadcasters had to run to pay off the loans they took out to buy up other stations.

...Broadcasters loaded up their schedules with so many spots... that listeners began to perceive that the ratio of spots to desired content was out of balance.

Radio's collective behavior in this regard was typical of a monopoly...: abusing the consumer in terms of jamming more and more commercials into the mix.
And abused consumers will opt out, given any reasonable opportunity.
So who's right? Seems to me that the ad agencies (answerable to their clents, and thus strongly aware of the effectiveness of any media they use) and the investors (any of whom can judge the quality of radio's product simply by tuning in) have (re)discovered two things: Too many spots make each one less effective. And, lousy programming makes people tune out.
Truths,
not "perception."
For Smulyan to say that "the challenge is not really content" is, shall we say, naïve? Because content, far more than handwaving, statistics, or political action,
does
influence perception. And for radio, right now, the perception seems to be, "your product sucks."
Elsewhere:
Posted by: Old Grouch in Radio at 01:21:09 GMT | No Comments | Add Comment
Post contains 471 words, total size 5 kb.
Tuesday, 16 September 2008

Don't rely on your radio
Epic fail in Cincinnati:
WLW news light must be burnt out
Posted by: John • Sunday, September 14 at 06:24:22 pm

My brother-in-law, who lives in the Cincinnati area, called me because he knows I'm a radio nerd... His power's been out for 4 hours, and with the storms that have blown through today

[Sunday - o.g.]

(700,000+ customers without power in the tri-state area). His one source for news, was his battery-powered radio, and he was wondering if there was a radio station that would have coverage. WLW? Nope, the Reds are more important. WXVU? Nope. WKRC? No, but ironically the intro for the

[weekend repeat of syndicated]

Glenn Beck show samples some old cold war civil defense message telling folks to grab a radio and go to a fall out shelter. At this rate,

if we ever did have to tune-in from a fallout shelter, I'm not optimistic there'd be anyone left on the payroll at these radio stations who'd know what to do.
2 million people without power across Ohio.
620,000 still without power
(24 hours later) in Duke Energy's service area (Cincinnati and environs). States of emergency declared in Ohio and Kentucky. Station boss's response:
"In hindsight, I should have pulled the Reds"
Gee, ya think so?
(Sunday morning I had breakfast with the Sibling-In-Law in Columbus, Indiana. On the way home, shortly before noon, I drove past the building at 3212 Washington Street that houses
three
.
radio
.
stations
. The parking lot was empty, and Sunday morning
's
paper still lay on the building's front steps.)
Posted by: Old Grouch in Radio at 00:07:13 GMT | Comments (1) | Add Comment
Post contains 252 words, total size 4 kb.
Monday, 18 August 2008

Clueless, yet again
Today's Executive Branch WTF:
Ten days before Russian tanks and infantry invaded the democratic and pro-Western Republic of Georgia,

the federal government's Broadcasting Board of Governors (BBG) terminated all Voice of America (VoA) radio broadcasts to Russia

,

The Washington Examiner

has learned. This means that throughout the still unfolding international crisis, a key communications tool that helped win the Cold War for the United States has been mute...

VoA employees are still working overtime to broadcast to Georgia, but they have also been informed that their mics

will go dead Sept. 30.

Dismantling such a proven means of communication with people trapped inside hostile regimes is so

astonishingly stupid

, it makes one wonder what planet members of the BBG board have been living on. - Washington Examiner
How about "indifferent to American interests?" No, "Astonishingly stupid" it is!
Too bad there's nobody home at the White House.
Naming names:
Via:
Instapundit
Previously:
Posted by: Old Grouch in Radio at 17:41:05 GMT | No Comments | Add Comment
Post contains 204 words, total size 3 kb.
Thursday, 07 August 2008

Here it comes
The new competition:
We have an old high-milage beater Dodge minivan that we use to transport the dogs to the vet and the kennel with and to rescue other stranded dogs and cats from the pound to take to their new adoptive families. It's not pretty, but it has a neat stereo input jack to plug in two RCA plugs..so I connected my Palm Treo to the AUX input.. Within minutes I was hearing streaming audio from KOOL in Phoenix, KIXI in Seattle, KAAM in Dallas...and on and on..even Rivera Radio in Monaco..and it sounded right up there with Sirius or XM. Not quite FM, but not as bad as a cassette.
...
I could even hear those kids on WKID in my CAR in Atlanta! And Old Time Radio shows from Philly..and Country music from Canada, and Classic Rock from an online only station in Savannah..and on and on and on..forever! Adult Standards if I want them..when I want them..from Los Angeles, and New York City, and Grants, New Mexico. There is a guy streaming lounge music in Elko, Nevada...Wow..I'm a kid again! - Jeff Laurence, posting at Radio-Info
Do you remember the last time
anybody
got this enthusiastic about radio in the car? (I think it was around the time FM stereo was introduced.)
Posted by: Old Grouch in Radio at 12:53:01 GMT | Comments (1) | Add Comment
Post contains 217 words, total size 2 kb.
Wednesday, 06 August 2008

90kb generated in CPU 0.04, elapsed 0.1498 seconds.
52 queries taking 0.1133 seconds, 149 records returned.
Powered by Minx 1.1.6c-pink.