Tuesday, 27 December 2011

Old-School bloggery, now in "print"
Old News but Good News

Department
Assembling
this comment
in honor of Bill Quick's 10th Blogiversary led me to revisit some long-dormant links in my blog list. Imagine my pleasure to discover that Will Warren, whose
trenchant verses
offered clarity and encouragement in the days after 9/11, has assembled them into a Kindle book.
(Actually, he did it over a year ago.
Why have I not heard of this?
)
I'm off to snag my own copy [
right here!
], but on my way out the door I'll give
Unremitting Verse
an unreserved recommendation, sight unseen.
Posted by: Old Grouch in Reviews at 18:42:26 GMT | No Comments | Add Comment
Post contains 98 words, total size 2 kb.
Sunday, 21 February 2010

Recent reading - quickies
O.G. has been been casting about for some titles to expand my fantasy library... with decidedly mixed results.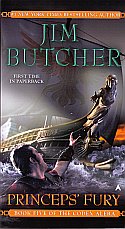 Jim Butcher:
Codex Alera 5: Princeps' Fury

So, what are you gonna do for an encore?
-or-
With Ten Million Screaming Extras!

In
Captain's Fury,
the previous volume of Jim Butcher's non-vampire alternate-universe fantasy, the author brought things to a climax (and knocked out the rebel forces) by igniting a dormant volcano beneath a city, killing the entire populace. In
this
volume, he begins by depopulating an entire continent (off camera), then, later, setting off
another
volcano. Which destroys
another
city. And what's left of its defenders.
And
an invading army. As well as killing off the ruler of the empire, which will leave Butcher's heir-to-the-throne hero to finish things up in Book 6 - that's provided he can overcome his political rivals and defeat the invaders and their collaborators. The finish of
Princeps' Fury
brought to mind Raymond Feist's Riftwar Saga,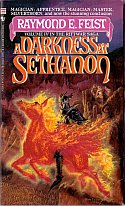 in which the Final Magical Confrontation That Wraps Everything Up pales in comparison to the demolition of the city of Armengar - and the destruction of most of a besieging army - that comes half way through the final volume. Caution: Piling special effect on top of special effect eventually palls, just as the repeated massacres of thousands, and tens of thousands eventually numbs. Can you say "peaking early"?
Butcher has at least one more book to go in his
Codex
, and I'm wondering what he'll do to top this one... blow up the planet? Fortunately for him, unlike filmmakers, fiction writers don't have to meet payroll for their disaster-fodder.
Will I get the next book?
Oh, hell yes, if only to see if Butcher can manage to crank things up to 11 without crossing the line into total unbelievablity..
Reread potential?
Unless book 6 turns out to be totally hokey.
-----

Steven Erikson: The Mazalan Book of the Fallen:
Volume 1:
Gardens of the Moon
Volume 3(?):
Memories of Ice
We talked and talked
and talked some more.
We talked so much
it was a bore.

Haven't quite figured out how the series fits together:
Gardens of the Moon
is the only book that carries a volume number, and there's another book -
Deadhouse Gates
- that appears to fall between these two.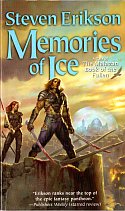 A satisfying read through
Gardens
sent me in search of
Gates,
which my bookseller didn't have. It did, however, have
Memories,
and, eager to continue, I grabbed that one.
My first discovery was that
nothing whatever
appears to have happened between the end of volume 1 and the beginning of the putative volume 3. That turned out to be a feature, not a bug, as I had been expecting to have to catch myself up with the plot. Perhaps there's an alternate storyline in the second book, although in view of my experience with
Memories,
it
could
be possible that, indeed,
nothing whatever
actually does(n't) happen
in volume 2. I guess I'll find out whenever I acquire a copy. At any rate, I didn't miss
Gates
one bit.
Erikson's world includes several sentinent species, and he does a good job of constructing memorable characters from each of them (although one human, a Cowardly Fat Rogue Who Is More Than He Seems, is an obvious borrow from Glenn Cook's Dread Empire series). The action in these volumes takes place on a tiny fraction of the area described by the included maps; presumably all those other lands will be explored in books yet to come. Erikson's spectacular special effect is The Moon's Spawn, a magical flying mountain inhabited by one of his species.
Many of the characters who figured in
Gardens
reappear in
Memories,
but despite that, and despite a plot that catches you up in it, as I read on I found
more...
Posted by: Old Grouch in Reviews at 02:42:34 GMT | No Comments | Add Comment
Post contains 1194 words, total size 11 kb.
Monday, 05 January 2009

Good Time Music
If the name
Ferde Grofé
prompts any recognition today, it's most often for being the composer of the
Grand Canyon Suite
, or as the arranger/orchestrator for George Gershwin's
Rhapsody In Blue
. But Grofé had a long career as performer, arranger, and composer, beginning as an accompanist and bar musician, then working for Paul Whiteman as pianist and arranger, going on to lead radio orchestras, teach at the Julliard School, write symphonic works, and compose three film scores. Along the way he
recorded 64 piano rolls for the Ampico company, and 23 of them have just been made available, played on a restored Reproducing Piano, on this compact disc.
Grofé made his roll recordings between 1924 and 1927, a period when he was playing in the Whiteman orchestra. The ones on this cd are all "pop" (at the time, they would probably have been called "jazz")... popular music and showtunes recorded at dance tempo, often "with words (printed on the roll, so they'd scoll by as it was played) for singing." Some rolls are pure Grofé– reproducing exactly what he played, while others (marked "
Played by FERDE GROFÉ Assist'd
") had additional notes or phrases added to the artist's initial recording to fill out the sound and make the arrangement more interesting. All were produced using Ampico's "Reproducing" system, which encoded the pianist's pedalling and dynamics, as well as the notes he played.
These recordings are just plain fun! With the CD's "living room" acoustic, the Pierian folks have captured what it must have been like to sit (or dance!) around the 'ol (player) piano back in the 1920s. Grofé's playing is dazzling, the music is cheerful, and the sound (suggestion: Play at "performance volume") is first-rate. The songs themselves are guaranteed toe-tappers from the earliest years of the Great American Songbook, and if they all aren't instantly familiar, they should be. Liner notes are extensive, just too bad they didn't include those "words for singing."
Here's a little "Charlie, My Boy,"
just for a taste
.
The details:
THE ROARING 20's!
Original Popular Piano Recordings for Dancing & Singing 1924-1927
Played by FERDE GROFÉ, pianist & arranger

Tracks:

Limehouse Blues, Hard Hearted Hanna, Somebody Loves Me, It Had to Be You, Please, etc.,

total 23 tracks, 71 minutes


Ferde Grofé (from Ampico reproducing piano rolls)
Pierian Recording Society
[1]
PIR 0033 [
Amazon
]
September, 2008
(And if you find you enjoyed this one, check out PIR0029: "Let's Face The Music and Dance.")
Related:
­
-----
[1] Distributed by Albany Music Distributors, Albany, NY. Orderable through any decent record store.

Posted by: Old Grouch in Reviews at 22:26:37 GMT | No Comments | Add Comment
Post contains 448 words, total size 5 kb.
Saturday, 17 May 2008

Losing the Context: What's so funny?
A search for an illustration the other day (
this one
, if you
must
know), sent me thumbing through my ancient
[1]
copy of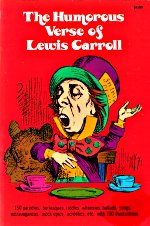 The Humorous Verse of Lewis Carroll
. This Dover reprint of a 1933 Macmillan edition includes all the standard poems ("Jabberwocky," "Father Willliam," "The Hunting of the Snark," etc.), along with 100-some more obscure ones. Re-reading them (along with the book's limited annotations) left me (again) suspecting that I was often missing out on the joke: For some poems ("Hiawatha's Photographing") it remains instantly obvious, but in many others– some of them quite elaborate productions– the humor is a bit opaque to my own late 20
th
-Century background. That is not surprising. Before Martin Gardner
[2]
I was unaware that Alice's two recitations ("How doth..." and "'Tis the voice of the lobster...") parody a pair of Isaac Watts's
Divine and Moral Songs for Children,
songs that, while doubtless familiar to any English child growing up in the last half of the 19
th
century, were unknown to me. Aha! Making fun becomes
more
fun when you know
what's
being made fun
of.
Well, after all, Carroll wrote almost 150 years ago. Lot of water over the dam since then; time passes and references lose meaning.
But it really brought me up short when I discovered a loss of context related to something within my own lifetime.
more...
Posted by: Old Grouch in Reviews at 19:44:52 GMT | No Comments | Add Comment
Post contains 998 words, total size 10 kb.
Sunday, 30 September 2007

Two books for budding journalists
So you memorized
All The President's Men
(You even bought the
book!
), reviewed Bill Shirer's
Berlin Diary,
and tattooed that "comfort the afflicted and afflict the comfortable" quotation on your chest. And now you've embarked on four years of education that will, hopefully, yield you a B.A.(J.), and the opportunity of chasing one of the ever-shrinking number of jobs in that great institution called "the press." I know you already have a reading list as long as your arm, but let me suggest a couple of additions.
Both are short– one is just 200 pages, the other 275. Both are informal and humorous. Both authors demonstrate a healthy measure of cynicism about the business of news coverage, and the people who do it. And both offer valuable advice that you might not get from your professors and colleagues.
Good advice and cynicism– a great start for any reporter!
more...
Posted by: Old Grouch in Reviews at 23:16:59 GMT | No Comments | Add Comment
Post contains 1332 words, total size 12 kb.
Friday, 13 April 2007

From the past: A Clear Voice and a Charming Personality
OVER MY SHOULDER- the Jessie Matthews Centenary Issue
Jessie Matthews, vocals, various orchestras and conductors
ASV Living Era CD AJA 5663
February, 2007
24 tracks, 77 minutes
Younger Britons, if they remember Jessie Matthews at all, remember her as someone who occasionally appeared on television variety shows
more...
Posted by: Old Grouch in Reviews at 01:43:32 GMT | Comments (1) | Add Comment
Post contains 490 words, total size 4 kb.
83kb generated in CPU 0.0377, elapsed 0.1239 seconds.
51 queries taking 0.0973 seconds, 115 records returned.
Powered by Minx 1.1.6c-pink.