Saturday, 26 March 2011

And then there was one...
HD = Highly Dubious?
Dept
Recall
last week's rumor
about Microsoft halting future development on its Zune HD portable music player? Well, Radio Survivor's Paul Riismandel
found a wrinkle in the story
that I hadn't noticed:
Conceived as a competitor to Apple's market-dominating iPod line, the Zune added an HD Radio receiver in 2009, making it

one of only two portable HD radios available.

The other comes from the Best Buy Insignia house brand, which has a touch-screen making it look like an MP3 player, even though it's only a radio.

It appears that Microsoft will retain the Zune brand which includes a music store platform accessible on the XBox games system and Windows smartphones. But none of those devices includes HD Radio reception.
So should the Zune HD disappear (likely, as the series hasn't received a hardware update since 2009), that will leave
precisely one
portable HD receiver on the market. Not exactly indicative of any
overwhelming demand
for the service.
A couple of months back I asked a manager of one of the local public radio stations (one which runs two multicast channels, as well as its main HD-1 service) if he had any idea how many HD receivers - of any type - were actually in use by real listeners in our market.
His answer: "More than nine."
Previously:
Posted by: Old Grouch in Radio at 17:05:04 GMT | Comments (1) | Add Comment
Post contains 263 words, total size 4 kb.
Monday, 06 December 2010

It's not just the U.S...
...where local radio
is becoming ever less-local:
London's best-known radio station has already made its promise for 2011—to outgrow the Big Smoke, and to end 37 years of being solely associated with London... From January, stations from Glasgow to Southampton will relay most of Capital's shows.
(Via Darryl's
pointer to this
on his blog.)
Posted by: Old Grouch in Radio at 20:18:36 GMT | No Comments | Add Comment
Post contains 58 words, total size 1 kb.
Friday, 06 August 2010

Kaa-runch! (x3)
Yes, these are three self-supporting towers.
On the ground
.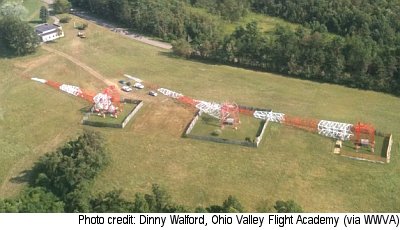 This is
WWVA, Wheeling– after Wednesday's storms
. Ouch.
LATER (100807):
Discussion at Radio-Info's Engineering board.
(Via:
Radio Ink
)
Previous tower "fun."
Posted by: Old Grouch in Radio at 18:47:54 GMT | Comments (6) | Add Comment
Post contains 37 words, total size 2 kb.
Saturday, 08 May 2010

Saturday, 27 February 2010

Sales manager's nightmare is here!
From
April, 2008
:
Sales manager's nightmare!

Intempo's Rebel radio records all your favourite FM stations and

cuts out

all the DJ drivel and adverts.
At the time, only available in Europe.
Well, here it is 2010, and whaddayaknow...
USAToday
:
The $250 Abbee Commercial-Free Music System... from Michigan start-up Myine Electronics, consists of two main components: a tabletop base stereo speaker system with a built-in FM tuner and a portable player called Music Lock, which plugs into the base. The twist: Abbee can automatically record songs from whichever FM station you're tuned to — but it

manages to do so without the ads and idle chitchat

.

The Abbee base has storage for about 100 songs. But you can transfer and store about 500 songs on the Music Lock portable. The transfer from base to portable is automatic when the Music Lock is plugged in. Upon playback, you can skip, pause, fast-forward and rewind.
Dunno about the captive player. And then there's the music selection...
Via:
Radio-Info messageboard
Posted by: Old Grouch in Radio at 00:26:04 GMT | Comments (2) | Add Comment
Post contains 166 words, total size 2 kb.
Wednesday, 27 January 2010

A tepid reaction to HD receivers
Ever been tasked with turning out a glowing report about something that, when you looked into it, just didn't quite manage to pique your enthusiasm? I suspect that's what happened to Katherine Boehret during her
survey of three HD radios
, as reported in today's
Wall Street Journal.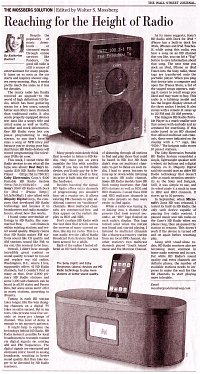 Boehret spent a week testing the sets- one a straight table radio, one which included an iPod dock, and a portable. She also talked to the technology's developer,
iBiquity Digital,
and her piece includes the usual iBiquity talking points- that HD means improved sound quality, and that there's no extra cost (beyond hardware) for HD reception. She clearly describes how HD radio works, but also makes the common mistake of calling it "high definition;" the "HD" - supposedly - has no special meaning.
In short, she likes the sound (and some of the additional programming), is intrigued by the tag-songs-for-purchase capability of the docking set, but is less than enamoured with some of the technical wrinkles:
Washington, D.C., where I live, supposedly offers 41 HD Radio channels, but I couldn't find as many as that...

Tuning in each HD station takes longer, like the way changing channels on a digital TV takes an extra second. But in my tests, this process took five seconds or more per change of channel... While a radio was tuning in... an "HD" logo flashed on each radio's display. This logo turned solid when the station was found and finally started playing... This kind of delay is enough to try anyone's patience.

Each of the radios I tested offered an HD Seek feature—a way of skimming through all stations to find and play those that could be heard in HD. But HD Seek didn't stop on multicast channels; to get to those on each radio, I had to press buttons to tune up or down while already listening to to a main HD radio channel. Some HD Radio models have HD Seek tuning functions that find HD1 stations as well as HD2 and HD3 channels.
Aside from the delay in acquiring signals (which is inherent in the system and apparently can't be fixed), these all sound like new-technology teething issues. The problem is, HD radio has been around
for five years or so
, and one would think that by now the sensitivity problems
[1]
and interface awkwardness would have been worked out.
The praising-with-faint-damns moment actually comes in the fourth paragraph, when Boehret nails HD's chicken-and-egg (or elephant-in-the-room, if you prefer) problem:
Overall, I didn't hear enough incredibly great content or sound quality to want to run out and replace my old radios.
And she's in a major metro area. 'Nuff said.
-----
[1] iBiquity's representative made apologies for the performance of the Coby Electronics model tested, saying it "uses an older... technology that doesn't offer as much reception sensitifvity."

Posted by: Old Grouch in Radio at 21:29:14 GMT | Comments (1) | Add Comment
Post contains 472 words, total size 4 kb.
Tuesday, 19 January 2010

A great ones rides- into the sunset
Sunday! Sunday! Sunday!

will never be the same
Dept
Rick O'Dell
:
"Smokin' US-30 Dragstrip . . . where the great ones ride!" Simple words on a screen don't do justice to the tag line of that (in)famous commercial. If you listened to WLS or Super CFL as I did in the '60s and '70s, you'll never forget the turbo-charged voice of Jan Gabriel who, with the help of some technical wizardry, made that commercial blast its way out of your transistor radio.

Jan Gabriel died this past Sunday

[January 10th]

at the age of 69...

For five decades he worked as a disc jockey, TV personality and executive of an ad agency. But he's best known for his in-your-face US-30 Dragstrip commercials, a concept he conceived himself....
Elsewhere:
Posted by: Old Grouch in Radio at 16:17:12 GMT | No Comments | Add Comment
Post contains 156 words, total size 2 kb.
Saturday, 27 June 2009

The day Michael Jackson died
Nobody Home to Notice
Dept.
Radio:
Whad-ya-say?
Ladies and gentlemen, Michael Jackson died Thursday.

And radio died right along with him.

Most radio stations just kept John Tesh rolling, Ryan Seacrest babbling and voice tracking mindlessly ploughing through the playlist.

By comparison Elvis died way before consolidation and within ten minutes most stations were broadcasting on-air tributes, news accounts and playing wall-to-wall Elvis. (Not so easy when your local program is coming from national headquarters.)[1]

People not only remembered where they were when The King died, but which station they were listening to.

Not yesterday.
-----
[1] IMO, it would be reasonable to expect the national guys to be more on the ball and have more resources than any stand-alone local station. Guess not, and guess there's no one at home at the national hubs, either.

Posted by: Old Grouch in Radio at 23:51:56 GMT | No Comments | Add Comment
Post contains 139 words, total size 1 kb.
Saturday, 02 May 2009

75 years ago today - 500KW on medium wave
On May 2, 1934, WLW-AM became "The Big One."

President Franklin D. Roosevelt pressed a telegraph key in the White House, firing up WLW-AM's one-of-a-kind 500,000-watt transmitter, the most powerful in the country.

"The Nation's Station," they called it.

From the new 831-foot diamond-shaped tower on Tylersville Road in Mason, Crosley Broadcasting beamed programs coast to coast – and beyond. It's the only time the government granted 10 times normal maximum power to a radio station.
...
The half-million-watt transmitter – built for $500,000 under the Mason tower – was truly the big one: 54-feet wide, 13-feet tall and 7-feet deep.

It needed 22 glass radio tubes, each 5-feet high. They were cooled by 700 gallons of distilled water per minute circulating from a nearby pond. Each tube cost $1,624. -

Cincinnati Enquirer

[1]
Elsewhere (via
Roberta X
, what a coincidence!):
HT:
Darryl Parks
(whose stupid Clear Channel blog doesn't have permlinks)
.
------
[1]
The
Enquirer
site is having problems today. To see the second page of the article, you may have to turn off javascript. But there's a photo gallery on page 1 that you'll miss if you load the link with it off...
Posted by: Old Grouch in Radio at 15:05:33 GMT | No Comments | Add Comment
Post contains 207 words, total size 2 kb.
Thursday, 05 March 2009

Ice loading + high winds = not cool
Ka-Runch
!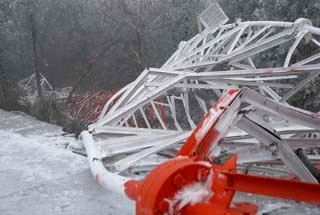 Yep, it's a TV tower... folded over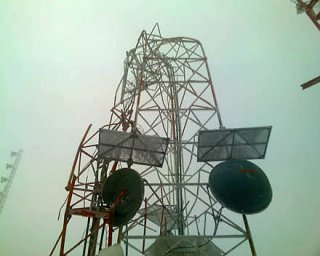 One of News Channel 7's main broadcast towers has collapsed due to ice and high winds, hitting the main back-up tower as it fell. Both towers are on the ground ...

The road up to Hogback is still being cleared of snow and ice. Crews have made very good progress but still have another mile of road left to scrape.

The analog ch 7 antenna is in Landrum and the crew is getting ready to haul it up the mountain around 4pm. It will most likely take the rest of today just to get it up the hill. We are speculating that they should have the antenna and transmission line up by this weekend but all of this depends on when the truck gets up the mountain.

Another crew is trying to get up to Hogback to install a temporary TSL (transmitter to studio) dish which will get phones and data connections back up and operational.
Don't envy them
that
job!
« Snapped off!


What a mess! »

(Last time we had something like this happen around here, it was a 500-or-so footer that belonged to the local university FM station. Summer thunderstorm: Big tree in the adjacent woods blew down and fell across one of the guy wires. Tower fell within the guy circle- as they're supposed to- disassembling itself into sections on the way down. No report as to whether any of the occupants of the studio/transmitter building at its base had to change underwear afterward.)
Photo gallery at
the link.
Tom Crabtree's
blog entry
.
Posted by: Old Grouch in Radio at 00:03:37 GMT | Comments (2) | Add Comment
Post contains 273 words, total size 3 kb.
105kb generated in CPU 0.019, elapsed 0.104 seconds.
54 queries taking 0.0918 seconds, 159 records returned.
Powered by Minx 1.1.6c-pink.