Thursday, 26 April 2012
Now, just suppose this guy's name was "Roger Clemens"...
But you KNOW the answer

... Dept
The Daily Caller
:
U.S. Assistant Attorney General Ronald Weich plans to resign his position soon, as two different scandals rage on in which he has provided allegedly misleading information to Congress.

Weich, who has served as Attorney General Eric Holder's emissary in congressional communications... is the same Holder deputy who falsely told Congress that neither the Bureau of Alcohol, Tobacco, Firearms and Explosives nor any part of the Department of Justice ever allowed illicit firearms to "walk" across the U.S.-Mexico border — even as contrary facts emerged from the investigation into Operation Fast and Furious.

On Feb. 4, 2011, Weich wrote to Congress that the idea that "ATF 'sanctioned' or otherwise knowingly allowed the sale of assault weapons to a straw purchaser who then transported them into Mexico … is false."
...
The DOJ has since retracted Weich's letter but has not held anyone accountable for providing that misinformation to Congress...
Posted by: Old Grouch in In Passing at 21:34:20 GMT | No Comments | Add Comment
Post contains 165 words, total size 2 kb.
Monday, 23 April 2012
Wednesday, 18 April 2012
Buried "treasure"
Somebody at
Investors Business Daily
has been
reading the highway bill
:
IRS Might Have Stalinist Powers Under New Law



The Republican House of Representatives may soon follow the Democratic Senate and give the IRS the power to confiscate your passport on mere suspicion of owing taxes. There's no place like home, comrade.

"America, Love It Or Leave It" might be an obsolete slogan if the "bipartisan transportation bill" that just passed the Senate is approved by the House and becomes law. Contained within the suspiciously titled "Moving Ahead for Progress in the 21st Century Act," or "MAP 21," is a provision that

gives the Internal Revenue Service the power to keep U.S. citizens from leaving the country if it finds that they owe $50,000 or more in unpaid taxes — no court ruling necessary

.

It is hard to imagine any law more reminiscent of the Soviet Union that America toppled, or its Eastern Bloc slave satellites...
"MAP21" is this session's "
highway bill
," yet another of those multi-thousand page
[1]
pay-off-the-rubes- while-stealing-their-liberty
[2]
Christmas trees that Congress so dearly loves.
This time,
22 Senate Republicans chose pork over liberty
and
voted
"aye":
Alexander (R-TN)
Blunt (R-MO)
Boozman (R-AR)
Brown (R-MA)
Chambliss (R-GA)
Cochran (R-MS)
Collins (R-ME)
Grassley (R-IA)
Heller (R-NV)
Hoeven (R-ND)
Hutchison (R-TX)
Inhofe (R-OK)
Isakson (R-GA)
Moran (R-KS)
Murkowski (R-AK)
Roberts (R-KS)
Sessions (R-AL)
Shelby (R-AL)
Snowe (R-ME)
Thune (R-SD)
Vitter (R-LA)
Wicker (R-MS)
Another 22 Republicans voted against, and 3 (including
run-for-the-hills Sen. Orrin Hatch
) didn't bother to vote.
Your Congress, in action.
Elsewhere:
(Via:
IP
)
-----
[1]
the PDF
is 2.7 megabytes
[2]
You really should take a look at this monstrosity. Can you say
National Endowment for the Oceans
[page 559]? Can you say
Sport Fish Restoration
[page 1428]? Can you say
100 percent continuous levy on payments to Medicare providers
and suppliers
[page 1452]? Can you say
University Transportation Centers
[page 1543]? Can you say
Secure Rural Schools
[page 1609]? Can you say
Roll-Your-Own Cigarette Machines
[page 1641]? Oh yes, and
Vehicle Event Data Recorders
[for
your car
, beginning in 2015; page 1067]? Why, there's something for everyone!
And if you haven't reached boiling point by the time you finish reading the table of contents, well, then you must be dead.
Posted by: Old Grouch in In Passing at 22:21:21 GMT | No Comments | Add Comment
Post contains 379 words, total size 5 kb.
Monday, 27 February 2012
Finally: Mitch says what the Republicans *should* have been saying all along
The Hill
:
Gov. Daniels: Obama administration 'wanted higher gas prices'


By Meghashyam Mali - 02/26/12 12:11 PM ET

Indiana Gov. Mitch Daniels (R) blamed President Obama for the spike in oil prices, saying the administration had pushed for consumers to pay higher prices at the pump.

"Let's give the president credit for one domestic policy that works. He wanted higher gas prices and he got them," said Daniels on Fox News Sunday.

"Secretary Chu said $8 are about what they pay in Europe. It would be great. Secretary Salazar said $10 and it still wouldn't be for drilling in the places where we know there's an awful lot of domestic production. And so, they have gotten the doubling of gas prices and perhaps worse, it's a conscious policy of this administration. Maybe the one thing they set out to do and actually accomplished." he said.
Wow! Go Mitch! "Speak Truth To Power,"
I guess...
But the question isn't whether he's right (he is) or whether he was being "fair" (he was), but why it's been left to lame-Duck non-candidate Daniels to drive hope a point that everyone in the Republican party should have been making ever since gasoline hit three dollars a gallon.
Why the Republican silence? Were they afraid of being dis-invited to those famous D.C. cocktail parties?
Or of being attacked by the environmentalists, the Democrats, and the media.*
Or perhaps it's because that, deep in their hearts,
the gentry Republicans agree that $10-a-gallon gasoline actually isn't that bad an idea.
Which would certainly explain why their endless fulmination over "energy independence" has never led to anything concrete that might achieve it.
Related:
(Mitch via: Insty, Big Government via: Rush.)
------
* But I repeat myself.
Posted by: Old Grouch in In Passing at 16:56:57 GMT | No Comments | Add Comment
Post contains 328 words, total size 4 kb.
Wednesday, 22 February 2012
Tuesday, 27 December 2011
Saturday, 24 December 2011
To my Readers, Lurkers, and Lookers-on...
... a Very, Merry Christmas.
Posted by: Old Grouch in In Passing at 20:30:27 GMT | No Comments | Add Comment
Post contains 11 words, total size 1 kb.
Saturday, 17 December 2011
They should try this more often...
Sierra Club President
Michael Brune
:
We've got Republicans in Congress who are willing to hold the entire government hostage simply to give a Christmas present to industry.
Wow! Somehow the congressional Republicans found enough guts to advance the Republican agenda by "hold
[ing]
the entire government hostage." Horrors! Keep this up and, next thing you know, they'll be acting like the Democrats, instead of a like a bunch of candy-assed wimps.
And Michael, from where I sit a more stable oil supply combined with lower energy prices makes
a pretty good Christmas present for everybody, not just industry.
Well, everybody who doesn't want us to freeze in the dark, that is. Unlike many of your friends in
the Progressive Establishment
.
Elsewhere:
But It Never Stops

Dept:
Via: Ace
Posted by: Old Grouch in In Passing at 03:24:28 GMT | Comments (1) | Add Comment
Post contains 175 words, total size 3 kb.
Wednesday, 07 December 2011
Saturday, 03 December 2011
Mee-ouch!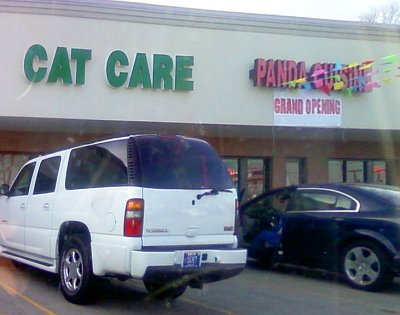 Wierd Al
.
Posted by: Old Grouch in In Passing at 02:20:03 GMT | No Comments | Add Comment
Post contains 6 words, total size 1 kb.
94kb generated in CPU 0.04, elapsed 0.0925 seconds.
57 queries taking 0.0673 seconds, 179 records returned.
Powered by Minx 1.1.6c-pink.