Thursday, 20 November 2008

Ave atque vale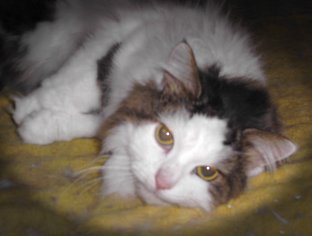 Frank
September, 1998 - November 19, 2008
______
Elsewhere: Mark
says farewell to Murphy
.
Posted by: Old Grouch in Dear Diary... at 00:25:53 GMT | Comments (5) | Add Comment
Post contains 17 words, total size 1 kb.
Tuesday, 18 November 2008

Service resumed
Apologies for the interruption.
(There
might
have been a post or two last Friday, except that my ISP picked that day to crash its password server.)
Then, spent the next three days away from internet service, eating
too much
.
good
.
food
, visiting the
Schmidt Museum
, and prowling through
a store full of used books
.
More to come, after I get things caught up. Meanwhile, here's a picture of a 100+-year-old
Gingko biloba
.
Posted by: Old Grouch in Dear Diary... at 17:12:19 GMT | Comments (1) | Add Comment
Post contains 72 words, total size 1 kb.
Tuesday, 04 November 2008

Election day report
Voted this morning about 8:30am (polls open at 6:00, but since I'm not needed at work until around 10:00, I usually skip the early rush by morning commuters). This year they added a second precinct to my location, but voters had separate check-in lines and voting stations. The combined precincts resulted in a lot more electioneering (more signs and party representatives outside the polls) than in previous years, and more cars in the parking lot, but no line out the door.
We vote paper ballots with machine scan, and there are usually a couple of people waiting to use the isolation booths (actually a two-foot by two-foot counter-height podium with a screen around it). This year had the normal wait, nothing exceptional. My ballot was the 157
th
scanned, which IIRC is about 10% ahead of 2004. (My precinct has a lot of retirees who tend to vote early in the afternoon.)
There has been heavy early voting this year, but absentee ballots don't get processed until after the polls close,
[1]
so I have no idea of the extent of early voting at my location.
-----
[1] Indiana allows you to vote absentee, then change your mind and show up at the polls on election day.

Posted by: Old Grouch in Dear Diary... at 19:01:08 GMT | No Comments | Add Comment
Post contains 207 words, total size 1 kb.
69kb generated in CPU 0.03, elapsed 0.118 seconds.
53 queries taking 0.1015 seconds, 156 records returned.
Powered by Minx 1.1.6c-pink.