Friday, 25 February 2011

Surrounded!
We have a "rain changing to 2-5" of snow" forecast for central Indiana, then temps. back into the 50s by Sunday. Well, maybe it'll keep the Democrats away.
UPDATE
(110225 17:23): Roberta
has a report
.
Posted by: Old Grouch in Dear Diary... at 00:15:25 GMT | No Comments | Add Comment
Post contains 36 words, total size 1 kb.
Friday, 18 February 2011

The ice man (reluctantly) goeth


After nearly a week of above-freezing temperatures, the snow and ice is

almost

gone...

...just in time for "rain changing to snow" on Sunday.


Winter's not over yet; it just wants you to
think
it is...
Posted by: Old Grouch in Dear Diary... at 17:48:45 GMT | Comments (1) | Add Comment
Post contains 41 words, total size 1 kb.
Wednesday, 02 February 2011

Wednesday follow up...
So the storm turned out to be not quite as end-of-the-world as it might have been, but sufficient unto the day. In my neighborhood there's ½–¾" of ice on stuff, and we've had a few branches down but no power flickers. Getting the car de-iced this morning was a process very similar to
yesterday
. Made it up the driveway just fine, but while stopping at the bank realized I'd left the cell phone. So went back to get it, and proceeded to get stuck at the bottom of
the hill up to the street
. There's ice, on top of sleet, on top of ice, and there'd been just enough sun to make the top ice brittle: The wheels broke through into sleet layer, an ice-pellet slurry providing no traction whatever. Spread some salt and shoveled a bit, but that top ice layer makes the shoveling just about impossible. I may see if I can talk the neighbors into letting me park it next door
this evening
until things thaw out.
Other reports:
Posted by: Old Grouch in Dear Diary... at 19:41:17 GMT | Comments (1) | Add Comment
Post contains 205 words, total size 3 kb.
Tuesday, 01 February 2011

Not through yet...
Our overnight icing/sleet isn't the end of the story. Here's the snow prediction map for the next 24 hours or so...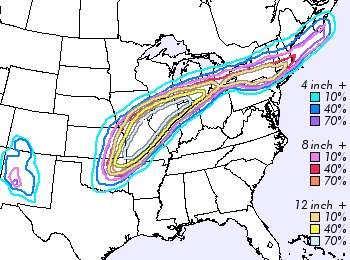 The problem here in Indy will be ice: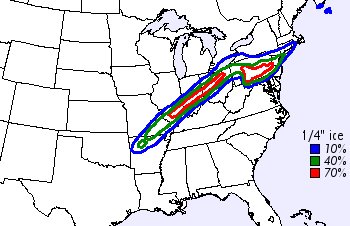 The Weather Service doesn't map ice predictions beyond ¼", but here's what their
Ice Storm Warning
has to say:
...MANY AREAS ALONG INTERSTATE 70 SAW A TENTH TO A QUARTER INCH OR MORE OF ICE LAST NIGHT AND EARLY THIS MORNING ALONG WITH PERIODS OF SLEET...

A BRIEF LULL IN THE ACCUMULATING PRECIPITATION WILL COME TO AN END AS FREEZING RAIN, SLEET, AND SNOW WILL BEGIN ACROSS THE AREA THIS AFTERNOON AS THE STRONG LOW PRESSURE SYSTEM SWINGS OUT OF THE SOUTHERN PLAINS...
...
AT THIS TIME...NORTH AND NORTHWEST CENTRAL INDIANA...INCLUDING THE CITIES OF DELPHI AND LAFAYETTE...LOOK TO REMAIN COLD ENOUGH THAT A SIGNIFICANT PORTION OF THE PRECIPITATION MAY FALL IN THE FORM OF SNOW. SNOWFALL MAY BE HEAVY AND AMOUNTS IN EXCESS OF 12 INCHES ARE POSSIBLE BY WEDNESDAY EVENING.

FARTHER SOUTH...INCLUDING THE CITIES OF TERRE HAUTE... INDIANAPOLIS...BLOOMINGTON...NEW CASTLE AND MUNCIE...WARM AIR IS EXPECTED TO BE PRESENT AND PRECIPITATION SHOULD CONTINUE TO FALL AS FREEZING RAIN AND SLEET. SIGNIFICANT ICE ACCUMULATION IS POSSIBLE...WITH

ICE ACCUMULATION OF ONE INCH OR MORE

. FURTHERMORE...

STRONG WINDS GUSTING UP TO 40 MPH ARE EXPECTED FROM LATE TUESDAY AFTERNOON THROUGH WEDNESDAY AFTERNOON.

THIS COMBINATION WILL RESULT IN WIDESPREAD DOWNED TREES AND POWER LINES...
Power was still on at my place when I left, but we've had a couple of glitches here at work, even though the heavy freezing rain hasn't begun yet. The Indianapolis forecast calls for an inch of ice with 2" of snow.
Lovely.
Posted by: Old Grouch in Dear Diary... at 20:33:09 GMT | No Comments | Add Comment
Post contains 271 words, total size 3 kb.

76kb generated in CPU 0.03, elapsed 0.1089 seconds.
53 queries taking 0.0903 seconds, 156 records returned.
Powered by Minx 1.1.6c-pink.