Tuesday, 15 July 2008

Across the wilds of Wisconsin
On crossing the Wisconsin state line, the look of the country changes. Granted, I'd just passed through the 15 miles of blasted heath that is the Tollway's construction zone. But ignoring that, the crops in the fields are different; more hay and wheat
[1]
, less corn. The interstate itself seemed better kept and more stylish- for one thing, metro-area
overpasses in Wisconsin have actual railings instead of the "
Jersey barrier
"-style solid concrete sides that replaced more aesthetically pleasing designs during the '70s. Some even bear messages: Northbound travelers are informed that they're passing through "Beloit, [the] Gateway to Wisconsin."
[2]
Oh, and off to the left I spotted my first
Hormel
plant.
Fields were greener, too, not completely a good thing.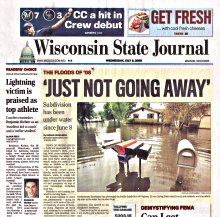 As it turns out, at the same time we were hearing about all the flooding in Iowa, there was flooding in Wisconsin, too. At my fuel stop near the town of Albion there were several notices posted telling people how to apply for flood assistance, along with one proclaiming the re-opening "this Friday" of a neighborhood bar/restaurant that had just finished cleaning up from several feet of water in its ground floor.
[3]
There wasn't much flooding visible from the interstate, although just north of Madison I could see a couple of roadside fields that were obviously under several feet of water- only the very tops of the fencerows were visible.
o-o-O-o-o

How can you tell that you're in Blue country? One way is that the interstate rest areas have individual recycling bins for (deep breath) Clear Glass, Colored Glass, Plastic, Metal, Paper... and (finally) Trash.
o-o-O-o-o

North of Madison, just past the Wisconsin River, I-39 branches to the left, north toward Wausau. I continued west on
I-90/94
, skirting the southern edge of the Wisconsin Dells vacation area. Here the land is more forested, although none of it is "old growth." Most of the area was clear-cut in the 19
th
century to feed expanding America's demand for timber.
By the mid-nineteenth century, the American forest [had become] the first example in U.S. history of a resource exploited beyond sustainability...
The railroads used wood (with uncontrolled abandon) for bridges, wagons, carriages, crew accommodations, locomotive fuel (three thousand cords a month), telegraph poles, and above all, the ties that held the rails in place. In 1850 America had 9,000 miles of track. By Edison's time, in 1890, railroad track totaled 164,000 miles... Ten miles of track needed twenty thousand wooden ties, approcimately two thousand trees... - James Burke,

The Pinball Effect
Driving northwest from the Dells, the topography changes. The land becomes more hilly, and
For many miles nearby, [the traveler] may see landscape features totally unlike those anywhere else in the United States east of the Mississippi River. The hills of the region near Camp Douglas are buttes and mesas. They have the straight lines, steep cliffs and sharp angles of an arid country rather than the soft curves of a humid region. - Wisconline: The Central Plain of Wisconsin
Just before exit 55 (near Douglas) is a striking "wall" along the ridge to the north of the highway. There was no easy place to stop, but I grabbed this image on the fly:
Although the Wisconline article says these formations are "...totally unlike those anywhere else in the United States east of the Mississippi River," they reminded me of similar ones to the east of I-75 in
Rockcastle county
, Kentucky.
Here the woods is interspersed with farmland. Most of the farmers had been taking advantage of the sunny days to get the straw in. None of those old-fashoned rectangular
bales
for these folks, everywhere were the big rolls that it takes a truck to handle.
Another 22 miles up the road, just after I-90 splits off toward La Crosse, I was amazed and amused by the sight of the
Three Bears Resort
at the roadside. Think an enormous log (but squared-off and varnished) "lodge," with an enormous swimming pool (full of people). Add adjacent streets of log (but squared-off and varnished) townhouses, and beyond both a development of log (but squared-off and varnished) homes, all under a canopy of (mostly) tall pine trees. Surely an American
Butlin's
- at least, that was my 30-second impression. Which would be good news, or bad news, depending on your penchant for "organized fun."
o-o-O-o-o

Another hour to Eau Claire, then another hour or so to Minneapolis, and the end of my driving for the 4
th
.
To be
continued
...
------
[1]
Near Madison I believe I actually saw my first wheat field in full "bloom"-- can't imagine what other crop would have been as tall, golden, and grass-like.
[2]
Wisconsiners- or, at least, their elected representatives- appear to have
achieved a balance
between utilitarian safety and visual attractiveness that favors the latter more than most other states do. Or maybe the more pleasing aesthetics are just another example of Higher Tax Dollars at work.
[3]
A few miles north things got more interesting: The floods caused
Lake Delton
, home of (among other things) the Tommy Bartlett Water Show, to overtop the earthen bank separating it from the Wisconsin River. The resulting washout drained the entire thing. Good pictures/article by the
Milwaukee Journal-Sentinel:
"
Swollen by rain, Lake Delton nearly empties, wrecking homes, damaging tourism hopes
" For the moment, here's the
Google cache
of a June 10
th
Chicago Tribune
story "How A Lake Went Down the Drain" by James Janega (now behind a subscription wall:
original URI
). Some (typical? expected?) Wisconsinite reaction to it all
here
.
Posted by: Old Grouch in Dear Diary... at 18:01:00 GMT | No Comments | Add Comment
Post contains 915 words, total size 9 kb.
Comments are disabled. Post is locked.
70kb generated in CPU 0.03, elapsed 0.109 seconds.
51 queries taking 0.0922 seconds, 147 records returned.
Powered by Minx 1.1.6c-pink.