Monday, 05 April 2010

The Forsythia Saga
In a corner of my front yard is a
forsythia bush
. It's been there for as long as I've had the house, and has never been a notable bloomer. Some springs, all I get are a few yellow leaves, followed by the usual masses of green.
This year, I'd made up my mind: No more. Come summer,
I'd yank the old bush out and replace it with something else. So
of course
I
would
walk out the door on Saturday morning to find:

The same bush, (with a bad sun angle) this afternoon: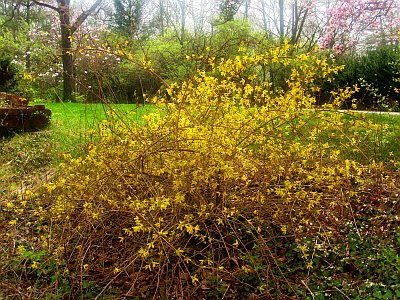 One of the best displays it's ever had (though it's still not as impressive as one down the block):
So what to do? Give it some TLC for another year, or ruthlessly yank it and start over?
-----
Meanwhile,
the magnolias
have made their appearance
almost three weeks early
, and are spectacular:
And the dandelions are already blooming, meaning it's nearly too late for this year's crabgrass treatment. Seems as if everything blossomed at once!
Elsewhere:
Posted by: Old Grouch in Dear Diary... at 22:21:02 GMT | Comments (3) | Add Comment
Post contains 181 words, total size 3 kb.
1
Do you cut that forsythia back? Mom used to cut hers back every year and they bloomed like the dickens.
We ignore ours, and it's solid green.
I think there might be a lesson here.
M
Posted by: Mark Alger at 04/06/10 03:37:33 (TUgI4)
2
Yeah, you have to cut them back to make them bloom decently. We have a huge one in the back yard that hasn't been trimmed for years. I need to get on that.
Last year I think the late frost got to it, because it really never did come in at all; just went straight to green. The apple tree didn't produce many blooms or many apples, either.
The thing I like about forsythia is that it makes a cheap fence, and at least in the summer I don't have to look at the crap in my neighbor's back yard.
Posted by: Nathan at 04/06/10 12:04:50 (+dSl9)
3
It appears that the trick is to do the cutting back in the spring, rather than in the fall, and to prune off the blooming branches rather than the green ones. So I'm going to try that, give it another year, and see what happens.
Posted by: Old Grouch at 04/07/10 15:04:23 (KyCzn)
Comments are disabled. Post is locked.
66kb generated in CPU 0.02, elapsed 0.1242 seconds.
53 queries taking 0.1074 seconds, 151 records returned.
Powered by Minx 1.1.6c-pink.