Tuesday, 25 November 2008
Blogmeet report and link to caption contest
What with fighting a cold
[1]
and a hard drive simultaneously, I see I've neglected to post a report on Sunday's blogmeet. Short story: MacCool's was worth the visit (the sweet potato french fries were an unexpected treat, the corned-beef-and-cabbage egg rolls... well, not sure!). It was great meeting
Joanna
, official
AoS Moron
and Suggester Of the Venue.
[2]
Some of the regular faces were missing, hope they can make it next month.
Shermlock takes the prize
for coverage
, not only for getting the first post up but also for the photos (including a
caption contest
featuring our favorite stardrive tech). There's more at
Roberta's
, at
Tam's
and a bit at
Turk's
.
And you Missing Morons, eat your hearts out!
-----
[1]
...the cause of Sunday's dulled mental acuity that resulted in me confusing Roberta's URL with the name of Tam's blog. A cold. That's it. The multiple Guinnesses had
nothing
to do with it. Nothing
whatever
.
So stop looking at me like that. Stop it!
[2]
who fit right in with the Indy blogcrowd, and didn't seen at all overwhelmed despite the fact that the other Indy Morons, being Morons, wimped out.
Posted by: Old Grouch in Meta at 21:58:41 GMT | No Comments | Add Comment
Post contains 196 words, total size 3 kb.
Friday, 21 November 2008
Confirm your Sunday plans now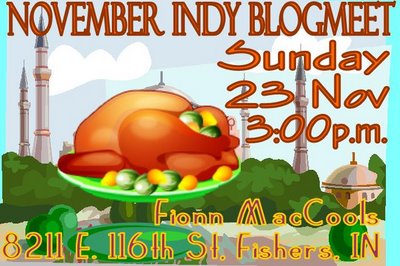 Joint meet up with the AoSHQ morons! Details
here
.
Posted by: Old Grouch in Meta at 00:50:26 GMT | Comments (1) | Add Comment
Post contains 14 words, total size 1 kb.
Monday, 10 November 2008
AoSHQ "drink your worries away" meetup: Date/time now firm
(I'm waiting on Roberta X's go ahead to post this as a "joint meeting with the Indy Bloggers," but I suspect that will occur shortly.

UPDATE 081111

: Done!)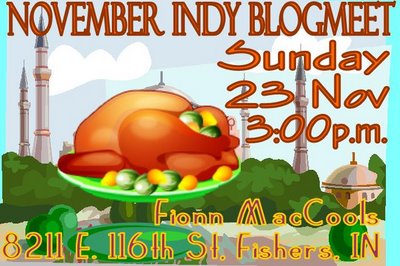 Here's the scoop:
Roberta X
sez
:
This is combined with the Ace of Spades HQ "Moronapalooza/Happy Hour Meet-Up" post-election gathering, so hey -- new friends. Be nice, now and remember -- no biting! Mostly.
Bring your friends and your attitude.
-----
[1]
Don't
believe the hours shown at restaurant.com... they
will
be open!
[2]
For those unfamiliar with the area, this is
outside
the I-465 loop, to the northeast. Closest interstate exit is I-69/116th Street It's also possible to reach 116
th
Street from Indianapolis proper by taking Allisonville Rd. north from 96th Street, Keystone Avenue (under construction, but 116
th
Street intersection is open), or Westfield Boulevard ("Range Line Road" in Hamilton County) north from Broad Ripple. I
strongly
recommend avoiding Castleton: 86th Street (Keystone Avenue east to I-69) / I-465 vic. Exit 37 (I-69) or Exit 35 (Allisonville Road) / Allisonville Road south of 96th Street, as all these will be jam-packed with holiday shoppers!
Posted by: Old Grouch in Meta at 19:26:25 GMT | Comments (1) | Add Comment
Post contains 205 words, total size 3 kb.
Thursday, 06 November 2008
Attention Indy bloggers: AOSHQ Indy Moron Meetup
4th UPDATE
081110 19:29
: Date, time, and location
are now set
.
-----------
Maybe some of the gunnies might want to join the morons for some conservative/Republican networking?
From the thread belonging to
this post
:
24
Indianapolis/Central Indiana: elarnela-@-gmail.-com



Posted by: Joanna at November 06, 2008 03:25 PM (Db2kZ)
56
Indianapolis moron:
abnjm at yahoo dot com



Posted by: abnjm at November 06, 2008 04:15 PM (YESwf)
Other midwest locations in the works: Chicago, Cleveland, Detroit, Dayton/Cincinnati, Lansing, Lexington, St.Louis. (
UPDATE
081107 16:20
:
Consolidated (complete) list
.)
3rd UPDATE
081107 21:44
: Seems to be coalescing toward the weekend of the 22
nd
-23
rd
(15
th
-16
th
has conflicts for several, including me), location Finn McCool's in Fishers. Hey Roberta, Sunday 23
rd
P.M. w/Indy bloggers?
2nd UPDATE
081107 17:43
: Joanna (1
st
comment above) is doing the organizing. No date as yet; she has set up a Google group to sort things out. (E-mail her for an invite.) Will mirror any decision here.
UPDATE
081106 23:20
: Fired off an e-mail to both of these folks, will post developments here.
Earlier Ace thread
.
Posted by: Old Grouch in Meta at 22:59:40 GMT | Comments (3) | Add Comment
Post contains 178 words, total size 3 kb.
Saturday, 01 November 2008
Sites linked - October, 2008
60 posts in October. Same as one year ago, one more than September (59), and the most since February (62).
The October linklist is below the jump...
more...
Posted by: Old Grouch in Meta at 17:23:18 GMT | No Comments | Add Comment
Post contains 670 words, total size 42 kb.
78kb generated in CPU 0.08, elapsed 0.1994 seconds.
53 queries taking 0.1464 seconds, 171 records returned.
Powered by Minx 1.1.6c-pink.