Saturday, 31 May 2008
Next Indy blog meet - June 22
Somehow I managed to forget to post this.
Date: Sunday, June 22
Time: 3:00 pm
Place: Broad Ripple Brew Pub, 842 East 65
th
Street
Readers/lurkers welcome, too.
One topic sure to be up for discussion: Is "blog meet"
one
or
two
words, and, if one, should it be
BiCapitalized
?
Thanks to
Roberta X
for making arrangements, and for creating the graphic.
Posted by: Old Grouch in Meta at 01:38:15 GMT | No Comments | Add Comment
Post contains 66 words, total size 1 kb.
Wednesday, 21 May 2008
Explanation for Monday's slowness...
The import process was creating duplicate category entry records with every pass - and it was running every 15 minutes. Then it was carefully updating all those duplicate records. After a few days, that started to add up... - our proprietor
All clear now?
Posted by: Old Grouch in Meta at 18:17:28 GMT | No Comments | Add Comment
Post contains 47 words, total size 1 kb.
Monday, 05 May 2008
Indy blog meetup - May 4, 2008
Couldn't have picked a nicer day: Just
slightly
cool in the shade, but, considering the kind of weather Indiana
can
have in early May,
[1]
I'll take it.
Arrived at the Broad Ripple Brewpub shortly past 3, and after spotting the group with
two tall blondes
(and after rearrangement of the tables), I got to sit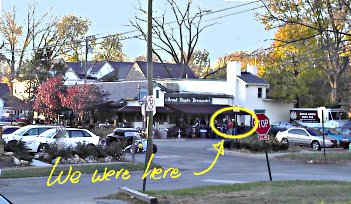 next to Frank W. James. Frank has a
new blog
(started on April 2
nd
) that, in contrast to his
conspicuous gun-writing creds
, is turning into a fascinating narrative about what it's like to be a farmer on the prairies of northern Indiana. Bi-costal wussies who think that corn comes in a can and that "farmer"=="ADM" will find much to learn. Two recent lessons: (1) All that fancy equipment
doesn't maintain itself
, and (2) as a farmer you're always
rolling the dice
with
the weather
. There's a book here, or I miss my guess.
Across the table was Caleb, proprietor of
Call me Ahab
, who noted an increase in his traffic since he started posting about
7th District politics
. Also in my corner, two readers newly arrived from Seattle. We had a little discussion about Indiana's tornado season (Newcomers tend to panic if storms are reported anywhere within 100 miles. Longtime Hoosier: "Tornado in Greenwood? Tell me if it gets north of 38
th
Street."
[2][3]
) and more talk about arts in Indy.
To my left was the charming
Roberta X
. (Now when she writes about "the skunk works," I'll know
which
skunk works. (Bwah-ha-ha-ha!))
At the far end of the table,
Tamara K
.,
Og
(and Mrs. Og), and
Mark Alger
.
Altogether, an excellent collection of interesting, right-thinking people. Which left me
absolutely
convinced that "if
we
were in charge, the world would be a better place." Or
at least
more
interesting
.
Now I get to add a set of "Bloggers I've Met" links to my sidebar. Nifty!
Elsewhere:
-------
[1]
Or even late May. I recall Indy 500s with overcast skies and temperatures low enough that you needed a jacket for comfort.
[2]
Greenwood = suburb just south of Indianapolis. 38th Street = 25 blocks south of Broad Ripple.
[3]
Dan Beshear
,
commenting
at
Dustbury
, notes a similar nonchalance among Okies:
You've got to be made of tougher stuff than those Connecticut Yankees or California Sensitives to cut here.

Last night, when the tornado sirens were blaring, most of my neighbors didn't take cover. They stepped out of their homes onto the road and looked to the sky to see where the funnel cloud was. Some of the younger crowd even went stormchasing up thru Choctaw to Jones and Luther.
Posted by: Old Grouch in Meta at 19:18:34 GMT | Comments (1) | Add Comment
Post contains 472 words, total size 7 kb.
Thursday, 01 May 2008
Sites Linked - April 2008
35 posts in April, the same as March. Not too bad, considering I was effectively off the air from April 1
st
through the 15
th
. (I
hate
tax time.)
Still not the lowest post count, which (for the last 12 months) remains May '07 at 25. Will I do better this year? Stay tuned.
The April linklist is below the jump...
more...
Posted by: Old Grouch in Meta at 00:17:09 GMT | No Comments | Add Comment
Post contains 356 words, total size 15 kb.
77kb generated in CPU 0.04, elapsed 0.1243 seconds.
52 queries taking 0.1015 seconds, 169 records returned.
Powered by Minx 1.1.6c-pink.