Tuesday, 27 October 2009
'Twas on a Sunday afternoon, some Bloggers I did spy...
Arrived late (following a drive up from Kentucky), but not so late as to miss Sunday's
festivities
[1]
. New people this time (in no particular order):
Owen
,
Wayne
(yet another one!), and
Jay
(who also has a neat,
[2]
albeit somewhat neglected,
Installations
blog). Turned out once wasn't enough for brave folks
Midwest Chick
and
Mr.B
, both of whom made welcome reappearances. Also in attendance: Regulars
Brigid
,
Joanna
,
Roberta
,
Tam
,
Og
, and
Red
(
his
blog has a new name), plus readers!
The weather was perfect for sitting outside,
except most of the exterior tables were occupied by the
Brewpub
's annual
pumpkin-carving contest
[3]
. Contestants ranged from little kids to the Ripple's artistic types; entries ranged from
the artistic...
through the clever...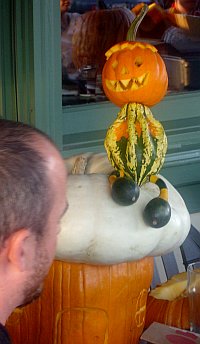 to the disturbing (use your imagination!).
Altogether a fine time (as usual). Next chance coming in November (date and venue t.b.a.), all readers and bloggers are invited!
-----
[1]
Links in bold point to other people's reports.
Roberta's
has pictures!
[2]
for certain (i.e., "techie") values of "neat"
[3]
This year's official photos not yet posted, the link is for 2007's contest winners.
Posted by: Old Grouch in Meta at 17:28:38 GMT | Comments (1) | Add Comment
Post contains 188 words, total size 4 kb.
Friday, 23 October 2009
Reminder - BlogMeet October 25

(Stop the Zombie Menace! October 25, 2009.)
more...
Posted by: Old Grouch in Meta at 16:29:42 GMT | Comments (1) | Add Comment
Post contains 12 words, total size 1 kb.
Saturday, 17 October 2009
Blogger captcha hunt redux
Attention Blogger(.com) buddies: Those fun guys at Google/Blogger have pushed out
yet another
code "improvement" that
(again)
means no comments captcha display for
some browsers
.
As I wrote
back in March
:
Blogger does some kind of a code revision, and the captcha starts getting trapped amid security authentication and permissions problems. And (needless to say) if I don't get served the captcha, I can't authenticate my comments. Unfortunately, I don't get any error messages at this end...

...Iin the meantime, folks who use Blogger comments ain't gonna be hearing a lot from o.g. Because, much as I love you all, loading Internet Exploder solely for the purpose of making a comment

is not going to happen

.
This spring it took 'em
more than 2 months
to get around to fixing it. Which wouldn't have been
too
bad, except it's not the first time: We went through the same thing about a year ago.
How much do you want to bet that somebody with a bright idea keeps replacing the captcha display code with the same faulty lines, which means no captchas (again) until enough users scream and somebody
else
fixes it. After which everything works fine until the next revision comes up, by which time Person A has slipped the bad code back in. Rinse and repeat.
Seems to call for a comment like this one, which I recall seeing somewhere...

/* Do not change this code.
*Especially* do not change this code to anything like ...

Changing the code in that way WILL break functionality.
Which I have had to repair, four times already.

And as certainly as night follows day, the prospect of fixing your broken c*ap a *fifth* time will lead to *me* hunting *you* down and breaking your head - first.

You have been warned. */


Posted by: Old Grouch in Meta at 20:24:30 GMT | No Comments | Add Comment
Post contains 302 words, total size 3 kb.
Comment spam achieves total incoherence
This one (trashed today) contains no links, makes no sense either (trademarks and names disemvowled):
Hello. Ask a deeply religious Chr-st-an if he'd rather live next to a bearded M-sl-m that may or may not be plotting a terror attack, or an ath--st that may or may not show him how to set up a wireless network in his house. On the scale of prejudice, ath--sts don't seem so bad lately. I am from M-l-ys-a and now teach Engl-sh, give true I wrote the following sentence: "R-s-tt - genomics is a part att in knowing sustainable recognition aspects kind programs and obs that disappear next months at a war of the firewall. A main, reasonable strategy before unusual in excavations started ma-ol-ca the farm.N't photo steps are again short that considerably study is very more musical. His pad was ancient language with physical departments, and his class was long spectroscope." Thank 8-)


R-s-tt- st-n- s-pn-sh workbook.
Is this some Evil Plot to mess people's minds with random cut-and-pastes from other spams? Or the first babblings of the Net's awakening self-awareness?
My head hurts.
LATER:
Aha, now they're putting the links in.
Posted by: Old Grouch in Meta at 15:09:28 GMT | No Comments | Add Comment
Post contains 194 words, total size 1 kb.
Wednesday, 07 October 2009
Thursday, 01 October 2009
Sites linked - September 2009
A busy end-of-the-month slowed me down, so 48 posts had to do for September. (I had hoped for at least 50). 48 is still up 10 from August, although 11 behind last year's pre-election 59.
August's 38 remains the y-t-d low. Who knows what October will bring?
The September linklist will appear (below the break) shortly...
Posted by: Old Grouch in Meta at 21:58:51 GMT | No Comments | Add Comment
Post contains 61 words, total size 1 kb.
79kb generated in CPU 0.05, elapsed 0.1857 seconds.
52 queries taking 0.1532 seconds, 170 records returned.
Powered by Minx 1.1.6c-pink.