Monday, 30 November 2009
Who are you?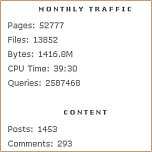 If you scroll way down the sidebar... no, keep scrolling... there!... you'll find some Monthly Traffic stats that
our host
kindly makes available to
us Mee-Nuvians
.
As the goings-on on this page have always been primarily for my own amusement (besides being a device for keeping the old blood pressure under control), I've never indulged in any of the fancy traffic analysis tools that the web makes available. The idea of doing so seemed to present a risk taking things entirely too seriously
[1]
; not to mention offering the disturbing potential to
discover things
that might be better
left undiscovered
[2]
.
Still, the reported 52,000+ pages served over the last 30 days is a bit of an eyebrow-raiser.
Who
are
all those

people?
For a long time that monthly number has hovered around 30,000... say 1,000/day. And I know from looking at other sites' information that one-half to two-thirds of that is most likely search engine spiders, botnets, spammers, and other miscellaneous automated rabble. Deduct a reasonable amount (say 50%) of the remainder to account for obsessive refreshing of the main page by the author, and that still leaves several hundred real-live viewers who drop by on any given day. Who appear to be a taciturn bunch, given that in just over 2½ years they have made just under 300 comments (by probably 30 unique commenters).
So for these last hours of November, I'm gonna call "
ollie ollie oxen free
," and encourage you hitherto silent ones to test Mee-nu's comment functionality. Tell a bit about yourself, or just say, "hello." No registration or personal info required, just click the "Add Comment" link in the footer below and make yourself known, if only for today.
(But if you're peddling handbags, athletic shoes, or replica watches... forget it.)
-----
Posted by: Old Grouch in Meta at 18:50:04 GMT | Comments (2) | Add Comment
Post contains 333 words, total size 4 kb.
Sunday, 29 November 2009
Blog Meet picture
Watch
shoot the birdie!
Dept.
(Taken with my cheap Polaroid digital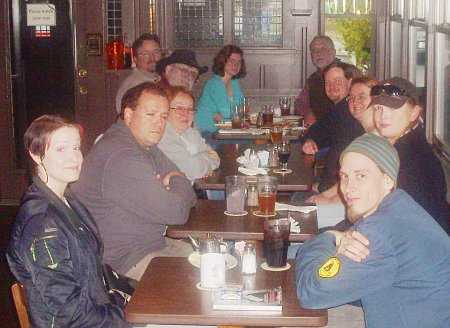 Not pictured:
Old Grouch (behind the camera), Roberta X (attending her family's Thanksgiving, showed up later).
Present:
Most of
The Usual Gang
.
Topics discussed at our end of the table: Whether Rock Star Beatles Version is cool or creepy, if Climatequiddick will make any difference, how many knives you routinely carry.
See you next month!
Posted by: Old Grouch in Meta at 23:50:51 GMT | Comments (4) | Add Comment
Post contains 69 words, total size 1 kb.
Friday, 27 November 2009
November Blog Meet - Hey, It's Sunday!
It's that time again...
Dept
What:
When:
Sunday, November 29, 3:00 p.m.
Where:
the fabulous
Broad Ripple Brew Pub, 840 East 65
th
Street
Who:
welcoming
Bloggers, lurkers, hangers-on
Why:
Food, drink, intelligent conversation, not-so-intelligent conversation, rants, etc.
So?
Thanks as usual
to Roberta
for getting a decision and providing a prize.
(I

had

had some hacked-together announcement art up for about 30 minutes, but Sherm's is better, so I'll save mine for a future occasion!)
Posted by: Old Grouch in Meta at 22:18:13 GMT | No Comments | Add Comment
Post contains 89 words, total size 2 kb.
Sunday, 01 November 2009
Sites linked - October 2009
End-of-the-month got busy (again!), resulting in a disappointing 33 posts for October, down from September's 48 (and August's 38).
That makes October the y-t-d low. Have to get on it next month!
The October linklist will appear (below the break) shortly...
Posted by: Old Grouch in Meta at 01:24:32 GMT | No Comments | Add Comment
Post contains 46 words, total size 1 kb.
76kb generated in CPU 0.04, elapsed 0.1358 seconds.
52 queries taking 0.1112 seconds, 170 records returned.
Powered by Minx 1.1.6c-pink.