Sunday, 14 March 2010

Saving daylight again
Reminder: If you live in (most of) the U.S., and you haven't reset your clock, you may want to do so before you forget (again).
Time again to haul out the daylight savings chart...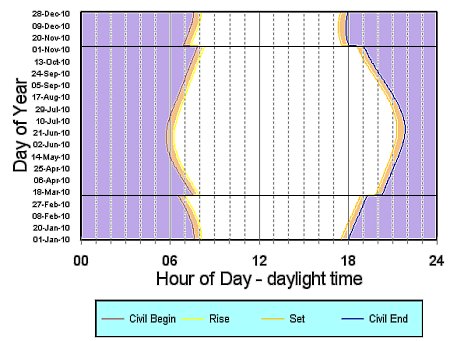 The chart reads from the bottom up (days of the year) and left to right.
Violet areas are darkness, the orange border is "civil twilight."

...and take a look at what happened at 2:00 this morning.
For those of us here in Indianapolis, when we step out the door this morning, we'll be finding it much darker than it was a day or so ago. We had just managed a sunrise before 7:00 (or would have, if it hadn't been pouring rain yesterday), but
this
morning's sunrise has been bumped back to almost 8:00. We won't see the sun peek over the horizon before 7:00 until April 20 - more than a month from now. In fact, at 7:00 we're all the way back unto what the astronomers call "nautical twilight," which is as good as total darkness for those of us in urban areas.
At the other end of the day, those of us whose homeward commute ends around 7:00 will suddenly find it full daylight all the way until we pull in the drive. The extra end-of-day sunlight is probably a good thing, as everyone on the road will be dozy from having gotten up an hour earlier Monday morning.
Worth it? It'll take
me
a week or so to get my biorhythms adjusted, and the later sunrise won't help.
My previous rants about DST are
here
and
here
. For the OCD-ers among us, I've put a 2010 version of my earlier "How dark is it?" charts below the break...
more...
Posted by: Old Grouch in Rants at 01:06:23 GMT | No Comments | Add Comment
Post contains 1021 words, total size 45 kb.
64kb generated in CPU 0.14, elapsed 0.306 seconds.
55 queries taking 0.2288 seconds, 148 records returned.
Powered by Minx 1.1.6c-pink.