Tuesday, 29 April 2008

One place where radio is still cool
In
Grand Theft Auto IV
:
At least as impressive as the city's virtual topography is the range of the game's audio and music production, delivered through an entire dial's worth of radio stations available in almost any of the dozens of different cars, trucks and motorcycles a player can steal. From the jazz channel (billed as "music from when America was cool") through the salsa, alt-rock, jazz, metal and multiple reggae and hip-hop stations, Lazlow Jones, Ivan Pavlovich and the rest of Rockstar's audio team demonstrate a musical erudition beyond anything heard before in a video game. The biggest problem with the game's extensive subway system is that there's no music underground. (Too bad there are no iPods to nab.)

The game's roster of radio hosts runs from Karl Lagerfeld to Iggy Pop and DJ Green Lantern. It is not faint praise to point out that at times, simply driving around the city listening to the radio — seguing from "Moanin' " by Art Blakey and the Jazz Messengers to the Isley Brothers' "Footsteps in the Dark" to "The Crack House" by Fat Joe featuring Lil Wayne — can be as enjoyable as anything the game has to offer. -

The New York Times
HT (and link via):
The Daily Swarm
, via Jeff Schmidt's
comment
at Hear2.0
Posted by: Old Grouch in Radio at 20:05:47 GMT | No Comments | Add Comment
Post contains 224 words, total size 2 kb.
Thursday, 17 April 2008

And just wait until the RIAA finds out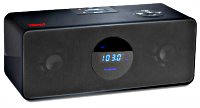 Sales manager's nightmare!
Intempo's Rebel radio records all your favourite FM stations and

cuts out

all the DJ drivel and adverts.

In a compact glossy package - it measures 195 x 80 x 70mm and weighs in at 1kg - the Rebel is a standard FM radio, but with the added twist of

recording the most-played tracks on a given station. It then makes them available for transfer to an SD card, Memory Stick or MP3 player, as 192Kb/s MP3 files

- all for free. - from The Register's review
I'd love to play with this.
They say
it uses Swedish-developed technology plus an Analog Devices processor to "filter the broadcast stream for unwanted promotional messages and verbiage," and automatically replace initial recordings with later, "less disrupted versions." All for £69.99.
Posted by: Old Grouch in Radio at 16:05:42 GMT | No Comments | Add Comment
Post contains 137 words, total size 2 kb.
65kb generated in CPU 0.08, elapsed 0.1864 seconds.
49 queries taking 0.151 seconds, 130 records returned.
Powered by Minx 1.1.6c-pink.