Thursday, 12 June 2008

Another business model goes plop
Link your radio to a retailer to create a "buy what you're hearing now" button for music. Sound like a plan? Didn't succeed in the U.K.
Radio group Unique will close down its instant music purchasing initiative ["Cliq"], blaming the slow take up of DAB for the decision, the

F[inancial] T[imes]

reports today.

...Cliq [...has] been touted as the showpiece for the commercial potential of interactive radio. Cliq allowed DAB listeners to acquire a song as they heard it. It was launched two years ago, with the service embedded in standalone DAB[1] radios... and also ran as a Java applet on mobile phones. - The Register
It appears that Cliq was shuttered due to low levels of business; while the company reported an "operating profit" last year, those figures didn't reflect debt expenses or recovery of startup costs.
This is bad news for both the music business (which loses a much-needed sales channel) and the radio business (which loses a differentiating feature that might have encouraged more purchases of DAB receivers).
-------
[1]
DAB is the
European version
of digital radio. It has experienced uptake problems similar to those of American-version HD (but less severe, with an estimated 6.5 million sets presently in use in the U.K. alone).
Posted by: Old Grouch in Radio at 23:16:20 GMT | No Comments | Add Comment
Post contains 209 words, total size 2 kb.
Tuesday, 10 June 2008

A new fancy radio - without HD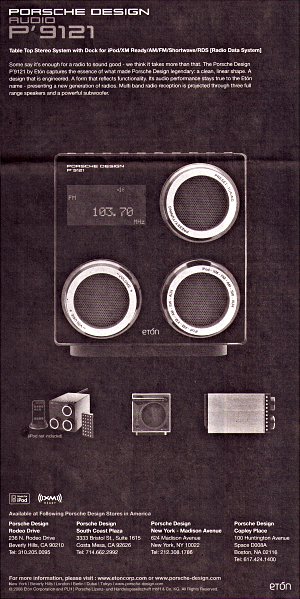 This expensive
4-column x 14¼" ad appeared on Monday's Technology page (B6) of the
Wall Street Journal:
Oh, and it's $600.
So where's the HD?
Nowhere.

Which should be particularly disconcerting to the HD crowd as this status-symbol-grade unit parses
RDS information transmissions
and comes
factory-equipped
to receive XM satellite broadcasts (not to mention including the now-obligatory iPod dock). (The
European version
, BTW, is fully
DAB
-capable.)
Looks like another vote of no-confidence for HD.
Earlier HD posts:
Posted by: Old Grouch in Radio at 19:17:10 GMT | Comments (3) | Add Comment
Post contains 128 words, total size 3 kb.
Thursday, 05 June 2008

Class and no class
No class:
Cameron [Holt] is a Make-a-Wish child, and Make-a-Wish is sponsored by radio station WZPL 99.5 FM. In that context, Cameron was invited to visit the track May 21; he was asked to participate in a pit crew competition and be the guest of the WZPL team, including disc jockey Dave Smiley and other radio hotshots.

But when Cameron and his parents and sister Candace, 11, showed up at the WZPL area, Dave Smiley and the others in his crew were drinking," said Trish [Sieger, Cameron's mom]. She saw Smirnoff bottles and indifference. The time? About 11:30 a.m., says Trish.

"I walked up and introduced Cameron. They never put it (alcohol) down so we just stood there."

"We were not expecting fireworks," she explained. "But when a sick child is involved, you would think they would make an effort."

Although eventually the Smiley team offered to take Cameron to meet the drivers, the little boy had his heart set on participating in the competition. That never happened.



"They just walked off and left us,"

said Trish, speaking of Smiley and Co.
Fortunately, somebody with
real
class showed up, and took things in hand.
Ruth Holladay
has the story
.
Posted by: Old Grouch in Radio at 22:16:45 GMT | No Comments | Add Comment
Post contains 198 words, total size 2 kb.
71kb generated in CPU 0.16, elapsed 0.5321 seconds.
51 queries taking 0.4303 seconds, 136 records returned.
Powered by Minx 1.1.6c-pink.