Thursday, 05 March 2009

Ice loading + high winds = not cool
Ka-Runch
!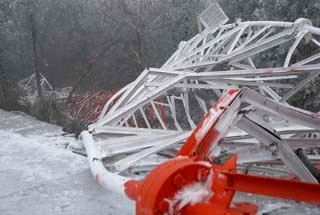 Yep, it's a TV tower... folded over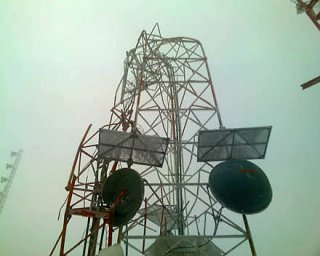 One of News Channel 7's main broadcast towers has collapsed due to ice and high winds, hitting the main back-up tower as it fell. Both towers are on the ground ...

The road up to Hogback is still being cleared of snow and ice. Crews have made very good progress but still have another mile of road left to scrape.

The analog ch 7 antenna is in Landrum and the crew is getting ready to haul it up the mountain around 4pm. It will most likely take the rest of today just to get it up the hill. We are speculating that they should have the antenna and transmission line up by this weekend but all of this depends on when the truck gets up the mountain.

Another crew is trying to get up to Hogback to install a temporary TSL (transmitter to studio) dish which will get phones and data connections back up and operational.
Don't envy them
that
job!
« Snapped off!


What a mess! »

(Last time we had something like this happen around here, it was a 500-or-so footer that belonged to the local university FM station. Summer thunderstorm: Big tree in the adjacent woods blew down and fell across one of the guy wires. Tower fell within the guy circle- as they're supposed to- disassembling itself into sections on the way down. No report as to whether any of the occupants of the studio/transmitter building at its base had to change underwear afterward.)
Photo gallery at
the link.
Tom Crabtree's
blog entry
.
Posted by: Old Grouch in Radio at 00:03:37 GMT | Comments (2) | Add Comment
Post contains 273 words, total size 3 kb.
65kb generated in CPU 0.08, elapsed 0.2478 seconds.
51 queries taking 0.202 seconds, 131 records returned.
Powered by Minx 1.1.6c-pink.