Friday, 06 August 2010

Kaa-runch! (x3)
Yes, these are three self-supporting towers.
On the ground
.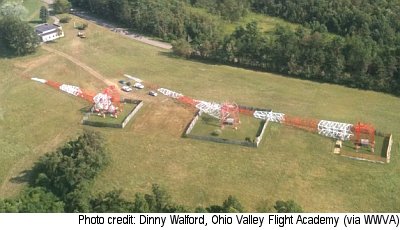 This is
WWVA, Wheeling– after Wednesday's storms
. Ouch.
LATER (100807):
Discussion at Radio-Info's Engineering board.
(Via:
Radio Ink
)
Previous tower "fun."
Posted by: Old Grouch in Radio at 18:47:54 GMT | Comments (6) | Add Comment
Post contains 37 words, total size 1 kb.
1
One of the great blowtorches of the 20th century. (The FCC doesn't care about that sort of thing anymore.) The other big 1170 in the States is in Tulsa.
Posted by: CGHill at 08/06/10 23:04:39 (9B3km)
2
I fear that someday we may get a surprise, and discover that high-power Ancient Modulation still has a place in national security. Question is, between the clueless FCC and the equally clueless consolidators, will it still be there?
Sad recent experience when driving past Lexington, Kentucky one evening: Tuned the car radio to 770, and heard not WABC, but some daytimer religious dropin.
If
I
ruled the world, we'd
get rid of NRSC-2
(so AM could start sounding good again) and bump our blowtorches to
500KW
.
Posted by: Old Grouch at 08/07/10 15:30:50 (t3osk)
3
It would help if the present-day receivers weren't such total crap: with few exceptions, they seem to have been going downhill for the last thirty years or so.
Posted by: CGHill at 08/08/10 03:01:38 (9B3km)
4
I have seen towers drop like that when not enough was spent on maintenance -- not just painting, but full inspection, plumb & straightness checked, bolt-tightening and so on., which is just barely worth it for a big AM. (Making enough profit to pay for upkeep is a real issue). But all three to fall like that points to a "perfect storm" combination of some inherent weakness and enough push to do the job.
These events are a PITA for the station. Likeliest replacement will be three inexpensive (hah!) guyed towers.
Posted by: Roberta X at 08/09/10 01:12:11 (WJntt)
5
I note without further comment that WWVA is owned by the same folks who lost one of their self-supports here in Indy (on Fall Creek Road) a few years back.
Posted by: Old Grouch at 08/09/10 14:55:05 (599Ne)
6
I know most of the "benign(?) neglect" occurred under Taft rather than the billboard company -- by the time they got it, it was probably already too late and they were about five Chief Engineers removed from anyone who might've remembered that. Caveat, by gosh, emptor; there are specialist firms who will inspect, recommend and repair, but they don't come to your door like the Fuller Brush man and they're not the same breed of cat as the riggers who paint them and change the lights.
There's a lot of speculation those are Blaw-Knox towers and it's possible; I'm startin' to suspect Ideco. Pre-WW II Idecos are rugged, pretty much oil derricks, and will last forever if the insulators hold up. Postwar, there's a little evidence that someone's slide rule was slipping; most of their surviving tall, guyed towers have been heavily re-engineered.
Posted by: Roberta X at 08/10/10 23:54:54 (WJntt)
Comments are disabled. Post is locked.
66kb generated in CPU 0.03, elapsed 0.1334 seconds.
52 queries taking 0.1105 seconds, 137 records returned.
Powered by Minx 1.1.6c-pink.