Thursday, 17 April 2008

And just wait until the RIAA finds out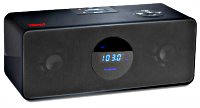 Sales manager's nightmare!
Intempo's Rebel radio records all your favourite FM stations and

cuts out

all the DJ drivel and adverts.

In a compact glossy package - it measures 195 x 80 x 70mm and weighs in at 1kg - the Rebel is a standard FM radio, but with the added twist of

recording the most-played tracks on a given station. It then makes them available for transfer to an SD card, Memory Stick or MP3 player, as 192Kb/s MP3 files

- all for free. - from The Register's review
I'd love to play with this.
They say
it uses Swedish-developed technology plus an Analog Devices processor to "filter the broadcast stream for unwanted promotional messages and verbiage," and automatically replace initial recordings with later, "less disrupted versions." All for £69.99.
Posted by: Old Grouch in Radio at 16:05:42 GMT | No Comments | Add Comment
Post contains 137 words, total size 2 kb.
Comments are disabled. Post is locked.
62kb generated in CPU 0.04, elapsed 0.145 seconds.
50 queries taking 0.1261 seconds, 130 records returned.
Powered by Minx 1.1.6c-pink.