Tuesday, 10 June 2008

A new fancy radio - without HD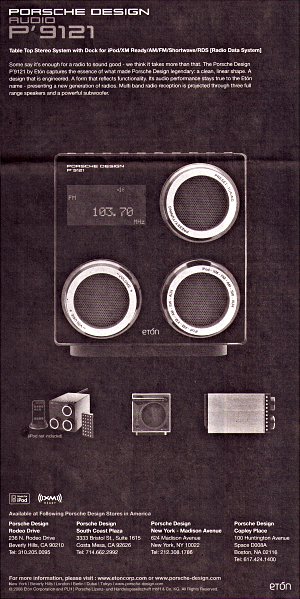 This expensive
4-column x 14¼" ad appeared on Monday's Technology page (B6) of the
Wall Street Journal:
Oh, and it's $600.
So where's the HD?
Nowhere.

Which should be particularly disconcerting to the HD crowd as this status-symbol-grade unit parses
RDS information transmissions
and comes
factory-equipped
to receive XM satellite broadcasts (not to mention including the now-obligatory iPod dock). (The
European version
, BTW, is fully
DAB
-capable.)
Looks like another vote of no-confidence for HD.
Earlier HD posts:
Posted by: Old Grouch in Radio at 19:17:10 GMT | Comments (3) | Add Comment
Post contains 128 words, total size 3 kb.
1
"Pioneer says HD Radio succcess should be decided by open market, not forced inclusion"

"IBiquity, the company behind HD Radio, is making enemies all over the place, the latest of which is Pioneer. The Japan-based corp, which makes the popular Inno, recently told the FCC [PDF] that iBiquity's scheme to force satellite radio manufacturers to include HD Radio playback is absurd."

http://tinyurl.com/5f9q2b
Maybe, if iBiquity pisses off enough manufacturers, no one will build their crappy radios, which don't even work.
Posted by: PocketRadio at 06/12/08 19:47:59 (de+ej)
2
Isn't this precisely why citizens long ago rejected HD? Why does BigRadio stupidly, greedily insist upon shoving it down our throats and polluting our airwaves with broadband digital jamming? Do they really think that jamming our favorite stations will win us over any more than did their sub rosa arm twisting of broadcasters? Do they think their endlessly embroidered lies about 'streams' and Saturday-Night-Suspect denials of jamming will earn them new friends?

Isn't this new Porsche Design radio marketed to those who know value? Why is it that HD gangsters and their dupes cynically know the cost of everything and the value of nothing?
This new receiver represents a committment to value and respect for both listeners and broadcasters alike. What a delightful entry into the still very much alive business of analog broadcasting.
Dr. Paul Vincent Zecchino
Manasota Key, Florida
12 June, 2008
Posted by: paul vincent zecchino at 06/12/08 20:15:56 (D0w3a)
3
The fact that it doesn't have HD is a major selling plus for me, putting HD in a receiver is like putting an 8 track player in one: neither work, and are both obsolete.
Bob Young
Millbury, MA
KB1OKL
Posted by: bobyoung at 06/13/08 01:24:51 (U2GXA)
Comments are disabled. Post is locked.
69kb generated in CPU 0.04, elapsed 0.1485 seconds.
53 queries taking 0.128 seconds, 211 records returned.
Powered by Minx 1.1.6c-pink.