Wednesday, 31 October 2007

Sockpuppeteria
In which nothing is what it seems! Jules Crittenden summarizes, in his own inimitable style! Read on...
UPDATE MCMLXIX:

Someone claiming to be Greg Mitchell at a website purporting to be that of Editor & Publisher asserts that he exchanged emails with someone he believes to be Col. Boylan or possibly someone who has hacked into Boylan's email. The person presenting himself as Mitchell claims that Boylan definitively stated he did not send the offending email to the person who has been claiming to be Glenn Greenwald. Which means that (a) Boylan is lying or (b) someone else is using his keyboard or (c) Greenwald composed and emailed the offending statement to himself, or (d) a previously unknown personality co-habiting within the entity we refer to as Greenwald. Or as the entity that for practical purposes we'll refer to as "Greenwald" claimed in the Greenwaldian puppetry matter (e) maybe someone in his household did it. I don't know. In any case, it remains funny that whoever did that mocked Greenwald by saying he lacks the ethics of a journalist.
(Quoted only because it's amusing.)
For the background to all this, start
here
.
For earlier sockpuppetry that may have involved someone who claimed to be at least one of the current protagonists, there's
this
.
Posted by: Old Grouch in Linkage at 23:19:26 GMT | No Comments | Add Comment
Post contains 212 words, total size 2 kb.
Tuesday, 30 October 2007

Monday, 29 October 2007


Comcast flap attracts Congressional interest
Two Senators on Friday called for a congressional hearing to investigate reports that phone and cable companies are unfairly stifling communications over the Internet and on cell phones.

Sens. Byron Dorgan, D-N.D., and Olympia Snowe, R-Maine, said

the incidents involving several companies, including Comcast Corp., Verizon Wireless and AT&T Inc., have raised serious concerns over the companies' "power to discriminate against content."

-- AP Story posted at google news
Previously:
Consumerist
):
Posted by: Old Grouch in Linkage at 03:33:07 GMT | No Comments | Add Comment
Post contains 101 words, total size 2 kb.

Oh, THOSE illegal aliens
Jules Crittenden
:
I'm going to go out on a limb here and guess that when faced with an alien menace, the Dems will be mainly interested in trying to figure out why they hate us. Expect to see Richard Dreyfus as secretary of alien affairs. On the Republican side, candidates have been largely silent. Only Giuliani has come out for a strong extraterrestial defense.
Apropos of nothing, anybody else remeber the Firesign Theatre's spoof of the "Aliens must report their addresses annually" radio spot back in the 1970s?
Posted by: Old Grouch in Linkage at 02:03:23 GMT | No Comments | Add Comment
Post contains 91 words, total size 1 kb.
Thursday, 25 October 2007

Today's Socialist Realism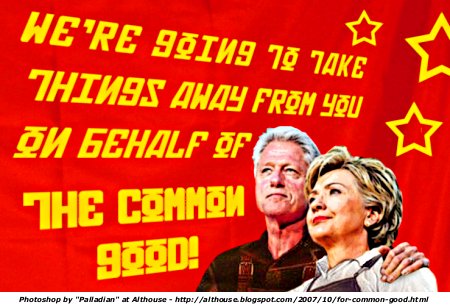 "Palladian photoshopped that
crazy photograph
from the WaPo
[actually the
Los Angeles Times
- o.g.]
article
I was talking about
earlier today." -
Ann Althouse
(In the comments, Palladian
says
, "I would have done the same to any politician photographed in that way, though being able to use
Hillary Clinton's old quote
made them an especially good target.")
more...
Posted by: Old Grouch in Linkage at 18:12:38 GMT | No Comments | Add Comment
Post contains 118 words, total size 2 kb.
Sunday, 21 October 2007

More mindless MBA-ism
Sometimes there's advantage in coming late to a story. When you're late, you get to see all the fallout, which is a good way to learn lessons. This story about Angus & Robertson Books is one of those lesson-learning opportunities.
Another of those Weblogs I Don't Read Often Enough
[1]
is
Making Light
, home of sci-fi editors/publishers Teresa & Patrick Nielsen Hayden. It's a good place for "inside baseball" stuff about the book business, lots of valuable discussion about the craft of writing, and the occasional dose of pure whimsy. Today's perusal turned up
this post
(from October 9th, about sock-puppetting in comment threads), which was based on the comments to
this one
, about how the Australian chain bookseller Angus & Robertson is trying to extract money from small publishers on the pretext that doing business with them isn't "profitable enough." The A&R story is the one that caught my eye.
more...
Posted by: Old Grouch in Linkage at 23:14:19 GMT | No Comments | Add Comment
Post contains 491 words, total size 5 kb.
Saturday, 20 October 2007

Add 'em to the book

4. All great discoveries occur because of a random accident colliding the irrational persistence of a man who didnt know any better than to keep working when everyone else had already given up.
7. The core idea of western civilization is the phrase "none of your business".
8. The core idea of fascist and communist thought is "you have no business".
10. The collapse of civilization begins when your next door neighbor takes an interest in what's on your side of the fence.
Read them all:
Varifrank's Laws
Via:
Tom McMahon
Posted by: Old Grouch in Linkage at 23:07:48 GMT | No Comments | Add Comment
Post contains 96 words, total size 1 kb.

Friday, 19 October 2007

Serving "the public" versus serving "the customer"
"Squander Two," while railway blogging,
nails the distinction
(but do read the whole post):
The very phrase "customer service" has it built in: serve your customer so that they will give you money. And there's rarely any doubt about who your customer is: it's the guy offering you money. But then there's public service. The trouble with public service is that the public are a bit of an anonymous blob.

While the customer standing in front of you, wanting to give you money, might be a member of the public, he ain't "the public."

If you work in public service, your job is not to serve him.
I think I'd extend this to include private companies in pseudo-monopoly positions. If your patrons have little choice, there's little incentive to please them.
Via
Tim Worstall
Posted by: Old Grouch in Linkage at 23:54:20 GMT | No Comments | Add Comment
Post contains 139 words, total size 1 kb.
87kb generated in CPU 0.09, elapsed 0.1816 seconds.
49 queries taking 0.1296 seconds, 195 records returned.
Powered by Minx 1.1.6c-pink.