Wednesday, 29 July 2009

Got questions? Tam has the answers!
It's a joke, you simpleton.
Dan Rather.
An IQ test, and you failed.
Your mom.
Charles Darwin.
Start
here
.
(It's all
Robb Allen's fault
!)
Posted by: Old Grouch in Linkage at 15:20:42 GMT | No Comments | Add Comment
Post contains 25 words, total size 1 kb.
Tuesday, 28 July 2009


Spreading the credit
I guess that it's a good thing that whenever I start to develop that know-it-all attitude I get a reminder that I'm not always up-to-date on the latest web fads. This particular one reached me late, with no information about its creator. Now that I know about it, I thought others might like to know, too.
In mid-May I received an e-mail (with the subject line: "FW: Cat Movie!!") with this animation attached: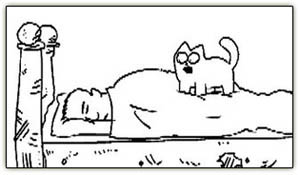 It was new to me, but, as it turned out, not new to the net.
[1]
(Sissy Willis had
written about it a year and one-half ago
.) I blame missing it on the lack of Flash on my system coupled with my creaky dialup, which has encouraged me to discourage my correspondents from sending me enormous files. But this time someone did, and fortunately for me someone else, somewhere along the line, had WMV-ed it, so I was finally able to view it.
Unfortunately, like a lot of stuff on the web, the version I got came with no information about it. Fortunately, a couple of days ago (in a
post about cats who control their owners
), Sissy linked to her earlier one. So, off I went to find out more.
The cat is called (simply enough) "Simon's Cat," and his perpetrator is animator Simon Tofield, who is associated with
Tandem Films, London
[site requires Flash, unfortunately]. This particular film,
Cat Man Do,
is the first of (so far) four short Simon's Cat animations, all of which can be found at the not-so-much-Flash official Simon's Cat site
http://www.simonscat.com/
.
There's also a book, which is due out in October.
So, now you know.
-----
[1]
If it should happen that you are one of the five people on the net who have managed
not
to see this yet... well, go look (and then come back)!
Posted by: Old Grouch in Linkage at 15:28:10 GMT | No Comments | Add Comment
Post contains 305 words, total size 3 kb.
Thursday, 23 July 2009

Friday, 17 July 2009

Life would be incomplete without it...
Wonders of Technology
Dept

Begin by adding a canholder. Then...
All it needs is a cigar lighter and you'll have your alcohol, tobacco, and firearms covered in one tidy package.
...sez Alice H at doubleplusundead, where you can see
what this one is hanging off of
.
(Frank J. gets the blame for
starting this
.)
Posted by: Old Grouch in Linkage at 19:09:39 GMT | No Comments | Add Comment
Post contains 58 words, total size 1 kb.

Random Linkage - July 17, 2009
Mmm-mmm Good!

O'Sullivan's First Law
Strikes Again
Shall we blame Canad(a/ians)?
Candidate for The Curmudgeons
'
Club
Long time passing...
You'll never miss me till I'm gone
Better ask
Rachel Lucas
Don't let 'em push your Guilt Button
...which segues right into: Cat stuff
Posted by: Old Grouch in Linkage at 16:17:25 GMT | Comments (1) | Add Comment
Post contains 360 words, total size 8 kb.
Friday, 10 July 2009

Ready - or Not?
Is your city prepared for a home-made nuke?
Via Instapundit,
who notes
:
I was discussing fallout in Administrative Law class... and realized that today's law students have virtually no understanding of things that were common knowledge in my Cold War childhood. I suppose that's a good sign overall, but . . . .
Radio Unprepared for Another 9/11
How is an industry that can't stop the voice tracking and can't even do the weather going to cover another emergency the level of 9/11 or worse?

The short answer is –

it can't.
Read 'em both. And pleasant dreams.
Posted by: Old Grouch in Linkage at 20:35:40 GMT | No Comments | Add Comment
Post contains 98 words, total size 1 kb.

Wednesday, 08 July 2009

Tuesday, 07 July 2009

92kb generated in CPU 0.8, elapsed 0.555 seconds.
36 queries taking 0.1912 seconds, 85 records returned.
Powered by Minx 1.1.6c-pink.