Tuesday, 30 March 2010

Demonstrating how it's done
Artistic Excoriation
[1]
Dept
Ed Morrow engages in
a bit of "hate speech"
:
I hereby promote hatred for an "identifiable group." That group is the politically correct, mealy-mouthed, oppressive, petty, puffed-up, would-be-Hitlers that wish to destroy freedom of speech. They blight your otherwise dandy country and are, unfortunately, rising to power in every corner of the once Free World. I hate this "identifiable group," which includes you, Provost Houle. I urge any and all to hate you and your kind, to loathe you, to taste bile at the thought of you, to shudder at your approach and rejoice at your departing, to see your shadow and draw back as from a viper...
And that's just getting started. I am in awe!
RTWT
.
-----
Posted by: Old Grouch in Linkage at 16:18:03 GMT | No Comments | Add Comment
Post contains 130 words, total size 2 kb.
Thursday, 25 March 2010

It's little things like this...
The Sting at the End of the Tail
Dept
...that keep me checking
Tam's blog
at least once a day:
"Then she asked Senator McCain what conservative lawmakers had to say about all this,

like he'd know.

"

- "Fear and loading."
Posted by: Old Grouch in Linkage at 15:19:12 GMT | Comments (1) | Add Comment
Post contains 45 words, total size 1 kb.
Wednesday, 24 March 2010

Stupak's Choice
Latest In the Series
Dept
(Previously: "Choose Diversity," "Choose Feminism," "Choose Peace," etc., etc., etc.)
Related, No Surprise:
Obama Doesn't Sign Abortion EO
Posted by: Old Grouch in Linkage at 18:04:08 GMT | No Comments | Add Comment
Post contains 25 words, total size 1 kb.
Monday, 15 March 2010

Sour notes
Kyle Gann wonders about
the usefulness of publishers
to the contemporary, serious composer:
For me, trying to make money off of scores is just a dubious proposition. The amount I might make seems trivial compared to the wider distribution I get from having interested musicians be able to check out my works whenever they want. There's also a certain resentment of the music publishing industry involved, since no publisher is likely to accept any music as commercially unprofitable as mine, and my understanding (from Philip Glass and many others) is that, even if a publisher takes your work, the most likely result is that they will print a few copies, keep them in boxes in warehouses as a tax write-off, tie up the copyright, and make your music more difficult to obtain even for those willing to buy it. Of all the friends whose music I write about, the few whose music is officially published are the ones whose scores I have a devil of a time trying to get. When the scores are available for perusal only, I sometimes can't get access to them at all. I'm also conditioned by my score-starved youth: so many of the scores I desperately needed to see when I was a young, studying composer couldn't be had under any circumstances.
It's been a while since I purchased band parts, but I remember the process as often being expensive and frustrating. Even if you could obtain what you were looking for (no certainty), the instrumental parts supplied never seemed to match the ensemble (too many clarinets and not enough flutes, for example).
That
problem was- supposed to- lead to an order of extra parts from the publisher (frustrating, with long delays and outrageous per-page charges), but was (usually) solved with a bit of clandestine copying (a.k.a. *PIRACY*) instead.
Even back then I was wondering why arrangements didn't come as a printed conductor's score plus a disc of PDFs.
Via:
Techdirt
Posted by: Old Grouch in Linkage at 16:14:28 GMT | No Comments | Add Comment
Post contains 327 words, total size 2 kb.
Saturday, 13 March 2010

A walk through Victorian technology
It's the world's first tunnel under a navigable river, opened in 1843. On offer: A chance to be among the first paying pedestrians in 145 years, the last chance before it's returned to rail service. The result: Turnout of an astounding mix of transport, technology and urban history geeks.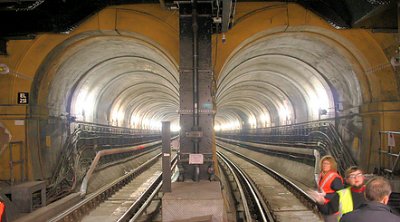 (Photo by "IanVisits," some rights reserved.)
IanVisits:
Walking through Brunel's tunnel under the Thames
[
Flickr photoset
]
Darryl (853):
Inside the Thames Tunnel
[
Flickr photoset
]
Dark holes in Rotherhithe don't normally strike people as a must-see...
The Great Wen (Peter Watts):
Under the Thames in the Brunel Tunnel, or, How I Became a Moleman
...Upon leaving Rotherhithe station, Darryl and I were accosted by a young man from the

Southwark News

, eager for eyewitness reports of this momentous occasion and then slightly disconcerted that he had somehow managed to approach a pair of freelance journalists masquerading as innocent bystanders.
urban75:
A walk through Brunel's Thames Tunnel
(don't overlook the
second page
)
Closed in December 2007 for redevelopment, the public were invited to walk through the tunnel ahead of the reopening... so naturally we were there to grab a few photos!
Diamond Geezer:
Thames Tunnel Tour and Fancy Fair
Next time any of are here it'll be on a train, speeding beneath the Thames in one minute flat on our way to Dalston or Croydon or somewhere. As the arches rush by, and the faintest glimpse of red signal whisks past the window, we Thames Tunnellers will be the smug ones who remember what it's like to walk the route instead. No more than two thousand of us, all told, the first paying pedestrians to pass this way in 145 years.
Annie Mole:
Brunel Thames Tunnel Tour in Words & Pictures
Times
Archive Blog:
A walk through the Thames tunnel
The Victorian public were thrilled to shreds with the novelty - on the opening day 50,000 people filed down the stairs to walk under the river and within a week half the population of London had followed.
Even more pictures:
Posted by: Old Grouch in Linkage at 19:13:23 GMT | No Comments | Add Comment
Post contains 335 words, total size 6 kb.
Friday, 12 March 2010


Wednesday, 10 March 2010

A most civil dressing-down
Some passages are joys to read, just for the style of them. And then there are the ones with substance surpassing their style:
Point of order
.
Posted by: Old Grouch in Linkage at 03:06:21 GMT | Comments (1) | Add Comment
Post contains 30 words, total size 1 kb.
Wednesday, 03 March 2010

87kb generated in CPU 0.07, elapsed 0.2479 seconds.
59 queries taking 0.1935 seconds, 178 records returned.
Powered by Minx 1.1.6c-pink.