Saturday, 13 March 2010

A walk through Victorian technology
It's the world's first tunnel under a navigable river, opened in 1843. On offer: A chance to be among the first paying pedestrians in 145 years, the last chance before it's returned to rail service. The result: Turnout of an astounding mix of transport, technology and urban history geeks.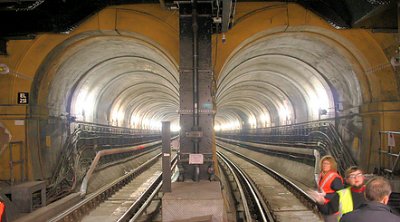 (Photo by "IanVisits," some rights reserved.)
IanVisits:
Walking through Brunel's tunnel under the Thames
[
Flickr photoset
]
Darryl (853):
Inside the Thames Tunnel
[
Flickr photoset
]
Dark holes in Rotherhithe don't normally strike people as a must-see...
The Great Wen (Peter Watts):
Under the Thames in the Brunel Tunnel, or, How I Became a Moleman
...Upon leaving Rotherhithe station, Darryl and I were accosted by a young man from the

Southwark News

, eager for eyewitness reports of this momentous occasion and then slightly disconcerted that he had somehow managed to approach a pair of freelance journalists masquerading as innocent bystanders.
urban75:
A walk through Brunel's Thames Tunnel
(don't overlook the
second page
)
Closed in December 2007 for redevelopment, the public were invited to walk through the tunnel ahead of the reopening... so naturally we were there to grab a few photos!
Diamond Geezer:
Thames Tunnel Tour and Fancy Fair
Next time any of are here it'll be on a train, speeding beneath the Thames in one minute flat on our way to Dalston or Croydon or somewhere. As the arches rush by, and the faintest glimpse of red signal whisks past the window, we Thames Tunnellers will be the smug ones who remember what it's like to walk the route instead. No more than two thousand of us, all told, the first paying pedestrians to pass this way in 145 years.
Annie Mole:
Brunel Thames Tunnel Tour in Words & Pictures
Times
Archive Blog:
A walk through the Thames tunnel
The Victorian public were thrilled to shreds with the novelty - on the opening day 50,000 people filed down the stairs to walk under the river and within a week half the population of London had followed.
Even more pictures:
Posted by: Old Grouch in Linkage at 19:13:23 GMT | No Comments | Add Comment
Post contains 335 words, total size 6 kb.
Comments are disabled. Post is locked.
69kb generated in CPU 0.11, elapsed 0.4402 seconds.
50 queries taking 0.3865 seconds, 179 records returned.
Powered by Minx 1.1.6c-pink.