Friday, 23 April 2010

The natives are restless (again)
Advice from all over:
When you try to tell the story
as you want it to be
, rather than the story
that's really there,
you may wind up looking like an idiot. (AKA "Shut up and listen,
you might learn something
"):
Newsboy:

"...So, there's oil leaking from the well...?"

Rear Admiral Mary Landry

[USCG]

: "No, [name redacted], what you see on the water -- contained by the booms -- is from the oil rig itself."



NB:

"But if it was-- Wouldn't that be an impossible situation, with the oil rig collapsed on top of the well? You couldn't get to it."



ML

(As though speaking to a very young child): "The platform

didn't

collapse on the well."



NB

(Disappointedly): "But what if it had? Wouldn

't

that be an unprecedented environmental disaster?"



ML

(As though she had over-estimated the child's age): "It did not. The oil you see on the surface is residual from the explosion. The rig fell next to the well. There has been no leakage. We are monitoring it closely."



NB:

(Looking crestfallen): "Well, thank you."
How about, y'know,
digging out some answers?
...There was a story a month or two back about how the Department of Education was trying to acquire 27 short-Barrelled shotguns. It lead to alot of internet buzz and funny comments in web forums, but we never got any well-publicized followup. Did the DOE acquire the guns? Where are they now? What specific cases were SBSs ever used by DOE agents? Under what legal circumstances will it be DOE agents who go in guns ablazing, as opposed to some other agency? The closest thing I could find to followup by the MSM was this WaPo "newsblog" post, stashed away in the back recesses of their website, with the reporter apparently satisfied with the DOE not returning her phonecalls.

For F&#$'s sake there's a news story there..

.
And remember, a paycheck from the
New York Times
doesn't mean you have attained enlightenment
:
Don't tell me that a highly paid NY Times Op-ed guy is so much smarter than internet idiots when he was so obviously and provably WRONG on a rather major topic.
Posted by: Old Grouch in The Press at 18:39:16 GMT | No Comments | Add Comment
Post contains 359 words, total size 4 kb.
Tuesday, 13 April 2010

Some days you get beat...
Star

fell in Indiana
Dept
...and other days, you don't care:


« The Wall Street Journal
Monday, April 12, 2010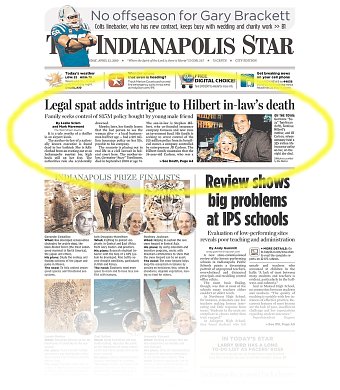 The
Indianapolis Star
Tuesday,
April 13, 2010
(Yes, it's a reprint of the
Journal
story...)

Posted by: Old Grouch in The Press at 19:20:14 GMT | Comments (1) | Add Comment
Post contains 40 words, total size 1 kb.
Friday, 09 April 2010

Oh look, more spin!
Naw, no bias
here
:
Michigan Rep. Bart Stupak, the congressman who led

anti-abortion rights

Democrats in the House during health care negotiations, will retire this year, CBS News has learned...
Now correct me if I'm wrong, but as I recall Stupak's sticking point was not about whether anybody has a "right" to an abortion, but whether abortions should be eligible for federal funding.
Which is a long way from being "anti-abortion-rights"— unless among those "rights" you're including the "right to make somebody else pay for it." Which appears to be the way the folks at
51 W. 52nd St.
want things.
(Just another example of the spin that seems to be an ever-present part of the coverage purveyed by our friends in the DSM.)
Posted by: Old Grouch in The Press at 20:28:19 GMT | No Comments | Add Comment
Post contains 129 words, total size 2 kb.
74kb generated in CPU 0.06, elapsed 0.2134 seconds.
51 queries taking 0.1846 seconds, 186 records returned.
Powered by Minx 1.1.6c-pink.