Tuesday, 17 May 2011

Hey Journal, spin much?
May 17, 2011, page B1
: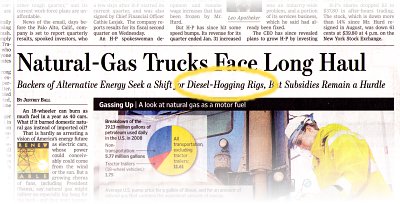 "Diesel-Hogging Rigs," huh?
And just how much of your newsprint moves by truck?
Posted by: Old Grouch in The Press at 20:08:04 GMT | No Comments | Add Comment
Post contains 22 words, total size 1 kb.
Wednesday, 04 May 2011

Well, we know *somebody* got him...
Over at
The Telegraph,
the juxtaposition of this pair of Melbourne, Australia, newspaper posters not only proved
impossible for
Tim Blair and his merry band of commenters
to resist, but also inspired me to visit The Newseum's
collection of daily front pages
, just to see how similar headlines were being handled here in America. Not with intent to make a big deal out of what I might find, you understand; just to establish a few... um... data points.
(

Yeah,

that was the reason.)
Anywho, the Newseum offers images of the front pages of 484 U.S. dailies, and on Tuesday, May 3nd, 30 American papers had a "Got Him" (or similar) headline on their front pages.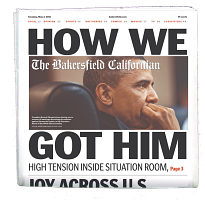 The breakdown?
If you were anticipating an excuse to snark about un-American American media, I'm afraid that this time you'll have to look elsewhere. Because
of the 30 papers, 19 of them headlined their stories "How

We

Got Him."
Only four opted for "they," but I'll forgive the
Boston Herald
on grounds of bellicosity (see below). Another five used an alternate construction - mostly "the U.S.," and the remainder get special mention. And I didn't notice any particular regional pattern: The
Bakersfield Californian
and the
San Jose Mercury-News
both used "we," in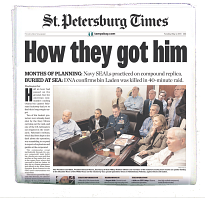 Chicago they split the difference (The
Sun-Times:
"How We Got Him." The
Tribune:
"How the U.S. Got Bin Laden"). Same in the Sunshine State: Gannett's
Florida Today:
"We." The
St.Petersburg Times:
"They."
The flag flew high in Georgia, with both the
Atlanta Journal-Constitution
and the
Savannah Morning News
in the "How We Got Him" camp. Perhaps the cold and rain muted the celebration in Kentucky, where the
Herald-Leader
opted for "They."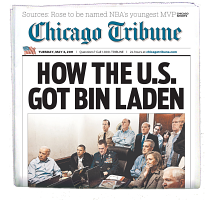 And never underestimate the Minnesotans! The
Pioneer Press
stepped up firmly with "How We Got Him," only to be topped by the
Bemidji Pioneer,
which headlined
its
story "Face of Evil Eliminated." Brrrr!
Eastern papers were also heavily in the "we" camp. Although the
Post-Standard
in Syracuse opted for "They," down the road the Buffalo News offered "Strike Against Evil." As expected, the coastal tabloids were reliably bellicose, making the whole operation sound like a mob hit: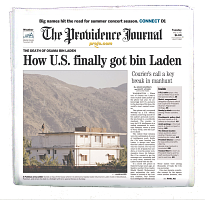 "How They Took Him Out" (Boston
Herald
), "How We Did It!"- with exclamation mark (The
New York Post
), and, of course, the
Daily News
: "How We Nailed Him." The jovial atmosphere even managed to elicit a sigh of relief from Rhode Island's
Providence Journal
: Well, give thinks that we FINALLY got him!
Lastly, a couple of special mentions: First the Bend (Oregon)
Bulletin
,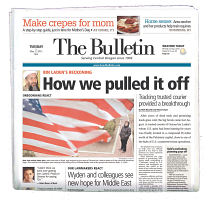 whose "How we pulled it off" left me suspecting some editorial feelings that this time we got lucky.
And making a strong showing in the Tepid Subhead category was the Meridian, Connecticut,
Record-Journal,
who (after quotes from the President,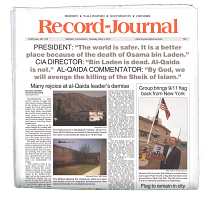 the CIA, and an "al-Quaida commentator," managed to come up with: "Many rejoice at al-Quaida leader's demise."
Gee, do you really think so, bucky?
Below the break, the papers and their headlines...
more...
Posted by: Old Grouch in The Press at 05:01:47 GMT | No Comments | Add Comment
Post contains 752 words, total size 11 kb.
Monday, 02 May 2011

First step...
W. Joseph Campbell
:
The

Washington Post

ombudsman invokes in his column today the defining conceit of American journalism: That without truth-telling reporters and editors, democracy would be imperiled.

Or, as he puts it, rather simplistically:

What we do is report, write and edit stories. We take and publish photographs (and now video, too). We publish the stories and images as news through compelling design and graphics. And, in columns and blogs, we analyze the news. Through this painstaking process, we reveal truths. The country cannot long survive as a democracy, or as a capitalist economy, without this kind of independent journalism.
Of course, if you're gonna be a truth-teller, the first thing you've got to do is, y'know, start by
telling the truth.
Elsewhere, related:
Lie in it.
(HT:
Insty
)
Posted by: Old Grouch in The Press at 18:48:20 GMT | No Comments | Add Comment
Post contains 129 words, total size 2 kb.
75kb generated in CPU 0.05, elapsed 0.1673 seconds.
49 queries taking 0.1372 seconds, 184 records returned.
Powered by Minx 1.1.6c-pink.