Thursday, 27 September 2007
IBD wakes up, smells coffee
Investor's Business Daily
discovers
that the Saudis haven't been exactly cooperative in the war on terror:
There's new evidence the Saudis aren't cooperating in our battle to eradicate terrorists or those who bankroll them. Their negligence is shocking even to cynics.
Nice that you've noticed, guys. Where've you been the last six years?
-----
Via: Glenn Reynolds, who
noticed them noticing
.
Posted by: Old Grouch in In Passing at 15:09:31 GMT | No Comments | Add Comment
Post contains 64 words, total size 1 kb.
Monday, 24 September 2007
England swings, like a pendulum do
Bobbies on bi-cycles, two by two...
[1]
Cops riding bicycles 'too risky'

-

The Sun
POLICE have been stopped from riding BICYCLES — in case they fall off and get hurt.
...
Its latest health-and-safety ruling was yesterday branded "loony" by MPs. Three hundred cops and police community support officers (PCSOs) have been banned by Greater Manchester Police from patrolling on their mountain bikes.
[1]
Lyrics
here
(For some reason they want to call him "Miller Roger.")
Performance
.
HT: eddiebear
at Ace
Posted by: Old Grouch in In Passing at 15:09:49 GMT | No Comments | Add Comment
Post contains 85 words, total size 1 kb.
Friday, 21 September 2007
Half empty, half full - again
From OpinionJournal's
Best of the Web Today
:
...At the same time as Antarctic ice was at a record high,

Arctic

ice was at a record low. What's interesting is that the

Times

led with the Arctic's record low ice rather than the Antarctic's record high ice. This is just bad news judgment: The Times had a man-bites-dog story but played it as yet another environmental-dogma-bites-man story.

[story link added by O.G.]
I'd guess they didn't want to confuse people by giving undue emphasis to something that contradicts the accepted narrative.
(
Previously
)
Posted by: Old Grouch in In Passing at 22:08:04 GMT | No Comments | Add Comment
Post contains 91 words, total size 1 kb.
Monday, 17 September 2007
Interesting times continue
The Northern Rock bank run continued today.
The BBC
:
The government has said that it will guarantee all deposits held by the embattled Northern Rock bank. The pledge by Chancellor Alistair Darling is an attempt to reinforce confidence in the beleaguered firm.

More than £2bn has been withdrawn by customers since the bank applied for emergency funding from the Bank of England last week...

Banks are already covered by the Financial Services Compensation Scheme which protects 100% of the first £2,000 in any bank account and 90% of the next £33,000 - giving a maximum payout of £31,700 if a bank did go bust. But under the measures unveiled by Mr Darling, Northern Rock savers would not lose a penny, regardless of how much they had deposited.

The chancellor reiterated comments made by the Treasury and financial services watchdog the FSA that Northern Rock is a solvent business. However these reassurances have not stopped anxious savers from queuing outside branches of the bank to make withdrawals...
And to add to the fun, here comes Alan Greenspan with a warning about the U.K. housing market:
Britain's housing market is heading for a painful correction, according to the world's most renowned economist and central banker.

Alan Greenspan, the former head of America's central bank, the Federal Reserve, issues the prediction in an exclusive interview with The Daily Telegraph today.

He warns of "difficulties" ahead for UK home owners, as rising interest rates bring house price growth to a shuddering halt. -- telegraph.co.uk
When Greenspan was in charge of the Fed, nobody could get him to talk. Now that he's got a book out, you can't shut him up.
Posted by: Old Grouch in In Passing at 22:29:35 GMT | No Comments | Add Comment
Post contains 275 words, total size 2 kb.
Saturday, 15 September 2007
Living in interesting times
I haven't posted about the housing/subprime credit mess, mostly because others who know what they're talking about are covering it better. (Some links below.) But this afternoon's bank run raises the stakes:
Anxious customers of British bank Northern Rock rushed to withdraw their savings Friday, forming lengthy queues in front of branches after the lender was bailed out by the Bank of England.

Shares in Northern Rock, which issued a profits warning on Friday, plunged 31.46 percent to 438 pence at the close, dragging the European banking sector lower as investors fretted over potential difficulties elsewhere.

The Bank of England (BoE) on Friday came to the rescue of Britain's

fifth-biggest home loan provider

, which said it was facing severe difficulties raising cash to cover its liabilities amid the ongoing global credit squeeze. -- AFP report at brietbart.com
Add this, from the
Financial Times:
Northern Rock revealed that it had £325m invested in so-called structured investment vehicles, off-balance sheet schemes that debt investors have baulked at refinancing over the summer.

Mr Applegarth [Adam Applegarth, ceo of Northern Rock] said the bank had invested in the SIVs as part of a balanced portfolio investment approach and urged other banks to reveal their exposures. Northern Rock did not have an off-balance sheet conduit – vehicles similar to SIVs but run purely for banks – and did not invest in asset-backed commercial paper.
(The U.K. has depositors' insurance for deposits up to
£30,000
£35,000
, but unlike the U.S. system it is two-tired, with 100% coverage of the first
£10,000
£2,000
, and 90% coverage of the next £33,000.
[Figures corrected 070915.]
)
more...
Posted by: Old Grouch in In Passing at 00:11:53 GMT | No Comments | Add Comment
Post contains 724 words, total size 8 kb.
Wednesday, 12 September 2007
Anyone surprised at this? Anyone???
Headline of the center-column story on page 1 of today's
Wall Street Journal: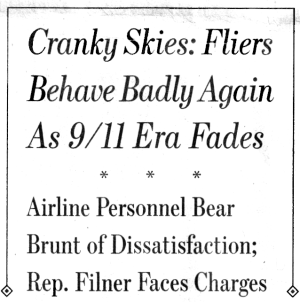 From the article:
"It's like [passengers] are entitled to be ignorant, rude, and arrogant because they purchased a ticket..."
After all the stories of ignorant, rude, and arrogant treatment
OF
passengers by the Airlines and the TSA clowns, well, I think it's called "reaping what you sow."
Posted by: Old Grouch in In Passing at 21:53:34 GMT | No Comments | Add Comment
Post contains 62 words, total size 1 kb.
Keeping the news from the kids
While reading yesterday's 9/11 reminiscences, I ran across two stories that bothered me. [Bolding is mine in both] First:
I was teaching at what was then Moorhead Junior High. It was a time where we had never had a lockdown drill and never had to have a crisis response team other than our school counselors. As the events of the day unfolded in the lounge on one of the few televisions in the building, we were faced with the grim reality of deciding how to handle the news with our students. Our principal made the wise decision to

ask all teachers to shut off the televisions and follow business as usual

. The tremendous magnitude of what was unfolding was completely out of our realm, much less the realm of twelve and thirteen year-olds... -- "lvundbison," commenting at buzz.mn
and
My two girls, ages 8 & 9, are at school... 4 blocks away from where I am. I have to go hug them and take them home. The school tells me it's

better to not disrupt 'normal' for the kids & that they'll be told by their teachers what they need to know

in a calm manner. -- "MEinV," commenting at buzz.mn
Now I'm sure those educators, in the face of an unprecedented situation, did what they thought best by isolating their students from the reality of what was happening. But let me tell my own story, about a Friday afternoon in November of 1963.
more...
Posted by: Old Grouch in In Passing at 21:22:56 GMT | No Comments | Add Comment
Post contains 582 words, total size 4 kb.
85kb generated in CPU 1.0, elapsed 0.8566 seconds.
50 queries taking 0.6181 seconds, 212 records returned.
Powered by Minx 1.1.6c-pink.