Wednesday, 22 January 2014
Monday, 13 January 2014
Sunday, 12 January 2014
Rubes awaiting enlightenment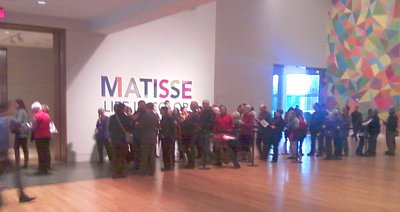 INDIANAPOLIS, 11 January, 2014: Hoosiers line up for admission on the final day of the Indianapolis Museum of Art's exhibit ''Matisse: Life in Color,'' after standing in
another
two-hour line to obtain tickets. The museum extended its Saturday closing time from 5:00 p.m. until midnight in response to visitor demand.
Hey, don't-cha know there's no appreciation for fine art out here in the hinterlands! None whatever...
Elsewhere:
Posted by: Old Grouch in In Passing at 22:52:53 GMT | No Comments | Add Comment
Post contains 83 words, total size 2 kb.
Dickie, we hardly knew ye!
Guess what! Back in 2012, those troglodytes in Indiana's Republican base recognized
something about then-Senator Dick Lugar
that the state party poo-bahs missed:
Former Sen. Richard Lugar, a Republican, has

given the maximum amount of money allowed under federal campaign finance laws to a candidate who hopes to help Democrats retain the Senate in the 2014 election

.
...
The Lugar-backed 19th Star PAC gave

[Michelle]

Nunn $5,000, the most that a PAC can give an individual candidate, the Huffington Post reported.

After 36 years, Lugar lost his Senate seat from Indiana in 2010 when State Treasurer Richard Mourdock defeated him in the Republican primary by arguing that he was too moderate.
N.B.: ''too moderate'' = Washington-speak for being a
petty
,
vindictive
,
bitter old man
who would go to
any length
to maintain his personal power, and who would
take his ball and go home
rather than let someone else win.
''When Dick Lugar moved to Washington, he left behind more than his house. He left behind his conservative Hoosier values,'' one Mourdock ad against Lugar told voters. ''Lugar's been in Washington 36 years. That's too long. Time for a change.''
Back at primary time, Ace
noted
:
...Reports that Dick Lugar is a mature, sober, responsible, modestly genial grown-up adult with a long-view take on things seem to have been greatly overstated.
...and last Tuesday night, 'Maetenloch'
administered the

coup-de-grace
:
Well I guess

he can finally stop pretending to be conservative

and

we can stop pretending he was really a Republican

.
Indiana is well rid of him; too bad it didn't happen 20 years ago.
Previously:
Posted by: Old Grouch in In Passing at 21:25:01 GMT | No Comments | Add Comment
Post contains 282 words, total size 5 kb.
Friday, 03 January 2014
...and so ''Happy'' New Year
In which 2014 promises to be more ''interesting'' than 2013:
Welcome to

Venezuela

New York.
Let's check em' off:
promise ''progressive'' governing
''graceless and smug'' speeches
''pointless and tacky haranguing"
''utterly bogus claim(s)"
''We won't wait!"
Yep, so far, about as expected...
Build Up That Credibility, Gang! There's an Election a-Comin'!
Politico

has a headline for the ages up right now: ''Management Experts Knock Obama." Management ''experts" are just noticing

now

, after five years, that Obama's lack of experience is significant. Maybe these ''experts" aren't so expert.

...or maybe they were too ''fascinated'' to tell us...
BARBARA WALTERS: ...He made so many promises. We thought that he was going to be – I shouldn't say this at Christmastime, but –

the next Messiah

. And the whole ObamaCare, or whatever you want to call it, the Affordable Health Act, it just hasn't worked for him, and he's stumbled around on it, and people feel very disappointed because they expected more...
Somebody said confession is good for the soul (but I don't see much confessin' here).
...and so do hack Chief Justices:
Budget Cuts Imperil Federal Court System, Roberts Says


Cold Hands, Warm (?) Heart:
The Chinese icebreaker which helped transport passengers away from a stranded Antarctic ship has itself become stuck in ice
You
can't
make this stuff up.
And
why will Buffalo(!) be warmer than Indianapolis
next week?
Merry New Year, all!
Posted by: Old Grouch in In Passing at 19:57:53 GMT | No Comments | Add Comment
Post contains 255 words, total size 6 kb.
86kb generated in CPU 0.06, elapsed 0.1691 seconds.
50 queries taking 0.129 seconds, 206 records returned.
Powered by Minx 1.1.6c-pink.