Friday, 25 July 2008
Poof! No more music!
Dog days of Summer, must be time for another DRM system
to go titsup
:
Yahoo e-mailed its Yahoo! Music Store customers yesterday, telling them it will be closing for good—and the company will take its DRM license key servers offline on September 30, 2008...

If you think this sounds familiar, it's because this happened earlier this year with MSN Music, although Microsoft has since relented and will keep the DRM authorization servers up and running through 2011.

Once the Yahoo store goes down and the key servers go offline, existing tracks cannot be authorized to play on new computers...
Is there
anyone
left out there who
doesn't understand
that buying DRM-restricted content means you're betting your collection on the continued success of somebody's business model?
Elsewhere:
Previously:
Posted by: Old Grouch in In Passing at 17:02:40 GMT | No Comments | Add Comment
Post contains 166 words, total size 3 kb.
Thursday, 24 July 2008
1930 called...
We
knew
they want to bring back
prohibition
.
Well, why not
breach-of-promise
,
too?
A Hall County [Georgia] man owes his ex-fiancee $150,000 for breaking off their engagement, a jury decided Wednesday...

[Defense attorney Hammond] Law said earlier this week that he could find only one prior instance of someone suing over a broken wedding engagement in a search of 25 years of Georgia case histories.
-

Gainesville

(Georgia)

Times
(And then there are the folks yelling, "
Hey, it's a depression!
" Which would make it 3-for-3.)
"Breach" via
Gannett Blog
. For "Depression," HT
Instapundit
.
Posted by: Old Grouch in In Passing at 21:24:26 GMT | No Comments | Add Comment
Post contains 90 words, total size 2 kb.
Another reason I'm glad my life is *outside* of "corporate"
Jeff Jarvis has an ad running on his site.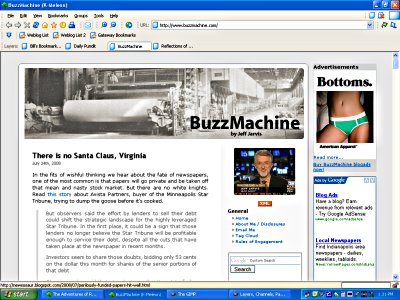 (That's it, the one in the upper-right corner. Headed "Bottoms.")
The ad, featuring a "
crotch in colored underwear
" has met with negative reaction from some readers (who found it
distracting, irrelevant, or "sending the wrong message"
). Marketeer Michael Madej
thinks otherwise
, but wonders
The only question mark in my mind about this ad is its appropriateness in the workplace. I noticed the ad yesterday on Jeff's blog. I remember seeing it, being surprised that it was appearing on a business blog, and intentionally scrolling farther down the page so nobody saw it on my screen. So in that sense, it might be a little too edgy.
I guess it's good that things change: Just imagine if we had yesterday's newspapers in today's hyper-sensitive workplace. Why, you couldn't allow a newspaper on the premises unless someone carefully obliterated all those double-truck lingerie ads the department stores used to run. (And no Sears catalog, either!)
(Jeff has a post
here
.)
Posted by: Old Grouch in In Passing at 18:28:58 GMT | No Comments | Add Comment
Post contains 175 words, total size 2 kb.
Wednesday, 16 July 2008
It's all the difference
In a dramatic move yesterday President Bush removed the executive-branch moratorium on offshore drilling. Today, at a news conference, Bush repeated his new position, and slammed the Democratic Congress for not removing the congressional moratorium on the Outer Continental Shelf and elsewhere. Crude-oil futures for August delivery plunged $9.26, or 6.3 percent, almost immediately as Bush was speaking, bringing the barrel price down to $136.

Now isn't this interesting? - Larry Kudlow
Only the Democratic Party, its enablers in the media, and various whiny leftists could believe that world reaction to
inaction
would be the same as world reaction to
action
.
The rest of us remember the Carter administration, and what came after.
HT:
Ace
Posted by: Old Grouch in In Passing at 00:24:10 GMT | Comments (1) | Add Comment
Post contains 118 words, total size 1 kb.
Tuesday, 15 July 2008
Monday, 14 July 2008
The Summer of our Discontent
This comment
, by "AnonymousDrivel" at Ace, does a good job of nailing down my dissatisfaction with our putative Presidential choices. It deserves quotation in its entirety:
As we evaluate our "top" Presidential candidates, consider their campaign performances and decision making. Now,

what makes anyone think

either

will improve once in office?



This is not snark. These two

possess inadequate judgment to make the difficult decisions correctly

. Sure, McCain will righteously fall back on his Iraq stand (one that many had at the same time though certainly not any noteworthy Democrats, if any at all), but McCain was also making that stand to criticize Bush's policies at the time and not purely as benevolent patriot. History shows he guessed right on one particular issue. In so many others however, he

and

Obama

fail to address coherently, forcefully, issues that trouble this nation

. Maybe one

could

blame their institutional training as Senators participating in the sausage-making that is national politics, but that might just be a copout, too. Just as likely it's in their blood to be indecisive, muddling, and/or wrong.

Neither has a core of principles other than the core that they believe in themselves to do the job

. I'm sorry but

that just isn't enough

.
Well said.
Previously
.
Posted by: Old Grouch in In Passing at 21:51:55 GMT | No Comments | Add Comment
Post contains 211 words, total size 2 kb.
But politics is *important*...
Arlen Specter and Joe Lieberman are
worried
about terrorist-connected individuals using foreign libel laws to stifle free speech:
Individuals with alleged connections to terrorist activity are filing libel suits and winning judgments in foreign courts against American researchers who publish on these matters. These suits intimidate and even silence writers and publishers.
They want to pass a law to protect American writers from foreign judgments that don't square with the First Amendment. Bravo.
Too bad the Senators weren't equally interested in protecting Americans from the free speech restrictions of
Campaign Finance "Reform."
Posted by: Old Grouch in In Passing at 15:16:50 GMT | No Comments | Add Comment
Post contains 94 words, total size 1 kb.
Saturday, 12 July 2008
"Win" one (maybe), lose another
Could it be that the Federal Communications Commission will actually bring the hammer down on Comcast?
FCC chairman Kevin Martin told AP yesterday: "We found that Comcast's actions in this instance violated our principles." These require ISPs to provide open access to the network, "subject to reasonable network management".

Martin has concluded that Comcast arbitrarily blocked filesharing apps, regardless of the amount of traffic they accounted for, and was not open with its customers about what it was doing.

Martin will circulate a recommendation on enforcement action, which the Commission will vote on next month. - The Register
Meanwhile, AT&T and AOL fall in line with Andrew Cuomo's "child pr0n war:"
Bowing to continued pressure from the New York Attorney General, two more big-name American ISPs have shutdown access to dozens of Usenet newsgroups that contain child pornography -

and many more that don't.

[emphasis mine - o.g.]

- The Register
Previously:
Posted by: Old Grouch in In Passing at 18:52:04 GMT | No Comments | Add Comment
Post contains 190 words, total size 3 kb.
Friday, 04 July 2008
95kb generated in CPU 0.08, elapsed 0.2444 seconds.
53 queries taking 0.1932 seconds, 219 records returned.
Powered by Minx 1.1.6c-pink.