Saturday, 31 January 2009
Beggar your suppliers: Not good for the long term
Monday's
Wall Street Journal
featured a front-page article, "Bankruptcy Fears Grip Auto-Parts Companies.
[1]
" The tale: Slumping production by the Big Three has put pressure on the auto industry's parts makers, some of which may be forced into bankruptcy or out of business altogether. Either event could generate production problems for other carmakers (Toyota and Volkswagen, in particular, were mentioned), due to delays in supplies or, at worst, the disappearance of suppliers.
One factor that received only a passing mention is the automakers' continued push for rock-bottom prices, often with special concessions on top of them. (The Detroit companies have long been particularly noted for this.) A parts contract with a Big Three company can be extremely tempting: Enormous potential volumes, although at minimal margins. And once a supplier gains one, it can be sure that the buyer will be back next year, looking for a price cut.
The Big Three's attitude towards their parts suppliers has traditionally been, "Take it or leave it. Don't like our business on our terms, fine. Somebody else will be happy to get it." If you asked industry executives if their suppliers were profitable, the answer would often be, "What do we care?"
But things have changed since the 50s. The narrow margins (and declining volumes) of the parts business forced the less-astute suppliers out of it: Some closed, others moved into less cutthroat markets. Meanwhile cars became more complex. More sophisticated engineering and the press for improved quality meant fewer commodity parts, and fewer still that could be successfully produced by a run-of-the-mill metal basher. And the American economy's shift away from manufacturing left fewer domestic vendors capable of fulfilling an auto maker's requirements, or interested in doing so.
Many of the parts manufacturers that remain have little financial reserve. The endless push for lower prices produces an endless cycle of spending the majority of this year's profit on technology and innovation needed to keep next year's contract, on which the profit will be
less.
[2]
All of which is exacerbated by bad economic conditions: While a healthy company can survice a canceled order or a delayed payment, either can put a fragile company on the ropes.
Beggar-thy-vendor may have been a successful strategy in the past. It may still be one, provided your company is a WalMart, selling commodity consumer goods obtained from a seemingly endless collection of interchangable Asian suppliers. It's less wise when the business involves custom-made items for which an alternate supply– or supplier– may not be readily available.
The irony is that, at a time they find themselves in a fight for their existence, the Big Three have to start worrying about the health of their suppliers, and realizing that, in a truly successful business relationship,
everybody
involved has to make money.
Related, later (090203 01:41): C.G. Hill explains why car companies can't be run like Google (and, maybe, why Google doesn't want to run a car company):
...Almost all decisions, design and otherwise, in the auto industry have to be filtered through the interminable mesh of governmental mandates before coming to any sort of fruition at all...



[Auto manufacturers will never be flexible and nimble]

... until Congress gets out of the regulation business — or until Google buys Congress and shuts it down entirely...
The latter idea is becoming

increasingly

attractive.
-----
[1]
No link, couldn't locate on the
WSJ
site. The article is: "Bankruptcy Fears Grip Auto-Parts Companies" by John D. Stoll and Jeffrey McCracken, published January 26, 2009.
[2]
Another group in precarious financial condition are the now-independent parts suppliers which were formerly divisions of the auto manufacturers. Many of these companies were spun off in an effort to raise cash while getting out from under onerous union contracts; for some, their ability to survive was questionable even before the current economic crisis.
Posted by: Old Grouch in In Passing at 23:46:14 GMT | Comments (1) | Add Comment
Post contains 634 words, total size 5 kb.
Friday, 30 January 2009
More midwest weather fun
And another reporter heard from:
The wife and I were watching The Weather Channel, hoping for some on-the-scene Jim Cantore-brand hyperbolic doomscreaming. He didn't disappoint.

He was in Paducah, Kentucky[*], and when the studio weatherchick chirpily asked him, "So how are things down there, Jim?", he paused for a couple of beats, put on his "My God, the horror..." face, then said in a grim, low monotone, "This reminds me of the aftermath of Hurricane Katrina."

Except for the city-destroying flooding, the refugees, the death and the looting… yes, Jim, it's just like Katrina. - "Dave S.", in a comment at Blair's place
UPDATE
090104 19:21
: Well, some people who ought to know
think it's worse
:
The word from utility workers with direct Katrina experience is that ice storm devastation to western Kentucky's power grid is worse than that inflicted by the infamous Gulf Coast hurricane.

"We've got linemen here from southern Mississippi who were there when Katrina hit, who worked the area after the hurricane," said Kevin Inglish, a spokesman for West Kentucky Rural Electric Cooperative Corp." - Paducah Sun, February 3, 2009 [requires registration]
(except, as noted, for the refugees, death, and looting)
Posted by: Old Grouch in In Passing at 00:29:54 GMT | No Comments | Add Comment
Post contains 196 words, total size 2 kb.
Merely a means to an end
Instapundit
linked
this:
Last week, the

East Bay Express

published an article regarding the California Air Resources Board's (CARB) plans for aftermarket, plug-in hybrid conversions.

Proving once again that CARB is a political machine with something more than "clean air" in its agenda, the board is set to deal a punishing, bureaucratic body-blow to startup companies like 3 Prong Power and A123 Systems. - Gas2.0 weblog

[links in original]
with the tag
"And yet they're supposed to be anti-pollution."
Glenn should know better. What they're
really
"anti" is the individual liberty that ownership of a car represents. "Anti-pollution" is only the current excuse for taking control.
Once you understand this, everything else becomes clear:
Of course
CARB will reject alternate solutions.
Of course
it will make things difficult for their developers.
CARB and its supporters don't want a solution,
because
solving the problem would mean the end of their power.
Remember, with the left the "issue" is
rarely
the issue.

LATER
(090131 17:38):
"Second verse, same as the first,"
at Daily Pundit.
Posted by: Old Grouch in In Passing at 00:03:15 GMT | No Comments | Add Comment
Post contains 172 words, total size 2 kb.
Tuesday, 27 January 2009
Congressman Pete King (RINO-NY) wants your cell phone to go "click"
Every time you use it to
take a picture
.
Under
penalty of law
.
(Link fixed 090320.)
("Camera Phone Predator Alert Act." Give me a break!)
Y'know, I'm
really
glad Congress has time to worry about stuff like this.
Elsewhere:
Via:
Slashdot
Posted by: Old Grouch in In Passing at 23:49:21 GMT | No Comments | Add Comment
Post contains 178 words, total size 3 kb.
Saturday, 24 January 2009
The NFL begins damage control
War On Terror News
:
Update 2: Excerpt from the email reply by Ms. [Mallory] Steinberg:

"Since we had not heard about this directly from the military, we contacted our military liaison for the color guard immediately to discuss the issue. After speaking with our military liaison for the color guard, we will host the members of the color guard (12 people) in the stadium.

It is excerpted for two reasons. One: The rest is mere repetition of previous damage control. Two: I find those damage control arguments offensive to my intelligence. In short, the above is the most positive portion of their response...
Although (IMO) calling members of the color guard "heroes" is a bit over-the-top,
[1]
the fact remains that the unit undoubtedly
represents
heroes. For that reason I agree, without qualification, with
this
:
The Color Guard are not hired help nor are they entertainers; they are honored guests presenting our nations colors, a symbol of the nation that they serve and sacrifice for on a daily basis.
It reflects poorly on the NFL that it had to be shamed into acknowledging this important difference.
LATER:
It's-all-the-rage,-you-know
Dept.:
Previously
.
-----
[1] Unless some members of the guard will be decorated combat veterans, which at this point assumes facts not in evidence.

[2] Via Newsbusters via Rantburg.

Posted by: Old Grouch in In Passing at 16:39:33 GMT | No Comments | Add Comment
Post contains 232 words, total size 3 kb.
Friday, 23 January 2009
Stop press: It gets cold in Minnesota, and when it gets cold...
autoblogGreen
:
Gelling biodiesel causes Minnesota school closings



...the state requirement to run a minimum of 2 percent biodiesel in school buses and other vehicles is causing problems this winter. Below 10°F, the fuel begins to gel up and causes the engine to not run.
Yeah, and so does #2 diesel. (That's why there's #1. Less energy, but stays liquid.)
Nothing new, and the transport people should have been able to deal with it.
(Do I have to tell you kids

everything??)
Via:
IP
Posted by: Old Grouch in In Passing at 01:14:40 GMT | No Comments | Add Comment
Post contains 93 words, total size 1 kb.
Thursday, 22 January 2009
More "felonies" - this time it's Ohio
"...at common law when the British and American legal systems divorced in 1776, felonies were crimes for which the punishment was either

death

or

forfeiture of property.

"
-
Wikipedia entry
Cincinnati Enquirer
:
Mason prank triggers felony charges



Some might call it a prank that forced Mason

[Ohio]

schools to shut down last week, but county prosecutors weren't laughing after charging three high school students with felonies Wednesday.

The three Mason High School boys, all sophomores ages 15 or 16, according to Mason police, scaled a barbed wire security fence in the near-zero cold last Thursday evening. They yanked the plugs on the heating blocks to 59 school buses – effectively preventing the buses from starting early Friday.

Mason school officials cancelled classes for the district's 10,500 students. Hundreds of private school students who ride Mason buses also were affected.

"If they thought this was a joke, it wasn't funny," said Warren County Prosecutor Rachel Hutzel in a press statement. "These illegal acts disrupted the lives of every parent and child in Mason.

They committed a felony

and they will soon learn that there are consequences for their actions."

The teens were each charged with one count of

disrupting public services, a fourth- degree felony,

and one count of criminal trespassing, a fourth-degree misdemeanor, according to Hutzel.
Previously
.
(HT:
WLW
)
Posted by: Old Grouch in In Passing at 16:15:03 GMT | No Comments | Add Comment
Post contains 224 words, total size 2 kb.
Tuesday, 20 January 2009
The first thing I'll do...
The Register
:
...a court affadavit says that when rescuers reached his crashed aircraft, they found "evidence including a book of campsites in America missing its pages on Alabama and Florida, and

a bullet-point list scribbled on the back of a book that read: 'cracked windshield, window imploded, bleeding profusely'

."
The List
:
N

o

74:

When I create a multimedia presentation of my plan designed so that my five-year-old advisor can easily understand the details, I will not label the disk "Project Overlord" and

leave it lying on top of my desk

.
Related:
Posted by: Old Grouch in In Passing at 19:44:13 GMT | No Comments | Add Comment
Post contains 103 words, total size 2 kb.
Monday, 19 January 2009
Ayers bounced by Canada
An American education professor, one of the founders of a radical 1960s group known as the Weather Underground, which was responsible for a number of bombings in the United States in the early 1970s, was turned back at the Canadian border last night.

Dr. William Ayers, a professor of education at the University of Illinois-Chicago and a leader in educational reform, was scheduled to speak at the Centre for Urban Schooling at University of Toronto's Ontario Institute for Studies in Education. But that appearance has now been temporarily cancelled.

"I don't know why I was turned back," Ayers said in an interview this morning... -

Toronto Star
I can think of
any number
of reasons. Too bad we had to let him back in.
Thanks to "
alexthechick
" for brightening my day.
Posted by: Old Grouch in In Passing at 21:51:23 GMT | No Comments | Add Comment
Post contains 134 words, total size 1 kb.
I *had* hoped that this might be a better year
Siamon's gone
.
Mark and Toni, I'm so sorry.
o-o-O-o-o

And, something I'd meant to do earlier, but time got away: Mentioning some friends-of-friends who I missed commemorating here, through inattention or for a lack of the right words.
We miss 'em.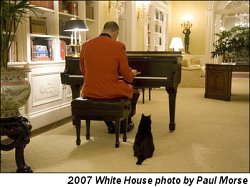 -----
[1]
UPDATE
090121 15:02: The whitehouse.gov links now 404. Here is
a screenshot
of India's bio page, made on the 19
th
.
Posted by: Old Grouch in In Passing at 20:42:59 GMT | Comments (2) | Add Comment
Post contains 86 words, total size 2 kb.
104kb generated in CPU 0.16, elapsed 0.339 seconds.
53 queries taking 0.2568 seconds, 220 records returned.
Powered by Minx 1.1.6c-pink.