Thursday, 19 August 2010
Friday, 06 August 2010
All you need to know about public education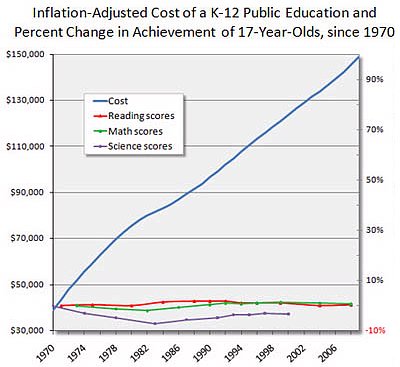 But if you
want
to know more, there's more
here
.
(Via
Coldly Furious
)""
Posted by: Old Grouch in In Passing at 21:37:00 GMT | No Comments | Add Comment
Post contains 21 words, total size 1 kb.
Thursday, 05 August 2010
"Standing in the schoolhouse door"
Somebody could do an editorial cartoon
Dept
Mark Tapscott:
When I was a teenager, the image of George Wallace standing in the school house door at the University of Alabama was burned into my mind.

I only see one difference between Wallace and

[today's]

teachers unions: The former Alabama governor was blocking black kids from getting into schools that could liberate them. The teachers unions are blocking black kids from getting out of schools that too often trap them in lives of failure, desperation, and outrage.
Or maybe standing in the door of the charter schools,
keeping the kids out.
With the the NAACP, the National Urban League, the Rainbow PUSH Coalition, the NAACP Legal Defense and Educational Fund, the National Council for Educating Black Children, the National Action Network, the Lawyers Committee for Civil Rights Under Law, and the Schott Foundation for Public Education
standing right there with them
.
Elsewhere:
Ruth Marcus:
Civil rights groups are picking the wrong fight with President Obama
...To the extent that the teachers unions are blocking an agenda designed to help the poorest students in the worst-performing schools, and that civil rights groups have aligned themselves with the unions' concerns, these groups are making a terrible mistake.
The Wall Street Journal
notes a prominent exception:
"Morally Inexcusable"
"We want the best for our kids, even if it doesn't follow the liberal status quo." - Al Sharpton(!)
Posted by: Old Grouch in In Passing at 17:40:17 GMT | No Comments | Add Comment
Post contains 231 words, total size 3 kb.
Wednesday, 04 August 2010
Enough is enough
L.A. Times

Writer: Let's Have Another National Conversation on Race
No, let

'

s not. Having grown up in the South I

'

ve been subjected to all too many "conversations on race". Of course it's never a conversation at all - it's merely a public opportunity for whites to admit their racial wrongdoings and receive the conditional forgiveness of any black people present while the organizers preen.
If I never go through another one until the day I'm finally killed by the homeless, it'll be too soon. - "Matenloch"
Posted by: Old Grouch in In Passing at 15:32:04 GMT | No Comments | Add Comment
Post contains 89 words, total size 1 kb.
75kb generated in CPU 0.03, elapsed 0.1325 seconds.
50 queries taking 0.1126 seconds, 204 records returned.
Powered by Minx 1.1.6c-pink.