Monday, 12 October 2009
"Whenever possible"
The Times
(London):
Hazel Fenton, from East Sussex, is alive

nine months after medics ruled she had only days to live, withdrew her antibiotics and denied her artificial feeding

. The former school matron had been placed on a controversial care plan intended to ease the last days of dying patients.

Doctors say Fenton is an example of patients who have been condemned to death on the Liverpool care pathway plan. They argue that while it is suitable for patients who do have only days to live, it is being used more widely in the NHS,

denying treatment

to elderly patients who are not dying.
...
A spokesman for East Sussex Hospitals NHS Trust,

demonstrating yet again that "There's No Smarm Quite the Equal of British Institutional Smarm,"

said: "Patients' needs are assessed before they are placed on the [plan]. Daily reviews are undertaken by clinicians

whenever possible

."
"If they would rather die," said Scrooge, "they had better do it, and decrease the surplus population."
(Oh, I may have added
a bit
there.)
Via:
doubleplusundead
Posted by: Old Grouch in In Passing at 21:01:32 GMT | Comments (1) | Add Comment
Post contains 178 words, total size 2 kb.
Tuesday, 06 October 2009
Someday, somebody will discover this opportunity...
Jonah Goldberg
reviews the ratings
:
Fox News

had

more people

in the all important A

[dults]

25-54 demographic watching their channel

at three in the morning

(east coast time) than CNN had for the show that leads off their prime time.
...crickets...
UPDATE

091008 17:25: Wow! A Daily Pundit link! Thanks, Bill!
Via:
Ace
Posted by: Old Grouch in In Passing at 19:08:29 GMT | No Comments | Add Comment
Post contains 56 words, total size 1 kb.
Friday, 02 October 2009
Maybe it has something to do with working for CBS
(Sorta) Related:
-----
[1] No, not THAT one!

Posted by: Old Grouch in In Passing at 21:34:58 GMT | No Comments | Add Comment
Post contains 42 words, total size 2 kb.
Another shoe drops on net neutrality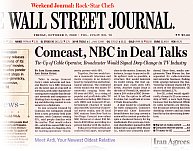 The Wall Street Journal:
Talks to merge

Comcast Corp.'s cable networks

and General Electric Co.'s

NBC Universal

are the latest sign of a big shift in television...
...
Comcast's 50-year-old Chief Executive Brian Roberts has long coveted a union witha a content provider... Five years ago, Comcast shareholders panned his $50 billion bid to acquire Walt Disney, which was ultimately abandoned...
In addition to the NBC broadcast network and the Universal Pictures studio, NBC Universal also owns or shares ownership in six cable networks and the online video site Hulu.com. (Comcast already owns cable nets E!, Golf Channel, Style, and TV One.)
While I'm not aware if Comcast has signed on to AT&T's "content providers are freeloaders"
campaign
, the resulting company's vertical integration puts the owner of the pipe in competition with others who have to use it. This should not only concern any content providers outside of some future Comcast-NBC umbrella, but also Comcast's 15 million high-speed internet customers.
The key question remaining in any such merger would be whether a content-heavier Comcast would be able to find synergies that have so far eluded
Time Warner
and
CBS-Viacom
. Another is whether Comcast might try to push its customers toward its own offerings by "adjusting" its quality of service.
Related:
Previously:
Posted by: Old Grouch in In Passing at 21:03:18 GMT | No Comments | Add Comment
Post contains 237 words, total size 4 kb.
79kb generated in CPU 0.03, elapsed 0.1193 seconds.
52 queries taking 0.0986 seconds, 206 records returned.
Powered by Minx 1.1.6c-pink.