Wednesday, 22 April 2009
Another WSJ "computer spies" story (UPDATED: More propaganda?)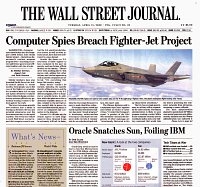 Headlined
Computer Spies Breach Fighter-Jet Project
, this one is largely about security leaks from both Defense Department and contractor-operated networks involving the Joint Strike Fighter project, although there is one mention of penetration of the Air Force's air traffic control system, and an expert's warning about the possibility of a similar breach of the civilian ATC system operated by the Federal Aviation Agency.
Compared to the
Journal's
previous "cyberespionage" story
, this one has more meat to it. Also, this one does not mention the
S.773
/
S.778
"cybergrab" bills, although it does repeat the earlier article's claim that "...the U.S. electrical-distribution system, as well as other infrastructure, have been
[remotely]
infiltrated by spies..." It also reports that "the Obama adminstration is likely to soon propose creating a senior White House computer-security post to coordinate policy," i.e., as would be authorized by
S.778
.
All-in-all, it does reveal some more grounds for monitoring network security (NTTAWWT), at least as far as government-operated installations are concerned. How applicable this is to private networks, and whether the administration plans to use government-network breaches as a pretext for mandating standards for private networks, as they say, remains to be seen.
LATER:
In an article
New Military Command to Focus on Cybersecurity
published on the web Tuesday afternoon (and probably slated for appearance in Wednesday's edition),
The Journal
says that "multiple
[unnamed]
military sources" have told it that
The Obama administration plans to create a new military command to coordinate the defense of Pentagon computer networks and improve U.S. offensive capabilities in cyberwarfare...
The afternoon article
[1]
also notes
A White House team reviewing cybersecurity policy has sent a raft of recommendations to the president for approval, including the creation of a top White House cyberpolicy official. Mr. Obama is expected to announce the contours of his new approach later this month...

A draft of the White House review

steps gingerly around the question of how to improve computer security in the private sector,

especially key infrastructure such as telecommunications and the electricity grid. The document stresses the importance of working with the private sector and civil-liberties groups to craft a solution,

but doesn't call for a specific government role

.
This is
considerably different
from
the sweeping provisions in S.773
, and
equally different
from
Senator Rockefeller's statement
, which, when enumerating potential candidates for federal regulation says
...our water to our electricity, to banking, traffic lights and electronic health records—the list goes on...
Perhaps the administration is trying to choreograph things so it appears the Old Meanie Congress is "forcing" it to assume the wide-ranging powers that S.773 would grant it.
[2]
The report's "ginger steps around the private sector" smells like a sign of developing oppositon; Maybe somebody besides me read the bill and is upset by it.
Previously:
[1]
which also includes a statement from Lockheed-Martin Corporation, the Joint Strike Fighter project's lead contracter that "To our knowledge, there has never been any classified information breach" in the program.
The Journal
snarks back that, "...[our] story didn't say the stolen information was classified," leaving
me
, for one, even more suspicious that this stream of reports is part of a campaign to get the Senate bills passed with little examination or debate.
[2]
Certainly a similar "just let it happen"scenario
has been mooted
regarding the Environmental Protection Agency's on-rushing carbon regulations: "Hey,
we
didn't do it... it's
them!
('Revise the Clean Air Act?' Shhhh!
Verstummen
!
)"
Posted by: Old Grouch in In Passing at 01:47:22 GMT | No Comments | Add Comment
Post contains 575 words, total size 8 kb.
Comments are disabled. Post is locked.
73kb generated in CPU 0.04, elapsed 0.1947 seconds.
51 queries taking 0.1671 seconds, 200 records returned.
Powered by Minx 1.1.6c-pink.