Saturday, 15 September 2007
Living in interesting times
I haven't posted about the housing/subprime credit mess, mostly because others who know what they're talking about are covering it better. (Some links below.) But this afternoon's bank run raises the stakes:
Anxious customers of British bank Northern Rock rushed to withdraw their savings Friday, forming lengthy queues in front of branches after the lender was bailed out by the Bank of England.

Shares in Northern Rock, which issued a profits warning on Friday, plunged 31.46 percent to 438 pence at the close, dragging the European banking sector lower as investors fretted over potential difficulties elsewhere.

The Bank of England (BoE) on Friday came to the rescue of Britain's

fifth-biggest home loan provider

, which said it was facing severe difficulties raising cash to cover its liabilities amid the ongoing global credit squeeze. -- AFP report at brietbart.com
Add this, from the
Financial Times:
Northern Rock revealed that it had £325m invested in so-called structured investment vehicles, off-balance sheet schemes that debt investors have baulked at refinancing over the summer.

Mr Applegarth [Adam Applegarth, ceo of Northern Rock] said the bank had invested in the SIVs as part of a balanced portfolio investment approach and urged other banks to reveal their exposures. Northern Rock did not have an off-balance sheet conduit – vehicles similar to SIVs but run purely for banks – and did not invest in asset-backed commercial paper.
(The U.K. has depositors' insurance for deposits up to
£30,000
£35,000
, but unlike the U.S. system it is two-tired, with 100% coverage of the first
£10,000
£2,000
, and 90% coverage of the next £33,000.
[Figures corrected 070915.]
)
Anyone who has been paying attention has known about house price inflation in the U.S., but something I wasn't aware of is its extent elsewhere in the world. In
this post
on the Northern Rock situation, Jan-Martin Feddersen reprinted this chart, which I believe originiates with
The Economist
.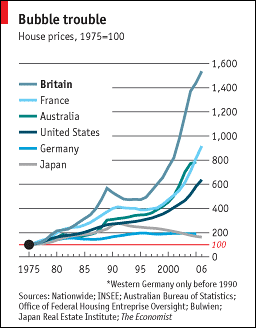 Compared to the U.K.'s 1500%+ runup in prices since 1975, the United States, with its "mere" 600-or-so-percent doesn't look as "bad" (for some values of "bad"). The only markets with relative stability are Germany and Japan, both of which have
other
problems.
If 600% price inflation is unsustainable in the U.S., then 1500% is
certainly
unsustainable in the U.K.
[1]
Looks like they're in for an even more severe "unwind" than we're going to experience here (not that we should take any comfort from that!).
I'd urge you to read all of the
ft.com report
, and all of
Jan-Martin's post
, and pay attention over the weekend. Monday morning could be "interesting."
UPDATE
070915 14:37:
The story makes page B1 of today's
Wall Street Journal,
which provides some figures: £25 billion
[2]
in customer deposits, £87 billion in residential-mortgage loans outstanding (about 7% of total U.K. mortgage balances outstanding as of the end of 2006). Per the
Journal:
Unlike many of its counterparts in the U.S... Northern Rock has lent mainly to borrowers with good credit.
Which still leaves the risk of borrowers being stuck in loans for more than the value of their property, should housing prices collapse.
------
More posts about Northern Rock:
Footnotes:
[1]
A
comment
by "uk renter," in the
Calculated Risk thread
The U.K. housing market is... INSANELY INSANELY INSANELY overvalued...

I know plenty people who bought 2 years ago, with interest rates ~4.2%, and just reset the other month close to 6%...and I believe rates today will be above 6% (the classic mortgage in the UK is a 25 year mortgage with the rate fixed for the first 2 years only, usually at a pretty low rate). Affordability has been crushed in the last few months, and we have the lowest percentage of first-time buyers since records began. It [prices] could drop 50% and still look expensive.

...In my area in central london (a fairly average area) I recently searched for 2 bedroom apartments in the £300-400k range (so $600-800k) and all it returned was "ex-local authority" which is the cr*p apartments that the government used to put people on benefits in. Ridiculous, ridiculous prices, for $1mm you still get next to nothing!!
[2]
Quoting the Journal directly. These numbers appear to be "American" billions, i.e. 10
9
.
Posted by: Old Grouch in In Passing at 00:11:53 GMT | No Comments | Add Comment
Post contains 724 words, total size 8 kb.
Comments are disabled. Post is locked.
72kb generated in CPU 0.04, elapsed 0.1305 seconds.
51 queries taking 0.1103 seconds, 200 records returned.
Powered by Minx 1.1.6c-pink.