Monday, 25 February 2008
And more bloggery...
Bill Quick
says he (may) take some time off
to cope with the side effects from his anti-cholesterol regimen. With five co-bloggers (along with some emeriti who might be persuaded to reappear),
Daily Pundit
shouldn't lack for posts, but Bill is and always has been the reason his site is what it is. Here's hoping he won't be away too long.
Posted by: Old Grouch in In Passing at 19:31:56 GMT | No Comments | Add Comment
Post contains 64 words, total size 1 kb.
New quarters for the captain
Joining forces.
From
Hot Air:
Hot Air is proud to welcome blogger extraordinaire Ed Morrissey of Captain's Quarters to the staff. He'll start cross-posting here today and we're opening up comment registration to help bring CQ members into the fold. (Go here to register.) In the next few weeks, Ed will close down CQ and make Hot Air his exclusive home...

Ed began blogging at Captain's Quarters in 2003. During the past five years, his work has been published in the

Washington Post, New York Post, New York Times, Weekly Standard

, and other national publications. In 2007, Ed made the leap to full-time employment in New Media when he became political director for Blog Talk Radio. You can see all of his past work in the archives at Captain's Quarters.
From
Ed
:
Michelle and I have different voices, and sometimes different points of view. Rest assured that Michelle respects these differences and wants them as part of Hot Air. My writing and my viewpoints will continue, and find even more encouragement than before. In fact, we look forward to debating on some of these points between her personal blog and Hot Air, much as we have between her personal blog and CapQ – with respect, affection, and the absolute belief that we have it right!
Ed has been an important voice in the blogosphere since day one, and CapQ has been linked in the o.g. sidebar (it's the "
Master and Commander
" one) since I started putting this blog together. This combination looks like a winner. Best wishes to all.
Posted by: Old Grouch in In Passing at 19:18:24 GMT | No Comments | Add Comment
Post contains 260 words, total size 3 kb.
Sunday, 24 February 2008

"Monthly Traffic" may be unstuck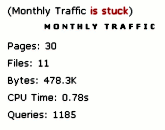 Change noticed today. We'll see...
Previously
.

Posted by: Old Grouch in Administrivia at 19:00:00 GMT | No Comments | Add Comment
Post contains 11 words, total size 1 kb.
Saturday, 23 February 2008

Just for the record, it's still happening
Same old same old at the Associated Press.
Reporter writes a story about an indicted congressman. The indicted congressman's party is, ummm,
implied.
In the 9th paragraph.
The same reporter writes a story about a different indicted congressman.
That
indicted congressman's party is
the first word
of the story. Guess which party gets which treatment?
BizzyBlog
has it all
, including
this (priceless!) reader comment
:
As a journalist, I was always instructed that, on first use, a member of Congress must be identified in a standardized way, i.e. Charles Schumer (D-N.Y.), John Boehner (R-Florida). If this practice were still followed, it wouldn't matter whether the reporter ever mentioned party affiliation elsewhere.

Oh, and this guidance came from a quaint little book known as the

AP Stylebook

. I wonder if the AP still has copies around.
UPDATE
080223 21:16
: Swapped sentences in the 1
st
para to get the chronology right.
Via:
Ace
Elsewhere:
The "Name That Party" category at Don Surber's weblog
Previously:
Posted by: Old Grouch in The Press at 20:45:50 GMT | No Comments | Add Comment
Post contains 193 words, total size 3 kb.

Follow up: Chicago's most beautiful cat
So who won? Nobody I picked, but a fine fellow nonetheless:
Was it the blue eyes? Gorgeous fur? Enormous fan base? Probably a litte bit of everything.



Congratulations to Solomon

on a hard-fought battle, and to all the cats and cat owners who participated. - RedEye
Previously
.
Posted by: Old Grouch in Linkage at 18:40:55 GMT | No Comments | Add Comment
Post contains 52 words, total size 1 kb.
As expected...
From today's
Wall Street Journal:
The government yesterday unveiled its $20 million "virtual fence," touted for months as one of the most effective ways to secure America's leaky U.S.-Mexico border.

But the problems that have plagued the high-tech barrier mean that the fence's first 28 miles will also likely be its last. The Department of Homeland Security now says it doesn't plan to replicate the Boeing Co. initiative anywhere else.
Anyone who is surprised by this
hasn't
·
been
·
paying
·
attention
. Our political class has made up its mind; average citizens should shut up and take it.
The
only
"surprise" is that they didn't wait until after the election to make the announcement.
RELATED:

Another immigration proposal (HT: Dustbury):
We stop guarding the US/Mexican border immediately. Any Mexican who wants to come to America may do so, no questions asked. If the number of Mexicans living in the US exceeds the number living in Mexico,

then we get Mexico

.

Effectively, the Mexican people will have voted with their feet, deciding they want to be Americans, not Mexicans. As we are a country that believes in majority rule, if most of them want it, we give it to all of them. Boom, instant citizenship for everybody, and land annexation for us. At which point they start earning minimum wage and paying taxes. And we get their cacti, tequila factories, and offshore oil fields.
And we could turn our rapacious trial lawyers loose on the corrupt Mexican government (which should keep

them

busy- and out of our hair- for a few years). Sounds like a win-win!
Posted by: Old Grouch in In Passing at 16:44:43 GMT | No Comments | Add Comment
Post contains 261 words, total size 3 kb.

A stealth McCain campaign?
Two items from this morning's Instapundit:
The New York Times

says John McCain received a major boost in fundraising and support thanks to another

New York Times

article about his alleged affair with a lobbyist. - Michael Totten
I'm related to the Swing Voter, aka my mother. Her vote is an infallible indicator of who will win the general election. We had dinner last night, and somewhat to my surprise, The Swing Voter is completely outraged by the

New York Times

story-- she vows to no longer take the

Times

, nay, not even for the Sunday crossword. She is also now thinking seriously about voting for McCain just to spite the

New York Times

.
- Megan McArdle
Naw, The Pinch Gang
couldn't be

that

smart
, could they?
(

RELATED

080224 19:21: Buzzmachine link added to last sentence.)
Posted by: Old Grouch in The Press at 15:32:15 GMT | No Comments | Add Comment
Post contains 137 words, total size 2 kb.
Friday, 22 February 2008


Incoherent weasel sighting
Stop campus shootings: ban prop guns-
And while you're at it, be sure to carefully cover your "but" (even at the expense of clarity):
"All of us have a healthy respect for the freedom of artistic expression that college theater represents,

but

and all of us agree that out of respect for the families of those victims of the tragedies at Northern Illinois University and Virginia Tech,

but

and from an abundance of caution,

but

it is best at this time not to undertake a campus production that contains the portrayal of graphically violent scenes." - Robert C. Brown, president, Arkansas Tech University
This mound of incoherence is by a university president? It must be rough to try to do the politically correct thing without seeming to do so.
[1]
(And then there's the "thinking" behind the decision.)
I guess what Mark Twain once
said about school boards
now goes double
for university administrations.
(Having said that,
Assassins
is
one of Sondheim's suckier efforts.)
[1] UPDATE
080222 23:56
: A late comment to the
insidehighered.com story
by a poster identifying him/herself as an ATU faculty member (no permlink, scroll to the comment by "
D
, at 4:30 pm EST on February 22, 2008") offers:
A third option... that certain parties may simply have felt the content of the play was distasteful and inappropriate...
Arkansas is a red state with a deep patriotic bent, maybe the administration (or some influential alumni) simply felt the play to be inappropriate...
Accepting this explanation, rather than the obvious no-guns-on-campus one, requires believable answers to the questions of why the play was scheduled in the first place, and why the administration, once it had determined to stop performances, felt it necessary to mask its reasons for doing so. It
is
a possible scenario, and one that would lead me to change the above sentence to, "It must be rough when you have to scramble for a politically correct excuse to mask what's actually censorship." But it is also worth noting that raising the possibility of censorship is a good way to shift the blame for a (now embarrassing) action; from politically-correct motivations of the administration to agitation by unidentified red-state rednecks.
Via: Althouse (at IP) who notes:
The bright side of this is: Because it's high-class musical theater that's getting censored, even the usual prissy anti-gun types should get pissed off.
Ox, gored, etc.
Posted by: Old Grouch in Rants at 19:34:50 GMT | No Comments | Add Comment
Post contains 393 words, total size 4 kb.
94kb generated in CPU 0.06, elapsed 0.1645 seconds.
50 queries taking 0.1248 seconds, 223 records returned.
Powered by Minx 1.1.6c-pink.