Friday, 31 December 2010

Word of the day: Blockwart
Marko
:
The next time you wonder how a nation of fastidious, orderly people could turn into the butchers of ten million Jews, gypsies, homosexuals, and other "undesirables", think about what would happen if you gave the good Sergeant a machine gun instead of a ticket book, and you told him that an easy-to-identify segment of the population in his city has no human rights, and can be shot without legal penalty for not following orders instantly…
World War II vets used to call 'em "little tin Hitlers."
(Via:
Tam
)
Posted by: Old Grouch in Linkage at 17:49:03 GMT | No Comments | Add Comment
Post contains 92 words, total size 1 kb.
Thursday, 30 December 2010
Voice of experience
And we

pay

these people?
Dept
Instapundit
:
Seems like whenever the question is, "Did Congress screw up ——— ?" (for whatever "———" you choose), you can usually answer "Yes" without further investigation.
Posted by: Old Grouch in In Passing at 18:19:40 GMT | Comments (1) | Add Comment
Post contains 35 words, total size 1 kb.
Saturday, 25 December 2010

Christmas Lynx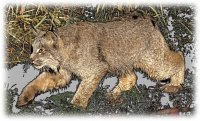 "Oh, pun!" sez he.

Dept
The search for Handel's

Messiah

.
"Handel is the composer. The Messiah is the piece of work that he composed. It's one of the arguably most famous classical works EVER. It's a Christmas work. There are flash mobs singing bits of it at malls.

Maybe you've seen it on youtube??

"
She's lucky they didn't try to sell her a copy of
Carmina Burana.
Office Christmas Party Food Forensics.
"JUST the snacks, Ma'am."
Next week, The Refrigerator Chronicles.
Christmas Eve 2010:
"Only One Hocking Day Till Christmas!"
Carols for another Christmas:
All new recordings by the original stars!

Have Yourself A Merry Little Forgive The Expression

– Nina Totenberg

Go Don't Tell It On The Mountain/Deck The Halls Of Montezuma

(aka "Don We Now Our Gay Apparel") – The United States Military "Do Ask – Do Tell!" Chorus

The Twelve Days Of Lame Duck

– Harry Reid & Nancy Pelosi

Away With Your Mangers!

– The ACLU Chorus with The CAIR Community Choir

Do You See What We See?/Feelhiz Nobbyrod

– The TSA Screeners Orchestra featuring Pat Downes
When you absolutely, positively, want to be politically incorrect:
Full-flavored smoking enjoyment in open defiance of Nanny-state killjoys, splashy holiday graphics in bright red and green, and Ronaldus Magnus Maximus his own self.
A copy should be hung on every cubicle wall (with care).
Just to bug 'em!
The first Green Christmas:
11

And there were in the same country shepherds abiding in the field, keeping watch over their flock by night. And they were doing a bit of knitting, like shepherds do, yea even their teatowel headgear was sustainably generated.



12

And lo, the angel of the Lord came upon them, and the glory of the Lord shone round about them, and they were sore afraid.



13

"We are sore afraid,

"

they said.

"

Have you any idea how much energy you're wasting with all this ostentatious glory-shining? You could at least tone it down a bit using a low-energy halo."



14

And the angel said unto them, "Fear not, for behold this halo is a low output, flicker free, non-stroboscopic Compact Fluorescent Integrated Glow-Ring. For God phased out all the filament haloes in the heavenly firmament long ago."
Deck the halls with lots of frivolity:
America is a place where people feel that if they can imagine it, they can make it come true. Although that doesn't always lead to success, the aggregate impact of all of that creativity on the country is tremendous. Think about how many things that you know of that are so fundamentally unimportant from the perspective of surviving in this world, but impacted the lives of the people who invented them or used them. Silly Bandz. The Snuggie. College apparel. A dozen flavors of Coke. Personalized M&Ms. Car wrap advertising. Pet manicures. Cheesehead hats. QVC. Having it your way at Burger King. McMansions.

[Stick-on reindeer]

antlers are the perfect example. They're utterly frivolous, but they let people express the fun side of Christmas and maybe make others smile as well.
A Christmas Memory:
Whose Christmas can you make better, with a small effort, a kind word, a little encouragement? If nothing occurs to you, maybe you should look a little harder.
Posted by: Old Grouch in Linkage at 07:26:28 GMT | Comments (2) | Add Comment
Post contains 527 words, total size 7 kb.
A very merry Christmas...
...to my readers, lurkers, and lookers-on.

Posted by: Old Grouch in In Passing at 04:35:39 GMT | No Comments | Add Comment
Post contains 10 words, total size 1 kb.
Friday, 24 December 2010
Mmmm....okay!
(Two headlines at boston.com, minutes ago.)

Posted by: Old Grouch in In Passing at 21:55:19 GMT | No Comments | Add Comment
Post contains 10 words, total size 1 kb.
Thursday, 23 December 2010
Ohh noes, not again!
"Nonpartisan" site turns out to be
another lefty front
.
(And in the
comments
:
...Right on cue this bloviated bullshit was on NPR this morning and front and center on front page of the

St. Petersburg Times.
Well
of course.
Isn't that what these organizations are
for?
)
(Would-a had film at 11, but we ran out...)


Posted by: Old Grouch in In Passing at 19:28:29 GMT | No Comments | Add Comment
Post contains 57 words, total size 1 kb.
Monday, 20 December 2010
Priorities
The BBC
:
Firefighters who rescued people from a

[terrorist-bombed]

Tube carriage on 7 July 2005 were never given a proper debrief, it has emerged.
...
The crews who tackled the carnage at Russell Square - where 26 people died - were not asked their opinions of the event afterwards, the inquests heard.

The inquests have been told about rules which delayed the crews.

The first firefighters were told not to enter the tunnel where the carriage was without back-up or breathing apparatus...

[which]

led to a 29-minute delay.

Terrence Adams, a senior divisional officer, who was in charge between 1000 GMT and 1100 GMT that day, said nobody had asked him afterwards how the rescue had gone.

A lawyer for some of the victims' families, Christopher Coltart, asked Mr Adams, who has since retired, if he thought this was an oversight.

"I can't answer that question because that wasn't my area of responsibility," he replied.

Mr Coltart said: "Although

the logistics department

and

the equality and diversity department

had their say, there was

no review upon the protocols which actively impacted upon entry

into the tunnel on that day."
When it comes to saving lives, what could be more important than diversity?
LATER
(101221 16:50):
Posted by: Old Grouch in In Passing at 20:58:39 GMT | No Comments | Add Comment
Post contains 221 words, total size 2 kb.
Friday, 17 December 2010
If the only thing Blake Edwards had done...
...was give
Henry Mancini
his first television job, we'd have plenty to remember him for.
Fortunately, there's so much more.
Elsewhere:
Posted by: Old Grouch in In Passing at 16:52:13 GMT | No Comments | Add Comment
Post contains 45 words, total size 1 kb.
Late gettin' this one up...
Posted by: Old Grouch in Meta at 16:04:50 GMT | No Comments | Add Comment
Post contains 13 words, total size 1 kb.
Wednesday, 15 December 2010

TSA: Qui bono?
Bend over and spread 'em

Dept
Frank James
:
Two physics professors at the University of California, San Francisco, Leon Kaufman and Joseph Carlson, have concluded the x-ray backscatter machines (or what I refer to frequently as the Nude Scan-O-Matic) can be

fooled

.
...
Don'tcha just feel all better now about that flight out to visit Mom and Dad for Christmas?

But, Hey, it's not for nothing. Think of how many Congressmen and their families will have a Very Merry Christmas because of these things.

You see a number of people in Congress and their spouses have invested heavily in the companies that make these machines...
And it's not just Democrats. Take your blood pressure meds, then
RTWT
.
LATER (101215 22:30), (Loosely) Related:
TechDirt:
US Response To Massive Decline In Foreign Travelers: Keep Crazy Policies, But Set Up Ad Campaign
Basically ever since the Patriot Act, visiting the US has become a huge pain for foreign tourists, and with our lovely new "we see you naked or we touch your private parts" strategy for airline passengers (thank you, TSA), it appears that things are getting even worse. So, if you're the US government, how do you respond...?

...You set up a "public/private partnership" to launch an expensive ad campaign and you fund part of it by

charging those very tourists

to enter the country.
I wonder how many Congressmen own ad agencies?
Posted by: Old Grouch in Linkage at 19:08:24 GMT | No Comments | Add Comment
Post contains 230 words, total size 3 kb.
96kb generated in CPU 0.0631, elapsed 0.4694 seconds.
53 queries taking 0.4576 seconds, 227 records returned.
Powered by Minx 1.1.6c-pink.