Saturday, 27 February 2010

East Coast: slammed? Yes: Record snow at NYC
National Weather Service
:
RECORD EVENT REPORT...UPDATED
NATIONAL WEATHER SERVICE NEW YORK NY
217 AM EST SAT FEB 27 2010

...RECORD MONTHLY MAXIMUM SNOWFALL SET AT CENTRAL PARK...WHICH IS
ALSO THE RECORD MAXIMUM SNOWFALL FOR FEBRUARY AT CENTRAL PARK NY...
...RECORD DAILY MAXIMUM SNOWFALL SET AT CENTRAL PARK NY...

AN 

ALL TIME MONTHLY RECORD SNOWFALL OF 36.9 INCHES

 WAS SET AT
CENTRAL PARK NY. THIS BREAKS THE ALL TIME SNOWIEST MONTH RECORD FOR
CENTRAL PARK. THE OLD RECORD WAS 30.5 INCHES SET BACK IN MARCH 1896.

THIS 36.9 INCHES OF SNOW AT CENTRAL PARK IN FEBRUARY ALSO BREAKS THE
OLD RECORD SNOWFALL IN FEBRUARY OF 27.9 INCHES SET IN 1934.

LASTLY...A RECORD DAILY SNOWFALL OF 11.5 INCHES WAS ALSO SET AT
CENTRAL PARK NY TODAY. THIS BREAKS THE OLD RECORD OF 8.4 SET IN 1991.
There's also an update to my
previous post
.
Posted by: Old Grouch in Dear Diary... at 22:44:00 GMT | No Comments | Add Comment
Post contains 148 words, total size 2 kb.
What would you trade for dinosaur-powered space lasers?
What we

really

want from Government
Dept
Joanna
:
In a perfect world, any defense or NASA expenditure could be justified with the words "Because it's AWESOME! Eh? EH?" If it makes a randomly selected 14-year-old boy drool around his braces, it gets funded. Granted, we'd end up with an arsenal of dinosaur-powered space lasers run by ninjas and the Swedish bikini team, but at least it would have full funding.
I'd trade the entire Department of Homeland Security for dinosaur-powered space lasers any day of the week. If I can get "ninjas and the Swedish bikini team" too, I'll throw in the Department of Education.
And further wise words from one so young:
We ended up here because we stopped encouraging 14-year-old boys to be 14-year-old boys.
Yep. 50 years ago, we dreamed of going to the stars. Today Our Betters dream of turning America into 1950s eastern Europe.
I prefer AWESOME. Let's do it
FOR THE CHILDREN!


Posted by: Old Grouch in In Passing at 17:45:41 GMT | Comments (1) | Add Comment
Post contains 162 words, total size 2 kb.

Sales manager's nightmare is here!
From
April, 2008
:
Sales manager's nightmare!

Intempo's Rebel radio records all your favourite FM stations and

cuts out

all the DJ drivel and adverts.
At the time, only available in Europe.
Well, here it is 2010, and whaddayaknow...
USAToday
:
The $250 Abbee Commercial-Free Music System... from Michigan start-up Myine Electronics, consists of two main components: a tabletop base stereo speaker system with a built-in FM tuner and a portable player called Music Lock, which plugs into the base. The twist: Abbee can automatically record songs from whichever FM station you're tuned to — but it

manages to do so without the ads and idle chitchat

.

The Abbee base has storage for about 100 songs. But you can transfer and store about 500 songs on the Music Lock portable. The transfer from base to portable is automatic when the Music Lock is plugged in. Upon playback, you can skip, pause, fast-forward and rewind.
Dunno about the captive player. And then there's the music selection...
Via:
Radio-Info messageboard
Posted by: Old Grouch in Radio at 00:26:04 GMT | Comments (2) | Add Comment
Post contains 166 words, total size 2 kb.
Friday, 26 February 2010

Clipfile - February 26, 2010
"I wish we could fight the war in Afghanistan as effectively as our government is waging the war on small business."
- "pdqBach,"
commenting
at
BigGovernment.com
Posted by: Old Grouch in Clipfile at 22:30:24 GMT | No Comments | Add Comment
Post contains 31 words, total size 1 kb.

Chumps
Spite 'n' Envy
'
sGettin' Old
Dept
R.S. McCain sends
a message to the Democrats' Captive Nations
:
...Once people start thinking about leaving the Identify Politics Ranch, it's "game over" for the Democratic Party.


They tell gay people that conservatives are homophobes.
They tell black people that conservatives are racists.
They tell poor people that conservatives are rich and greedy.
They tell women that conservatives are sexists.


Et cetera.

Lather, rinse, repeat.


...
When all is said and done, what's in it for you? Or, better yet, what's in it for

them...

They've got their tenured positions at the universities or their jobs at liberal magazines or their book contracts. They've got their six-figure executive salaries at gay-rights groups and their prestigious appointments to government jobs. And you've got (maybe) some symbolic policy change that is, at most, of indirect value to your quality of life.

Wise up, chumps. You're being bamboozled by a bunch of three-card monte hustlers who are using your "identity" to advance their own interests. At some point you've got to start questioning whether politics is really the answer to your problems, or else one of these days your tombstone will read, "Here Lies a Chump, R.I.P."

But don't worry, there's always life after death for Democrats. Just tell your friends to make sure you're buried in Chicago, where Election Day is like Halloween and the departed spirits of dead Democrats rise from the grave to vote in alphabetical order.

The graveyard is the only place you'll ever see the fulfillment of the Democratic Party's promises. As Mary Jo Kopechne recently said to Ted Kennedy, "Now, we're equal."

Wake up, chumps. The poverty of the poor is not caused by the wealth of the rich, and discontents of gay people aren't the result of heterosexuals monopolizing happiness. The politics of spite and envy — which is to say, the agenda of the Democratic Party — can never lead to "social justice," because

there is no such thing as "social justice."
Read
the whole thing
. And bookmark it.
Posted by: Old Grouch in Linkage at 03:14:27 GMT | No Comments | Add Comment
Post contains 339 words, total size 4 kb.
What happened at the summit isn't important...
Nightly News leads with snowstorm stories
Dept
Jay Nordlinger
:
This health-care summit was a bad idea for the Democrats for this reason: They have long benefited from a perception — a perception greatly abetted by the media: The Republicans don't care about health care, they don't know about health care, they are the Party of No. All the ideas and caring are on the Democratic side.

It is not so, and it has never been so. And now everybody knows it.
Everybody
who watched C-SPAN,
that is. But most people don't, and the ones who don't will judge the Republicans by how the DSM reports the summit.
I'll wait to see whether the Republicans manage to cut through the spin before accepting any sweeping claims about what "everybody" now knows.
LATER:
Instapundit
:
Reader James Somers offers two ways to tell that the Dems lost the health care summit today:

If you look right now:



1. It's not the lead headline on CNN.
2. It's not the lead headline on the NYT.



If this had turned out the way it was supposed to, it would be leading both of those sites in 60 point font.
Yep.
Previously:
Posted by: Old Grouch in In Passing at 00:48:39 GMT | No Comments | Add Comment
Post contains 204 words, total size 3 kb.
Thursday, 25 February 2010
Notice served
Got this letter today from my fuel oil vendor:
Effective March 1, 2010
Regulatory Compliance Charge
Overview
The regulatory compliance charge offsets a portion of the costs incurred by ***
[company]
to comply with mandatory rules and regulations imposted by Federal, State, and local governments.
The charge covers some costs
[of complying with]
governmental regulations related to... 1) Workplace and public safety; 2) Federal and local codes; and 3) Environmental protection. Listed below is a recent, but non-comprehensive, list of mandatory requirements affecting fuel suppliers...
Federal Motor Carrier Safety Regulation Compliance
Employee Training & Driver Qualifications
Hazardous Material Training & Certification
Environmental Protection / Oil Spill Regulations
Equipment Testing & Safety Inspections
Hazardous Materials Monitoring and Cleanup Funds
Drug Testing (annual and random)
Remote Control Shutdown System on Delivery Equipment
Department of Homeland Security Regulations (Driver Regulations)
Emergency Planning & Response
O.S.H.A. Hazardous Communication Compliance
Charge Costs
The regulatory compliance charge
[will be]
applied to deliveries for residential and commercial customers.
Frequently Asked Questions
Why are regulatory compliance charges becoming more common?
Today there are
[more]
mandatory compliance issues and charges than ever before...
Why do some energy companies have charges and others do not?
All energy companies are subject to the same regulations; however, some choose to embed these regulatory compliance costs in the price of fuel... At ****, we believe the fairest practice is to separate these charges out for your information.
...
What this means is that beginning next month I'm going to see a $2.82 line item on my delivery ticket. Lovely.
Posted by: Old Grouch in In Passing at 18:43:49 GMT | No Comments | Add Comment
Post contains 240 words, total size 3 kb.

SNOWing for a record?
For us in Indy, the prediction is an inch or so overnight, with more to the north. But it looks like the east may get slammed- again.
Predicted snowfall map for tonight and tomorrow:
[1]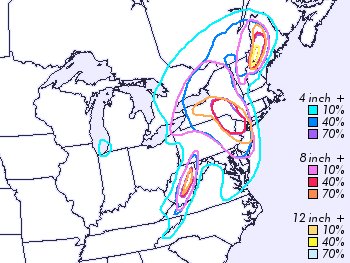 AccuWeather's
Alex Sosnowski
(HT:
Bill Quick
):
The same storm that brought a gentle snowfall across Texas on Tuesday will reach the Northeast in the form of an atmospheric monster with damaging winds, blinding snow, torrential rain, huge waves and flooding...



Wind


Wind gusts can reach 70 mph in some areas, just shy of hurricane force. Many locations in the mid-Atlantic and New England will endure gusts topping 50 mph at some point Thursday to Friday...



Tides


The powerful winds will lead to coastal flooding in New England, while causing disruptive blowout tides and very low water levels in some seaports the mid-Atlantic from New Jersey to the Carolinas.



Snowfall


Snowfall from the storm will accumulate 1 to 2 feet from western Maine to northern Vermont and over much of the Mohawk and Hudson valleys in New York state as well as the Catskills and Poconos. Albany, Binghamton, Rochester and Scranton fall within this zone.

A broad area of 6- to 12-inch snowfall will fall from northern New Brunswick to central New Jersey, much of Pennsylvania, northeastern Ohio and southern Ontario. New York City, Buffalo, Montreal, Ottawa, Toronto and part of the Philadelphia area lie in this area.
They're reporting 10-20" already on the ground in eastern New York State. The National Weather Service expects the second low to pull in warmer air up into the Hudson Valley, which would make Thursday's precipitation in that area (around Albany) fall mostly as rain. But for eastern Pennsylvania they're still talking snow: 6-14 inches worth.
Thursday night and Friday (note these are
additional
accumulations):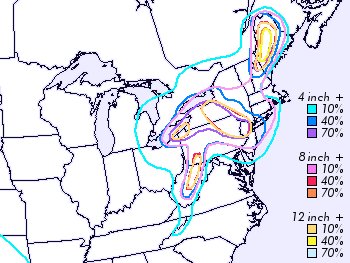 If those temperatures don't get above freezing, Friday could be interesting.
UPDATE
(Saturday 100227 18:25, links via
IP
):
Associated Press:
More than a million in the dark on East Coast
Friday's storm made February the snowiest month ever for New Brunswick, N.J.; it has gotten 37 inches so far. This had already been the snowiest winter for Philadelphia and Atlantic City, N.J., before the latest storm dropped another 4 to 5 inches by midmorning Friday.
The Weather Channel's
James Wilson
:
In New York City at Central Park, there was 20.9 inches reported with this amazing storm. This was the 4th largest snowstorm in their long history that goes all the way back to 1869.
-----
[1] For the 24 hrs beginning at 7pm EST.

Posted by: Old Grouch in Dear Diary... at 00:04:44 GMT | No Comments | Add Comment
Post contains 425 words, total size 5 kb.
Tuesday, 23 February 2010

Sidebar additions/Sunday's Blog•Meet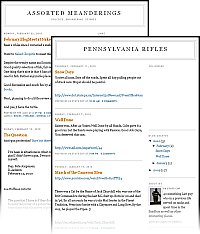 Presenting, in alphabetical order, the new sidebar additions thanks to
Sunday's Blog•Meet
:
Assorted Meanderings
,
"Politics. Engineering. Science."
, conducted by Jack.
(Would that possibly be "MAD" science? Guess we'll find out!)
Pennsylvania Rifles
is home of "PA State Cop," who just got started blogging, but has a host of stories.
(Now all we've gotta do is convince him to start writing 'em all up!)

Both gentlemen are welcome additions to the circle, which this time around also included
Joanna
("Glad I didn't order a large!")
Roberta
(pictures),
Tam
,
Nathan
(fresh from
snowy Alexandria
),
Caleb
(fresh from
sunny California
),
Shermlock
,
Hagbard
(hey, I want to know how you get
comments where there's no post
), Shootin' Buddy, and
me
.
Tchopstix
turned out to be all that was promised (and they have Kirin on draft!).
Only one

Wayne

this time, tho...
The next meeting appears to be coalescing toward March 21 (
Indy 1500
weekend). Discussion underway at
Roberta's place
.
Posted by: Old Grouch in Meta at 18:53:40 GMT | Comments (2) | Add Comment
Post contains 158 words, total size 4 kb.
104kb generated in CPU 0.0188, elapsed 0.364 seconds.
54 queries taking 0.3524 seconds, 229 records returned.
Powered by Minx 1.1.6c-pink.