Saturday, 12 March 2011

Not well done.
And why do they call it a "medium"?

Dept
Tim Blair, looking for some earthquake coverage by the Australian Broadcasting Company:
The ABC's 24-hour news channel is currently showing a four-month-old Pat Dodson speech about how Aboriginal reconciliation can help combat climate change.

UPDATE. Now ABC 24 is running a review of the week's major stories. Old clips from Libya.

UPDATE II. Unbelievable. ABC 24 is now showing a three-year-old piece about Belgian identity issues.

UPDATE III. Breaking news at ABC 24: a story about Lourdes … from 2008.

UPDATE IV. Want earthquake information? Here's yesterday's episode of

One Plus One

instead. Mia Freedman talks about body image!

UPDATE V. Two hours after the Japanese government upgraded the death toll to 600, ABC 24's graphic still has it at 400.
And it
doesn't get much better
...
LATER
(110313): And once the coverage starts,
where's the context
?
Okay, so what? How "elevated" were those

[radiation]

levels? Where do the "elevated levels" compare to a deadly level of radiation? There is no context here and, as a result, we don't know whether this is worrisome news or an outright disaster.
Back in the day, a good reporter's Rolodex would have had phone numbers for
real scientists
who could answer questions like these.
Posted by: Old Grouch in The Press at 19:03:57 GMT | No Comments | Add Comment
Post contains 208 words, total size 2 kb.
Monday, 07 March 2011

Hell yes, next time I'll be taking the train!
Amtrak police chief bars Transportation Security Administration from some security operations

By Don Phillips

WASHINGTON — In late February, the Transportation Security Administration took over the Amtrak station in Savannah, Ga., and thoroughly searched every person who entered. None of the passengers got into trouble, but the TSA certainly did — big time.

Amtrak Police Chief John O'Connor said he first thought a blog posting about the incident was a joke. When he discovered that the TSA's VIPR team did at least some of what the blog said, ...

[h]e ordered the VIPR teams off Amtrak property, at least until a firm agreement can be drawn up to prevent the TSA from taking actions that the chief said were illegal and clearly contrary to Amtrak policy.


...
O'Connor said the TSA VIPR teams have no right to do more than what Amtrak police do occasionally, which has produced few if any protests and which O'Connor said is clearly within the law and the Constitution. More than a thousand times, Amtrak teams (sometimes including VIPR) have performed security screenings at Amtrak stations. These screenings are only occasional and random, and inspect the bags of only about one in 10 passengers. There is no wanding of passengers and no sterile area.

O'Connor said the TSA violated every one of these rules.



A posting in late February to the Transportation Security Administration's blog... tried to explain why TSA agents took over the Amtrak station in Savannah. But O'Connor said the "facts" as posted on the TSA blog were incorrect. He said the blog indicated that Amtrak had approved of the operation, but

it had not

. He called the TSA's posting on blog.tsa.gov "inaccurate and insensitive."...
Bravo, Chief O'Connor!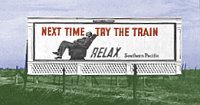 (HT:
AoS Top Headlines
)
Posted by: Old Grouch in Rants at 23:05:05 GMT | Comments (1) | Add Comment
Post contains 296 words, total size 3 kb.
A friendly reminder...
Jeff Goldstein,
from a couple o'weeks back
:
King Obama's America


What you

can't

have:

1. incandescent bulbs
2. high-flow shower heads
3. large capacity flush toilets
4. cupcakes / bake sales / pizza parties / vending machines at school
5. oil drilling/exploration/refineries
6. salt
7. health care choice
8. spilled milk
9. unregulated farmer's market produce


What you

can

have:

1. a fresh new needle every time you want to shoot heroin into the webbing of your toes.
2. ...
Just a reminder for Republicans: To the extent that you fail to move to remedy those 9 "can't haves," you are part of the problem.

And we'll be keeping that in mind, come fall of 2012.


Posted by: Old Grouch in In Passing at 21:58:46 GMT | No Comments | Add Comment
Post contains 117 words, total size 1 kb.

The new Newsweek is out...
...and Kaus
isn't impressed
:
The general impression: staleness, meaning a lack of both

a)

editorial imagination and

b)

news. Readers could be forgiven for checking for dust to make sure the magazine didn't drop from the attic where they stored it around 1999.
I've been unable to understand all the excitement about Tina Brown since back in the day when she hired on at
Punch
to do what I guess was supposed to be a "personality" column. (My reaction at the time: Who
is
this person, and what's the point of giving her all that space?) Admittedly (and to my continued amazement), since then she's gone from strength to strength. (Shows how much I know.)
But couldn't the mag's official relaunch have been better served than with yet another profile of Hillary Clinton, and yet another "influential women" article?
[1]
After all, it ain't named
LifestyleWeek
. At least not yet.
------
[1]
[added 110308]
Jack Shafer
:
One would think that with the Arab world spinning apart, political insurrection visiting Capitol Hill and the state houses, and the NFL going on sabbatical, the week would be so hot that Brown could stir-fry its ingredients for a sizzling meal.
Posted by: Old Grouch in The Press at 21:21:09 GMT | No Comments | Add Comment
Post contains 195 words, total size 2 kb.
Saturday, 05 March 2011
Security, there's nothing like it!
Via
Radley
via
Glenn
:
COURTLAND

[, VA]

—A Southampton Middle School student was suspended Thursday for opening an exterior door for a visitor.

"Students are not allowed to open the doors, and if anyone does, they will be suspended," said Dr. Wayne K. Smith, executive director of administration and personnel.

A districtwide policy prohibiting students and staff from opening doors to the outside was recently adopted after a $10,800 security system was installed...

All of the schools' doors are locked during the day. Visitors must ring a buzzer and look into a camera before office personnel can let them in. -

Tidewater News,

February 26, 2011
Any school district that employs a doctorate-level "executive director of administration and personnel" is most likely
way
overstaffed and needs to have its budget cut immediately.
(Oh, and I'd love to have their "security" contract. In 2008,
Southampton Schools spent almost $85,000
for security cameras.)
Posted by: Old Grouch in In Passing at 17:09:42 GMT | No Comments | Add Comment
Post contains 154 words, total size 2 kb.
Wednesday, 02 March 2011
Iran arrives late, misses the point
Great. NOW they tell us!
Dept
The Guardian:
Iran has threatened to boycott the London Olympics unless the organisers replace the official logo, which Tehran claims spells out the word "Zion".
Erm, when the logo was announced (back in 2007), there was
a whole big discussion
about
what it "looked like."
And the consensus was that although
it sucked
, "Zion" had nothing to do with it.
(Aaah, they've probably realized that all their athletes and coaches were planning to defect.)
Via
Meryl
via
Insty
.
Elsewhere:
Related:
Diamond Geezer:
But hey, if this embarassing debacle inspires a few fewer kids to become PR consultants and marketing executives when they grow up, then it may just have been worthwhile after all.
Posted by: Old Grouch in In Passing at 17:37:50 GMT | Comments (1) | Add Comment
Post contains 130 words, total size 3 kb.
85kb generated in CPU 0.05, elapsed 0.196 seconds.
53 queries taking 0.1607 seconds, 218 records returned.
Powered by Minx 1.1.6c-pink.