Thursday, 19 May 2011

Tropes Tabled
Beware! DeviantArtist "
Computer Sherpa
" has made it
even easier
to get sucked into the infamous
TV Tropes
time sink. Here are 188 (more or less) of its characters, plot devices, tropes, and subtropes...
nicely systematized
.
So if you have trouble recalling the 22 primary "Call to Adventure" subtropes (or the fourth member of the Five Man Band), you'll find them all there for you. What more could an aspiring writer want?
HT
(Yeah, thanks a BUNCH!)
to
Joanna
, who says
Man

, this'll come in handy come NaNoWriMo time.
Posted by: Old Grouch in Linkage at 16:41:08 GMT | No Comments | Add Comment
Post contains 89 words, total size 2 kb.
Tuesday, 17 May 2011

Hey Journal, spin much?
May 17, 2011, page B1
: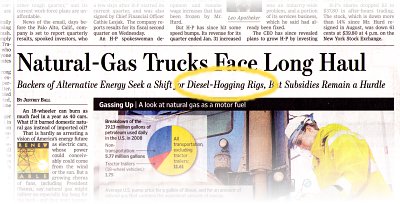 "Diesel-Hogging Rigs," huh?
And just how much of your newsprint moves by truck?
Posted by: Old Grouch in The Press at 20:08:04 GMT | No Comments | Add Comment
Post contains 22 words, total size 1 kb.

When Anything Is "a Religion," Then...?
Mark Steyn
:
An employment tribunal in Britain has ruled that a belief in public service broadcasting is equivalent to religious faith...
Only following
precedent
...
Two years ago, a tribunal found that company executive Tim Nicholson, a firm believer in climate change, was wrongly dismissed after objecting to his company's use of flights and cars.

That case set a precedent and, this year, animal rights activist Joe Hashman successfully argued that he was wrongly sacked from his garden centre job after his activities were discovered.
Steyn
:
If you look at these decisions in toto — from "climate change" to "public service broadcasting" — we are about two judges away from having the entire program of leftist conventional wisdom ruled a state church.
You mean it isn't, already?
Via:
Blair
Posted by: Old Grouch in Linkage at 19:09:06 GMT | No Comments | Add Comment
Post contains 130 words, total size 2 kb.
Indy BlogMeet - "Welcome Race Fans" Edition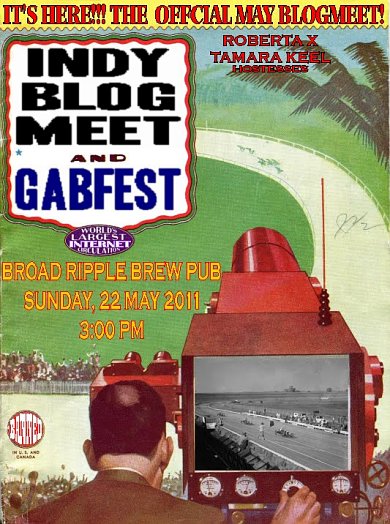 (Art, arrangements, and "official typo" by Roberta X.)
Posted by: Old Grouch in Meta at 17:47:30 GMT | No Comments | Add Comment
Post contains 15 words, total size 1 kb.
Monday, 16 May 2011
Checking new mu.nu post editor - please ignore
New editor, let's see how it works:
Bold
(selected) but button gets out of sync with style.
Bold
(switched)... okay.
Special characters ... first time invoked forced cursor to below break.
Cursor also below break when page opened.
Image:

... which also forced the cursor below the break.
Now both the "B" and "I" buttons are lit... dunno why.
Still strips out extra consecutive spaces.
Colors:
A
E
I
O
U (all selected)
style locks, linebreak doesn't release.
Have to close span in HTML editor.
Posted by: Old Grouch in Beta at 00:51:27 GMT | Comments (1) | Add Comment
Post contains 92 words, total size 1 kb.
Saturday, 14 May 2011

Mitch's Black Thursday
On Thursday, the Indiana Supreme Court
repealed the 4th Amendment:
Overturning a common law dating back to the English Magna Carta of 1215, the Indiana Supreme Court ruled Thursday that Hoosiers have no right to resist unlawful police entry into their homes.

In a 3-2 decision, Justice Steven David writing for the court said if a police officer wants to enter a home for any reason or no reason at all, a homeowner cannot do anything to block the officer's entry.

"We believe … a right to resist an unlawful police entry into a home is against public policy and is incompatible with modern Fourth Amendment jurisprudence," David said.
More about this abomination anon (after my blood pressure drops), but a note on the (national) political implications. There are some, because Judge David is a Mitch Daniels appointee. And if Mitch tries to duck the consequences of this, he's dead as a presidential candidate. Because the buck stops at his desk:
If
he didn't know about the guy
, black marks for him and his staff. It's pure incompetence, and Republicans don't need incompetence in 2012.
If he DID know, but appointed David anyway, then he's just demonstrated that he's at best another get-along-go-along Republican of the McCain stripe, and at worst a closet progressive.
[1]
We don't need
that
in 2012, either.
There are excuses on offer, but I don't buy them: Yes, being governor means
having lots to do
. But we're not talking about traffic court here; if Daniels wasn't paying attention he
should
have been. And if David was the "best of a bad lot" (that the nominating commmission came up with), then Daniels has demonstrated zero political skill: I refuse to buy the story that a sitting governor is unable to exercise input (formal or informal) in the nominating process.
And the actual circumstances may be worse. The excuses presume good will, but once you
examine the history
, it appears that Daniels was, at best, indifferent to the flaws in the nominating process and the red flags among David's credentials.
So, if Mitch is serious about the presidency, he should call a press conference Monday morning and announce four things:
That he– personally– finds the court's decision abhorrent and contrary to American values.
That he cannot support any judge so out-of-touch with the American liberties that he would even

consider

such a decision, and, specifically, that he wants all hoosiers to vote against the retention of Judge David in the 2012 election.
That he will IMMEDIATELY call a special session of the legislature "for the purpose of drafting a state constitutional amendment overturning this decision and affirming 4th Amendment protections within the state of Indiana."
and that he will encourage and support legislative efforts to impeach ALL THREE judges who voted in the majority.
It has to happen Monday, and it has to be all four. Anything less is not enough.
But will he do it? I doubt it. And thus the end of the abortive Daniels run.
(Expanded from
a comment
posted at Daily Pundit.)
------
[1]
UPDATE
(110516 15:35):
He's toast.
Posted by: Old Grouch in Rants at 22:28:00 GMT | Comments (3) | Add Comment
Post contains 516 words, total size 6 kb.
Monday, 09 May 2011
The word is: "ac•count•a•bil•i•ty"
"Mike55_Mahoney" goes after the "experts" following
the latest "unexpected" economic news
:
These ding-a-lings, who are so often taken by surprise, won't hesitate to tell us they know for sure what next good program they have in mind. Is there some way we can shame these pretenders into a field more suited to their abilities like the circus or stand up comedians?
Not for as long as we have a press and political establishment with zero memory and zero interest in anything that might
contradict its agenda
. And it's
not just economics
, either.
Posted by: Old Grouch in In Passing at 23:06:35 GMT | No Comments | Add Comment
Post contains 94 words, total size 1 kb.
Friday, 06 May 2011
Collecting their own Danegeld
Melanie Phillips:
Lars Hedegaard, President of the Danish Free Press Society and The International Free Press Society, was yesterday found guilty of hate speech under the Danish penal code. His crime... was to draw attention to child abuse and violence against women in Muslim culture.
Exchanging liberty for peace and quiet.
"Matenloch,"
at Ace
:
...In practice the law he was convicted under is used to protect one - and only one religion: Islam. By contrast insulting (or even physically attacking) Jews and Judaism - not a problem and not prosecuted. This is what it looks like when Islam becomes a de facto state religion.

So now the Danes can't even talk about the Muslim immigrant problem in their midst since discussing it is now likely a hate crime. And so sadly the Danes are now in the position of

collecting the Danegeld for their own dhimmi status.
Works just about as well as exchanging liberty for safety, dunnit?
LATER
(110506 21:15), related (via
Michael Totten
):
A Hamburg judge has filed a criminal complaint against Chancellor Angela Merkel for

"

endorsing a crime

"

after she stated she was

"

glad

"

that Osama bin Laden was killed by US forces...

In his two-page document,

[Heinz]

Uthmann, a judge for 21 years, cites section 140 of the German Criminal Code, which forbids the "rewarding and approving" of crimes. In this case, Merkel endorsed a "homicide," Uthmann claimed. - Spiegel Online
Posted by: Old Grouch in In Passing at 16:38:46 GMT | No Comments | Add Comment
Post contains 233 words, total size 3 kb.
Thursday, 05 May 2011

Clipfile - May 5, 2011
"I am tired of my government adjusting its policies in... inane attempts to placate the triggers of rage among unstable people -- as if it's our fault for provoking them."
-
Jim Geraghty (via Andy)
Posted by: Old Grouch in Clipfile at 21:04:09 GMT | No Comments | Add Comment
Post contains 40 words, total size 1 kb.
Wednesday, 04 May 2011

Well, we know *somebody* got him...
Over at
The Telegraph,
the juxtaposition of this pair of Melbourne, Australia, newspaper posters not only proved
impossible for
Tim Blair and his merry band of commenters
to resist, but also inspired me to visit The Newseum's
collection of daily front pages
, just to see how similar headlines were being handled here in America. Not with intent to make a big deal out of what I might find, you understand; just to establish a few... um... data points.
(

Yeah,

that was the reason.)
Anywho, the Newseum offers images of the front pages of 484 U.S. dailies, and on Tuesday, May 3nd, 30 American papers had a "Got Him" (or similar) headline on their front pages.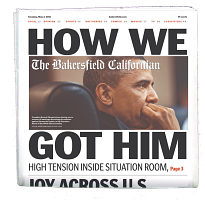 The breakdown?
If you were anticipating an excuse to snark about un-American American media, I'm afraid that this time you'll have to look elsewhere. Because
of the 30 papers, 19 of them headlined their stories "How

We

Got Him."
Only four opted for "they," but I'll forgive the
Boston Herald
on grounds of bellicosity (see below). Another five used an alternate construction - mostly "the U.S.," and the remainder get special mention. And I didn't notice any particular regional pattern: The
Bakersfield Californian
and the
San Jose Mercury-News
both used "we," in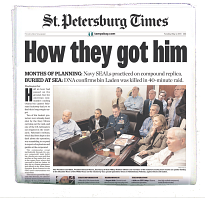 Chicago they split the difference (The
Sun-Times:
"How We Got Him." The
Tribune:
"How the U.S. Got Bin Laden"). Same in the Sunshine State: Gannett's
Florida Today:
"We." The
St.Petersburg Times:
"They."
The flag flew high in Georgia, with both the
Atlanta Journal-Constitution
and the
Savannah Morning News
in the "How We Got Him" camp. Perhaps the cold and rain muted the celebration in Kentucky, where the
Herald-Leader
opted for "They."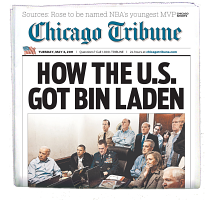 And never underestimate the Minnesotans! The
Pioneer Press
stepped up firmly with "How We Got Him," only to be topped by the
Bemidji Pioneer,
which headlined
its
story "Face of Evil Eliminated." Brrrr!
Eastern papers were also heavily in the "we" camp. Although the
Post-Standard
in Syracuse opted for "They," down the road the Buffalo News offered "Strike Against Evil." As expected, the coastal tabloids were reliably bellicose, making the whole operation sound like a mob hit: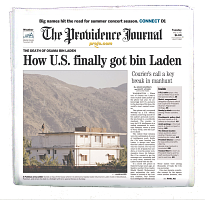 "How They Took Him Out" (Boston
Herald
), "How We Did It!"- with exclamation mark (The
New York Post
), and, of course, the
Daily News
: "How We Nailed Him." The jovial atmosphere even managed to elicit a sigh of relief from Rhode Island's
Providence Journal
: Well, give thinks that we FINALLY got him!
Lastly, a couple of special mentions: First the Bend (Oregon)
Bulletin
,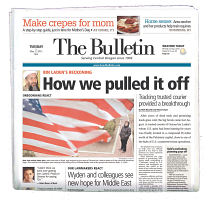 whose "How we pulled it off" left me suspecting some editorial feelings that this time we got lucky.
And making a strong showing in the Tepid Subhead category was the Meridian, Connecticut,
Record-Journal,
who (after quotes from the President,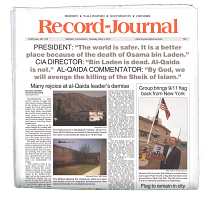 the CIA, and an "al-Quaida commentator," managed to come up with: "Many rejoice at al-Quaida leader's demise."
Gee, do you really think so, bucky?
Below the break, the papers and their headlines...
more...
Posted by: Old Grouch in The Press at 05:01:47 GMT | No Comments | Add Comment
Post contains 752 words, total size 11 kb.
101kb generated in CPU 0.05, elapsed 0.1498 seconds.
53 queries taking 0.1088 seconds, 228 records returned.
Powered by Minx 1.1.6c-pink.