Saturday, 11 June 2011

Clipfile - June 11, 2011
"We really have to stop giving the Left the benefit of the doubt. By this time tomorrow, it will have been over a hundred years they've been trying this nonsense. It has all been thoroughly debunked and demystified. The consequences are known and cannot honestly be termed unanticipated. Ignorance of the laws of reality just can't be taken for an excuse any more. And their claims as to their motives are unpersuasive and disingenuous at BEST."
-
Mark Philip Alger
(Oh- and
Happy Birthday!
)
Posted by: Old Grouch in Clipfile at 17:46:57 GMT | Comments (1) | Add Comment
Post contains 89 words, total size 1 kb.

The Washington Post: It's all about The Agenda.
"The
Washington Post
thinks it's 'harassment' to request Michael Mann's files from the University of Virginia (their Memorial Day
editorial
) but it's cool with requesting and obtaining and asking for citizen-journalists to go through 24,000 of the State of Alaska's emails involving Sarah Palin." -
Jeanne Bodine
,
commenting
at Le•gal In•sur•rec•tion
"Unexpectedly"?
Via:
Insty
Related:
Posted by: Old Grouch in The Press at 16:05:46 GMT | No Comments | Add Comment
Post contains 102 words, total size 2 kb.
Friday, 10 June 2011

Preparing the battlespace?
Fox News
:
Justice Officials in 'Panic Mode' as Hearing Nears on Failed Anti-Gun Trafficking Program



Department of Justice are in "panic mode," according to multiple sources, as word spreads that congressional testimony next week will paint a bleak and humiliating picture of Operation Fast and Furious, the botched undercover operation that left a trail of blood from Mexico to Washington, D.C.

The operation was supposed to stem the flow of weapons from the U.S. to Mexico by allowing so-called straw buyers to purchase guns legally in the U.S. and later sell them in Mexico, usually to drug cartels.

Instead, ATF documents show that the Bureau of Alcohol Tobacco and Firearms knowingly and deliberately flooded Mexico with assault rifles.
So today the
Wall Street Journal
prints
this article
, topped with a year-old picture of Zetas cartel suspects and captured guns: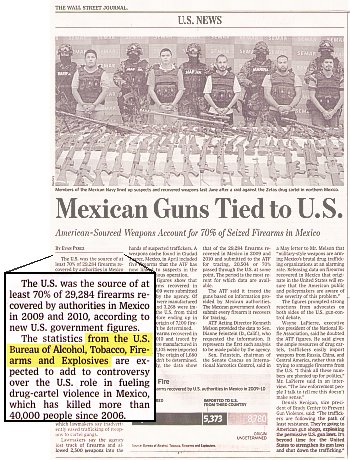 The U.S. was the source of at least 70% of 29,284 firearms recovered by authorities in Mexico in 2009 and 2010...

The statistics from the U.S. Bureau of Alcohol, Tobacco, Firearms, and Explosives are expected to add to controversy over the U.S. role in fueling drug-cartel violence in Mexico...
...
The controversy was fueled... when U.S. officials backed off earlier claims that up to 90% of firearms recovered in Mexico were of U.S. origin...
So, whe have a suspiciously-high 70% figure
(Really?)
, the so-convenient timing of the release of information,
and
the fact that known gun-controller Sen. Dianne Feinstein is involved.
Any bets as to which story gets bigger play from the Make-Believe Media?
Related
(And read the whole thing- this is
not
just about guns):
...If ATF Agent John Dodson had not blown the whistle and revealed that an ATF operation called

Fast and Furious

was in play, no one could have linked the weapon found at

[US Border Patrol Agent Brian]

Terry's murder site to an operation that had to have been initiated and approved by high-levels officials at ATF and DOJ—and that story

[American agent killed by Mexicans using an "illegally"-obtained American gun]

would have benefited not just Mexico, but proponents of stronger gun regulation here in the US, and in the US government, as well. Win-win...

Indeed, here's how that story would have read: Mexico's claim re the US fueling cartel violence is right, and worse yet, weapons trafficked from the US are no longer being used just to murder Mexicans, but to kill Americans as well.
Elsewhere:
Credits: FPA link via
Fighting in the Shade™
Posted by: Old Grouch in The Press at 20:04:11 GMT | No Comments | Add Comment
Post contains 410 words, total size 5 kb.
The EPA gets a three-fer
Kingsport
Times-News:
American Electric Power on Thursday announced it plans to shut down several coal-fired power plants, convert or retrofit others, and cut as many as 600 jobs in the next few years to comply with regulations proposed by the U.S. Environmental Protection Agency...
...
Although some jobs would be created from the installation of emissions reduction equipment, AEP expects a net loss of approximately 600 power plant jobs with annual wages totaling approximately $40 million.
...
Businesses... will face the impact of electricity price increases ranging from 10 percent to more than 35 percent...
Hey, less energy capacity, higher prices for whatever's left, job cuts... looks like Win! Win! Win!
(Via:
JimmieWearingFool
)
Elsewhere:
Posted by: Old Grouch in In Passing at 16:05:13 GMT | No Comments | Add Comment
Post contains 128 words, total size 2 kb.

Thursday, 09 June 2011

Chapter One...
Joanna has a "flash fiction challenge" story up:
Curiosities
. It hooked me!
Now if we can talk her into a second installment...
Posted by: Old Grouch in Linkage at 21:58:08 GMT | No Comments | Add Comment
Post contains 24 words, total size 1 kb.

Time to SWAT some government agencies
No-knock, who's there?

Dept
Ask the question
any way you want
:
Why
does the Department of Education need a SWAT team?
Why does
the Department of Education
need a SWAT team?
Why does the Department of Education need
a SWAT team?
It's still crazy.
Tam
defines the issue
(and go Read The Whole Thread):
Don't get bogged down in the minutiae of who allegedly issued the warrant or what offense it was allegedly for. ... No doubt i's were carefully dotted and t's were painstakingly crossed on this gobsmackingly stupid raid.

The larger question is "

Why does every federal agency need their own internal cop shop, to include SWAT teams, which they then have to use at the drop of a hat to justify funding?

"
Plus, the spread of police authority means less accountability combined with the greater likelihood of inexperienced "cops" killing innocent bystanders.
Not to mention that these "mistakes" never seem to have any consequences for the perpetrators or their superiors.
I can think of nothing whatever that the DoE might be investigating that would require a 6AM no-knock break-down-the-door raid.
Time for a
departmental death penalty
.
Hey Republicans! You gonna do anything about this?
LATER: And
while you're at it
...
Elsewhere:
Story at
the (U.K.) Daily Mail
. (More news the make-believe media wont tell you.)
Matt Welch
:
A Department of Education that's issuing search warrants is a Department of Education that deserves to be disbanded. A judge that approves a paramilitary-style dawn raid for a student loan search warrant is a judge that deserves to be disbarred.
Moe Lane:
SWAT Team Raids by.. U.S. Department of Education.
Instapundit
:
...if Congressional Republicans are looking for some budget cuts, how about a rider banning any funding for armed agents at the Department of Education?
Posted by: Old Grouch in Rants at 16:58:16 GMT | No Comments | Add Comment
Post contains 296 words, total size 5 kb.
Wednesday, 08 June 2011

Clipfile - June 8, 2011
"It's a shame Twitter
is
such a new technology; if it had been around a little longer, Bill Clinton would be a disgraced ex-governor of Arkansas and nobody would have ever heard the name 'Kennedy'."
-
Tam
Posted by: Old Grouch in Clipfile at 15:42:34 GMT | No Comments | Add Comment
Post contains 42 words, total size 1 kb.
Tuesday, 07 June 2011
No Anthem at Goshen
Insty
links
to a blast from the 70s,
eminating from (of all places) Goshen, Indiana
:
The Goshen College Board of Directors announced today that it has asked President James E. Brenneman to find an alternative to playing the

Star-Spangled Banner

that fits with sports tradition, that honors country and that resonates with Goshen College's core values and respects the views of diverse constituencies...

The Board expressed a strong commitment to advancing with President Brenneman the vision for Goshen College to be an influential leader in liberal arts education with a growing capacity to serve a theologically, politically, racially and ethnically diverse constituency both within and beyond the Mennonite church. The Board concluded that continuing to play the national anthem compromised the ability of college constituents to advance the vision together...

"Goshen College has been and remains a ministry of Mennonite Church USA with an enduring peace tradition," Romero [Carlos Romero, executive director, Mennonite Education Agency] said. "The Board's decision reflects a belief that faith and honoring country can co-exist without disturbing higher allegiances to God and that Goshen College will become increasingly diverse and will welcome diverse viewpoints."
Because some of those "constituents" may feel uncomfortable celebrating America?
There's a bit more to this story than what's in the headlines: Goshen hadn't performed the anthem at sporting events until 2010; the board's request to look for a substitute is the outcome of a year-long consultation. And the Mennonites who operate Goshen have a long tradition of pacifism, so it's not a surprise that some might be uncomfortable lending their imprimatur to words that, at least at the outset, celebrate a successful military action.
But the 70s-vintage "diversity" language in the College's statement leaves me suspecting that this is as much about pandering to the campus' racial nationalists/seperatists as it is about pacifism: Not "give peace a chance," but the Nation of Islam and La Raza.
Because if their concerns stem from "higher allegiances to God" and the Anthem's "warlike" opening, they could go a long way toward addressing them not by doing away with the Anthem, but by singing (and understanding)
its fourth verse
:
Oh! thus be it ever, when free men shall stand
Between their loved home and the war's desolation!
Blest with victory and peace,
may the heav'n rescued land
Praise the Power that hath made and preserved us a nation.
Then conquer we must,
when our cause it is just,
And this be our motto: "In God is our trust."
And the star-spangled banner in triumph shall wave
O'er the land of the free and the home of the brave!
Elsewhere:
Posted by: Old Grouch in In Passing at 17:11:35 GMT | Comments (1) | Add Comment
Post contains 479 words, total size 5 kb.
99kb generated in CPU 0.19, elapsed 0.2601 seconds.
53 queries taking 0.1845 seconds, 226 records returned.
Powered by Minx 1.1.6c-pink.