Tuesday, 05 March 2013

Got your boots-n-shovels?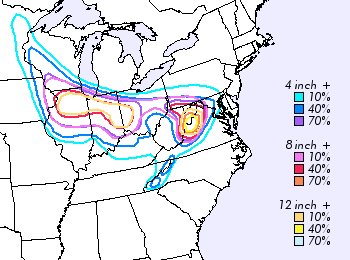 From
the NWS
:
A WINTER STORM WARNING IS IN EFFECT FROM 3 PM THIS AFTERNOON TO 7 AM WEDNESDAY.

HAZARDS: SNOW AND BLOWING SNOW. TOTAL SNOW ACCUMULATIONS OF 4 TO 8 INCHES ARE POSSIBLE BY EARLY WEDNESDAY. ROADS WILL BECOME VERY SLICK AND HAZARDOUS LATE TODAY AND TONIGHT. WIND GUSTS UP TO 30 MPH.

TIMING: LATE THIS AFTERNOON THROUGH TONIGHT.

DISCUSSION: LOW PRESSURE OVER NORTHERN ARKANSAS WILL STRENGTHEN AS IT MOVES NORTHEAST INTO THE OHIO VALLEY AND MERGES WITH A LOW PRESSURE SYSTEM ALOFT MOVING SOUTHEAST FROM THE NORTHERN PLAINS.
RAIN POSSIBLY MIXED WITH SNOW WILL OCCUR TODAY CHANGING TO ALL
SNOW BY LATE AFTERNOON. HEAVY SNOW ACCUMULATIONS ARE POSSIBLE TONIGHT. WINDS OF 20 TO 30 MPH LATE TONIGHT WILL CAUSE BLOWING AND DRIFTING SNOW.
Whee!
LATER
(130306 15:03):
Posted by: Old Grouch in Dear Diary... at 19:45:06 GMT | Comments (1) | Add Comment
Post contains 145 words, total size 2 kb.
Monday, 04 March 2013

Clipfile - March 4, 2013
''Much of today's left have abandoned the serious study of history, and have largely turned their backs on the future as well. All that is left for them is to play in the ruins — and to create more of them.''
-
Ed Driscoll
(Via:
Insty
)
Posted by: Old Grouch in Clipfile at 16:50:53 GMT | No Comments | Add Comment
Post contains 51 words, total size 1 kb.
Sunday, 03 March 2013
Playing the ''supervision'' game
I've Got A Little List

Dept
Gem of an idea, found in the discussion of Jazz Shaw's
Hot Air post on the Voting Rights Act litigation
:
At one time there was a need for the Voting Rights Act, but it's an antiquated law now, rendered irrelevant by the advance of time, demographics, attitudes, and communications.



I tell you what we do need... A ''Second Amendment Rights Act.''

And I can think of a bunch of states that ought to come under a greater than standard scrutiny when passing laws that relate to this right.

Dusty on March 3, 2013 at 1:18 PM

I agree with Dusty.

We also need

a ''Voter ID Act''

...

Lourdes on March 3, 2013 at 1:24 PM
How about a ''Freedom of Speech Act?'' That one could apply federal monitoring to any state entity (I'm looking at YOU,
universities
, but also the
Indiana Court of Appeals
(More on the latter
here
.)) that attempt or have attempted to limit First Amendment rights on spurious grounds such as ''hatred'' or ''unfairness.''
[1 UPDATE]
Hey, this could get to be fun!
-----
Posted by: Old Grouch in In Passing at 23:26:37 GMT | No Comments | Add Comment
Post contains 195 words, total size 4 kb.
Saturday, 02 March 2013
When you can't do your job, then...
Creeping Bloombergism

Dept
Pair o'headlines from the UK:
The Daily Mail:
Study finds nearly 40% of health service workers would NOT recommend own workplace to friends or family
The Register:
Health pros: Alcohol is EVIL – raise its price, ban its ads

Seems to me that ''broad coalition of UK health organizations'' who uttered the alcohol proposal could better spend their time straightening out the NHS. But then calling on the government to limit other people's liberty has always given the ruling class more jollies than getting their own houses in order.
Related:
Instapundit: ''Maybe the 'public health' people should focus more on, you know,
public health
, instead of guns, Twinkies, and Big Gulps.''
Posted by: Old Grouch in In Passing at 20:03:33 GMT | No Comments | Add Comment
Post contains 153 words, total size 3 kb.
78kb generated in CPU 0.06, elapsed 0.1775 seconds.
52 queries taking 0.1474 seconds, 213 records returned.
Powered by Minx 1.1.6c-pink.