Thursday, 24 July 2008
1930 called...
We
knew
they want to bring back
prohibition
.
Well, why not
breach-of-promise
,
too?
A Hall County [Georgia] man owes his ex-fiancee $150,000 for breaking off their engagement, a jury decided Wednesday...

[Defense attorney Hammond] Law said earlier this week that he could find only one prior instance of someone suing over a broken wedding engagement in a search of 25 years of Georgia case histories.
-

Gainesville

(Georgia)

Times
(And then there are the folks yelling, "
Hey, it's a depression!
" Which would make it 3-for-3.)
"Breach" via
Gannett Blog
. For "Depression," HT
Instapundit
.
Posted by: Old Grouch in In Passing at 21:24:26 GMT | No Comments | Add Comment
Post contains 90 words, total size 2 kb.
Another reason I'm glad my life is *outside* of "corporate"
Jeff Jarvis has an ad running on his site.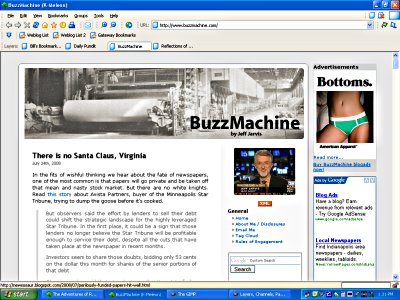 (That's it, the one in the upper-right corner. Headed "Bottoms.")
The ad, featuring a "
crotch in colored underwear
" has met with negative reaction from some readers (who found it
distracting, irrelevant, or "sending the wrong message"
). Marketeer Michael Madej
thinks otherwise
, but wonders
The only question mark in my mind about this ad is its appropriateness in the workplace. I noticed the ad yesterday on Jeff's blog. I remember seeing it, being surprised that it was appearing on a business blog, and intentionally scrolling farther down the page so nobody saw it on my screen. So in that sense, it might be a little too edgy.
I guess it's good that things change: Just imagine if we had yesterday's newspapers in today's hyper-sensitive workplace. Why, you couldn't allow a newspaper on the premises unless someone carefully obliterated all those double-truck lingerie ads the department stores used to run. (And no Sears catalog, either!)
(Jeff has a post
here
.)
Posted by: Old Grouch in In Passing at 18:28:58 GMT | No Comments | Add Comment
Post contains 175 words, total size 2 kb.

Scum
Reviving the casual cruelty of 200 years ago.
An image of three teenagers wanted in connection with the drowning of a cat from Battersea Dogs and Cats home which belonged to HMS Belfast has been released.

Police believe Kilo the cat, which had been adopted by the ship's crew... was thrown from the gang plank connecting HMS Belfast to the dock in London Bridge on February 9 this year.

His body has not been found.

The CCTV image of a boy and two girls was taken from a street camera at the time of the incident. - This is Local London, July 10, 2008: "Teens hunted over drowned ship cat"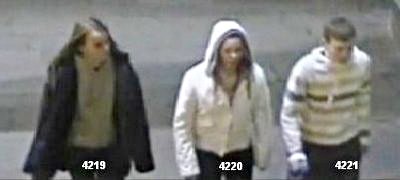 Somebody
out there knows them.
Elsewhere:
Via: "Waterhouse," commenting at
Diamond Geezer
Posted by: Old Grouch in Linkage at 16:32:20 GMT | No Comments | Add Comment
Post contains 158 words, total size 3 kb.
Wednesday, 16 July 2008
It's all the difference
In a dramatic move yesterday President Bush removed the executive-branch moratorium on offshore drilling. Today, at a news conference, Bush repeated his new position, and slammed the Democratic Congress for not removing the congressional moratorium on the Outer Continental Shelf and elsewhere. Crude-oil futures for August delivery plunged $9.26, or 6.3 percent, almost immediately as Bush was speaking, bringing the barrel price down to $136.

Now isn't this interesting? - Larry Kudlow
Only the Democratic Party, its enablers in the media, and various whiny leftists could believe that world reaction to
inaction
would be the same as world reaction to
action
.
The rest of us remember the Carter administration, and what came after.
HT:
Ace
Posted by: Old Grouch in In Passing at 00:24:10 GMT | Comments (1) | Add Comment
Post contains 118 words, total size 1 kb.
Tuesday, 15 July 2008

Keeping things straight
Poynter Institute's Kelly McBride
asks the musical question
:
But is there still room for satire in journalism?
and then tries to answer it:
I sure hope so.
There follows
a tortured, discursive examination of
The New Yorker's

Obama cover
, complete with cautions to editiors that, while "clued-in regular readers who already get what the publication is up to" will have no trouble understanding what's going on, posting something on the web exposes it to all the riff-raff ("newbies"), who might not, you know, be in on the
joke
.
Which is true. But what does this have to do with "journalism?"
Dear Kelly,

If what you're committing is intended as "satire," then it
may
be literary composition exhibiting wit, parody, ridicule, irony, sarcasm, word-mongering, scrivenage, or perhaps just bloviation while in proximity to a keyboard.
But it sure as hell ain't "journalism."
Many budding pressmen have difficulty understanding this.
You will go far– provided you don't confuse the two.

All success,
Old Grouch

Posted by: Old Grouch in The Press at 23:58:45 GMT | No Comments | Add Comment
Post contains 161 words, total size 2 kb.

Across the wilds of Wisconsin
On crossing the Wisconsin state line, the look of the country changes. Granted, I'd just passed through the 15 miles of blasted heath that is the Tollway's construction zone. But ignoring that, the crops in the fields are different; more hay and wheat
[1]
, less corn. The interstate itself seemed better kept and more stylish- for one thing, metro-area
more...
Posted by: Old Grouch in Dear Diary... at 18:01:00 GMT | No Comments | Add Comment
Post contains 915 words, total size 9 kb.
91kb generated in CPU 0.12, elapsed 0.3219 seconds.
53 queries taking 0.2546 seconds, 228 records returned.
Powered by Minx 1.1.6c-pink.