Saturday, 13 February 2010

Global Warming: Back to Step 1?
Remember
this chart
?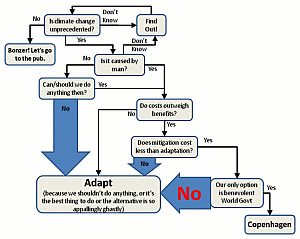 Looks like we may be headed
back to Step 1
:
Phil Jones, the professor behind the "Climategate" affair, has admitted some of his decades-old weather data was not well enough organised.

He said this contributed to his refusal to share raw data with critics – a decision he says he regretted.

But Professor Jones said he had not cheated the data, or unfairly influenced the scientific process.

He said he stood by the view that recent climate warming was most likely predominantly man-made.

But he agreed that two periods in recent times had experienced similar warming. And he

agreed that the debate had not been settled over whether the Medieval Warm Period was warmer than the current period

.
Okay, assume the highlighted paraphrase accurately represents what Jones actually said. If so, it's a
major
walkback, and SonicFrog
explains why
:
If there was a warmer Medieval Warm Period, then the current warming could be more likely due to natural variation, instead of CO2

[or other]

man-made

[causes]

, as the models don't account for this earlier warmer condition. At the very least,

the "certainty" and of doom and gloom warming predictions is overstated, as the world may have been warmer and the world didn't end

.
Warmer before. World didn't end. Owned.
Related:
BBC link via
SonicFrog
, HT:
Bill Quick
Posted by: Old Grouch in Linkage at 18:24:09 GMT | Comments (1) | Add Comment
Post contains 240 words, total size 3 kb.
1
We're currently in, what appears to be at least, another
Maunder Minimum
or a period of extremely few or no sunspots. The last time that happened was the mid 17th century and it triggered the mini-ice age that lasted about 200 yrs. This one is predicted to only last 50 years.
For next year, I'm buying a large snow blower and a 10KW generator with 50gal fuel tank. You can't find one around here right now.
Posted by: Crucis at 02/13/10 20:18:42 (L4D3z)
Comments are disabled. Post is locked.
68kb generated in CPU 0.04, elapsed 0.1276 seconds.
53 queries taking 0.107 seconds, 209 records returned.
Powered by Minx 1.1.6c-pink.