Friday, 10 June 2011

Preparing the battlespace?
Fox News
:
Justice Officials in 'Panic Mode' as Hearing Nears on Failed Anti-Gun Trafficking Program



Department of Justice are in "panic mode," according to multiple sources, as word spreads that congressional testimony next week will paint a bleak and humiliating picture of Operation Fast and Furious, the botched undercover operation that left a trail of blood from Mexico to Washington, D.C.

The operation was supposed to stem the flow of weapons from the U.S. to Mexico by allowing so-called straw buyers to purchase guns legally in the U.S. and later sell them in Mexico, usually to drug cartels.

Instead, ATF documents show that the Bureau of Alcohol Tobacco and Firearms knowingly and deliberately flooded Mexico with assault rifles.
So today the
Wall Street Journal
prints
this article
, topped with a year-old picture of Zetas cartel suspects and captured guns: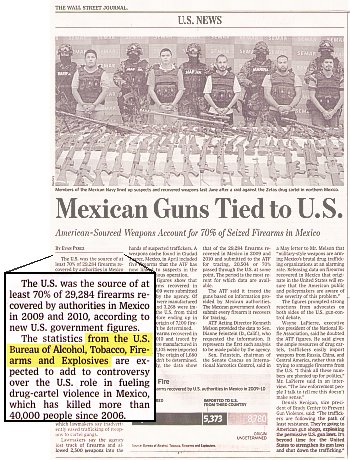 The U.S. was the source of at least 70% of 29,284 firearms recovered by authorities in Mexico in 2009 and 2010...

The statistics from the U.S. Bureau of Alcohol, Tobacco, Firearms, and Explosives are expected to add to controversy over the U.S. role in fueling drug-cartel violence in Mexico...
...
The controversy was fueled... when U.S. officials backed off earlier claims that up to 90% of firearms recovered in Mexico were of U.S. origin...
So, whe have a suspiciously-high 70% figure
(Really?)
, the so-convenient timing of the release of information,
and
the fact that known gun-controller Sen. Dianne Feinstein is involved.
Any bets as to which story gets bigger play from the Make-Believe Media?
Related
(And read the whole thing- this is
not
just about guns):
...If ATF Agent John Dodson had not blown the whistle and revealed that an ATF operation called

Fast and Furious

was in play, no one could have linked the weapon found at

[US Border Patrol Agent Brian]

Terry's murder site to an operation that had to have been initiated and approved by high-levels officials at ATF and DOJ—and that story

[American agent killed by Mexicans using an "illegally"-obtained American gun]

would have benefited not just Mexico, but proponents of stronger gun regulation here in the US, and in the US government, as well. Win-win...

Indeed, here's how that story would have read: Mexico's claim re the US fueling cartel violence is right, and worse yet, weapons trafficked from the US are no longer being used just to murder Mexicans, but to kill Americans as well.
Elsewhere:
Credits: FPA link via
Fighting in the Shade™
Posted by: Old Grouch in The Press at 20:04:11 GMT | No Comments | Add Comment
Post contains 410 words, total size 5 kb.
Comments are disabled. Post is locked.
70kb generated in CPU 0.05, elapsed 0.1395 seconds.
51 queries taking 0.1168 seconds, 207 records returned.
Powered by Minx 1.1.6c-pink.