Saturday, 25 October 2008

Rights? *What* Rights?
When "border" means "100 miles inland"
From
the American Civil Liberties Union
:
...Under the Fourth Amendment of the U.S. Constitution, the American people are not generally subject to random and arbitrary stops and searches. The border, however, has always been an exception. There, the longstanding view is that the normal rules do not apply. For example the authorities do not need a warrant or probable cause to conduct a "routine search."

But what is "the border"? According to the government, it is a 100-mile wide strip that wraps around the "external boundary" of the United States. As a result of this claimed authority, individuals who are far away from the border, American citizens traveling from one place in America to another, are being stopped and harassed in ways that our Constitution does not permit...

On the roads of California and elsewhere in the nation – places far removed from the actual border – agents are stopping, interrogating, and searching Americans on an everyday basis with absolutely no suspicion of wrongdoing.
The ACLU estimates that two-thirds of the country's population (including 9 of the top 10 metro areas) fall within the "100 miles from the border" zone. It encompasses the entirety of Connecticut, Delaware, Florida, Hawaii, Maine, Massachusetts, New Hampshire, New Jersey, New York, Rhode Island and Vermont. For your convenience, the ACLU has produced a handy map of what they call the United States' "Constitution-Free" Zone.
The map
: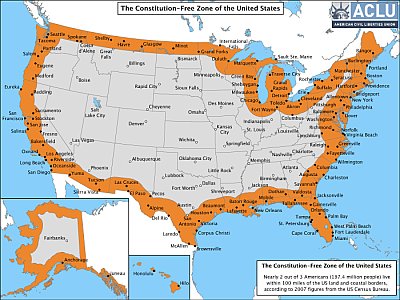 At first glance this might appear another case of post-9/11 overreach. But inland Border Patrol roadblocks were actually found legal
[1]
in 1976
[2]
by the Supreme Court decision
UNITED STATES vs. MARTINEZ-FUERTE, ET AL.
[3]
The decision permitted "immigration check" roadblocks many miles inland. As seems inevitable, in the thirty-some years since the decision there has been
mission creep
. Today other agencies often participate, and searches have snared American citizens for the (also seemingly-inevitable) "drugs" and "child porn."
Meanwhile, the federal government has made little effort to monitor or limit the scope of these actions– yet another example of failure by the Congress and the subsequent administrations to look out for the rights of ordinary citizens.
[4]
Random "your papers please" stops are an opprobium to a free society. I'm old enough to remember American propaganda (which
was
propaganda, even if it was true) that used such stops to draw the line between the Free United States and the Evil Communist Bloc.
[5]
It's beyond ironic that, less than twenty years after the fall of the Berlin Wall, our government engages in the very thing it used to condemn.
And if we want to consider "original intent," I certainly doubt if the states of Connecticut, Delaware, Maine, Massachusetts, New Hampshire, New Jersey, New York, Rhode Island or Vermont would have voted to adopt a constitution in which the Fourth Amendment was effectively a dead letter within their boundaries. (Not to mention that in 1787 a "border zone" of 100 miles would have effectively included the entire country.)
I wonder how someone in Fort Wayne, Indiana; Columbus, Ohio; Lynchburg, Virginia; or Columbia, South Carolina will react when they're stopped (and searched) by Border Patrol agents and, on asking the reason, being told "we don't need one."
Elsewhere:
Related (immigration enforcement and border security):
Provoked by:
Slashdot
, where there are several first-person accounts in the comments
-----
[1]
for the purpose of immigration enforcement, and because the effect of such checkpoints on legitimate motorists would be "minimal."
[2]
Ironically enough, the bicentennial year of the American revolution.
[3]
HT: "
TheGeneration
"
[4]
Hey, aren't the Democrats all about "human rights," and the Republicans all about "less intrusive government"? Oh, snap! What
was
I
thinking?


[5]
...and Communism
was
evil. After all, the best propaganda is propaganda in which you don't have to lie!
Posted by: Old Grouch in Rants at 19:45:26 GMT | Comments (1) | Add Comment
Post contains 667 words, total size 8 kb.
1
I encountered the Border Patrol on US 90 southeast of El Paso this past summer. They didn't inspect my car or ask me any questions, but they made darn sure everyone came through the checkpoint.
Posted by: CGHill at 10/26/08 01:20:10 (1AVH4)
Comments are disabled. Post is locked.
73kb generated in CPU 0.05, elapsed 0.2276 seconds.
53 queries taking 0.1952 seconds, 209 records returned.
Powered by Minx 1.1.6c-pink.