Tuesday, 27 January 2009

The beatings will continue...
Memo
from the associate editor
:
Another new companywide assessment category is Attitude. Our attitudes influence our own behavior and performance, and also that of our colleagues'. We believe positive attitude is crucial to our changing culture and all that must be accomplished for our company to be successful.

The new system uses a four-point scale to measure employees against the established expectations and goals. We hope this moves us away from the letter-grade implication of our previous system-the incorrect impression that a "3'' equates to a "C,'' or average performance, which has contributed to a tendency toward grade inflation...
In
the comments
:
Wondering ...


Posted by

Michael Hill

• 1/26/2009 2:03:17 PM

... how long H.L. Mencken would have lasted under such a regime. Or Mike Royko for that matter...
3...2...1...


Posted by

Sean Carr

• 1/26/2009 1:01:50 PM

First they take away the coffee. Then the copy editors. Then the substance and the joi de vivé. Actual journalism is also on the way out.

Now, the curmudgeons. The last fun thing about working at a newspaper is going in 3...2...1...
I'm contractually forbidden from criticizing the Trib


Posted by

Dave Wilson

• 1/26/2009 8:15:05 AM

So let me just say it's the happiest place on Earth.
"Positive attitude," huh?
What about, "I'm
positive
that things are
really f*cked!
"?
Via:
Romenesko
Posted by: Old Grouch in The Press at 00:27:42 GMT | Comments (1) | Add Comment
Post contains 221 words, total size 3 kb.
Saturday, 24 January 2009
The NFL begins damage control
War On Terror News
:
Update 2: Excerpt from the email reply by Ms. [Mallory] Steinberg:

"Since we had not heard about this directly from the military, we contacted our military liaison for the color guard immediately to discuss the issue. After speaking with our military liaison for the color guard, we will host the members of the color guard (12 people) in the stadium.

It is excerpted for two reasons. One: The rest is mere repetition of previous damage control. Two: I find those damage control arguments offensive to my intelligence. In short, the above is the most positive portion of their response...
Although (IMO) calling members of the color guard "heroes" is a bit over-the-top,
[1]
the fact remains that the unit undoubtedly
represents
heroes. For that reason I agree, without qualification, with
this
:
The Color Guard are not hired help nor are they entertainers; they are honored guests presenting our nations colors, a symbol of the nation that they serve and sacrifice for on a daily basis.
It reflects poorly on the NFL that it had to be shamed into acknowledging this important difference.
LATER:
It's-all-the-rage,-you-know
Dept.:
Previously
.
-----
[1] Unless some members of the guard will be decorated combat veterans, which at this point assumes facts not in evidence.

[2] Via Newsbusters via Rantburg.

Posted by: Old Grouch in In Passing at 16:39:33 GMT | No Comments | Add Comment
Post contains 232 words, total size 3 kb.
Friday, 23 January 2009

WHO's "out of patience"?
Meryl notes
that the Saudis are
already
saying they're "running out of patience" with the Obama administration. (Guess they haven't managed to buy themselves enough Dems yet.)
Hey Saudis, clue: A bunch of
us
ran out of patience with
you
a long time ago.
Posted by: Old Grouch in Linkage at 23:00:46 GMT | No Comments | Add Comment
Post contains 48 words, total size 1 kb.

Blogburst: Screw the National Football League
Disgraceful, but not unexpected.


UPDATE
090124 16:39
:
here
.
David M.
:
[from reader email]

My youngest Marine called me this morning. In the course of the conversation he made mention of being part of the Color Guard for the ceremonies at the Super Bowl. He has been part of other Color Guards at other games and has been able to enjoy the entire game after presenting the Colors. HOWEVER, this will not be the case this time. The 12 man/women color guard will be presenting the Colors and then will be escorted out of the stadium and therefore not allowed to see the game. Steven and the 11 others are quite upset about this and have asked that I see if I could contact someone and have that changed.

What? The Super Bowl won't let the military color guard stay and watch the big game? Yes you read that right. Was I skeptical? At first, but after I contacted the Tampa Bay host Committee through their official website and spoke to Katie Wagner, I was assured that yes in fact her email inbox is full of emails from upset Marine Mom's all asking for an explanation. To Ms. Wagner's credit, who by the way was extremely gracious during my questions the Host Committee has no control over game day decisions; that authority rests solely with the NFL.

[links in original - o.g.]
The NFL is a bunch of multi-millionaire parasites who would not exist were it not for the billions of dollars they extort from their host cities and the anti-trust exemption given them by their cronies in Congress. This is typically disgraceful, and not unexpected.
LATER: Hey whatcha upset about, it's
long-standing "policy"
...the outrage is being stoked by the contention that something has changed, presumably due to the economy. Well, nothing has changed. Per the league,

this is the way it has always been done

.
And maybe it's time the league did something different.
Elsewhere:
Via:
Instapundit
Posted by: Old Grouch in Linkage at 16:53:48 GMT | No Comments | Add Comment
Post contains 392 words, total size 6 kb.
Stop press: It gets cold in Minnesota, and when it gets cold...
autoblogGreen
:
Gelling biodiesel causes Minnesota school closings



...the state requirement to run a minimum of 2 percent biodiesel in school buses and other vehicles is causing problems this winter. Below 10°F, the fuel begins to gel up and causes the engine to not run.
Yeah, and so does #2 diesel. (That's why there's #1. Less energy, but stays liquid.)
Nothing new, and the transport people should have been able to deal with it.
(Do I have to tell you kids

everything??)
Via:
IP
Posted by: Old Grouch in In Passing at 01:14:40 GMT | No Comments | Add Comment
Post contains 93 words, total size 1 kb.
Thursday, 22 January 2009

How to build audience for your station's internet site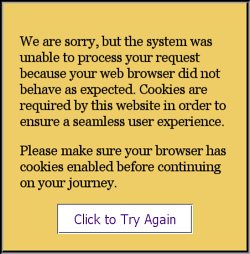 If your website requires cookies for normal navigation, then fire your webmaster.
And besides, "cookies required" is
so 1990s
.
(Spotted at
700wlw.com
.
UPDATE
090123 18:20
: and
The Telegraph
.)
Posted by: Old Grouch in Radio at 21:56:43 GMT | No Comments | Add Comment
Post contains 39 words, total size 1 kb.

Another milestone in the history of technology
Rocky Mountain News:
Beer drinkers around the globe can hoist their beer cans in a celebratory toast to a milestone that began in Golden half a century ago.

Today marks the 50th anniversary of the old Adolph Coors Co. unveiling the U.S. beer industry's first seamless, recyclable aluminum beer can

.
One must always remember to keep track of the important stuff. And have one for me, too!
Via:
The Consumerist
Posted by: Old Grouch in Linkage at 21:53:34 GMT | No Comments | Add Comment
Post contains 75 words, total size 1 kb.
More "felonies" - this time it's Ohio
"...at common law when the British and American legal systems divorced in 1776, felonies were crimes for which the punishment was either

death

or

forfeiture of property.

"
-
Wikipedia entry
Cincinnati Enquirer
:
Mason prank triggers felony charges



Some might call it a prank that forced Mason

[Ohio]

schools to shut down last week, but county prosecutors weren't laughing after charging three high school students with felonies Wednesday.

The three Mason High School boys, all sophomores ages 15 or 16, according to Mason police, scaled a barbed wire security fence in the near-zero cold last Thursday evening. They yanked the plugs on the heating blocks to 59 school buses – effectively preventing the buses from starting early Friday.

Mason school officials cancelled classes for the district's 10,500 students. Hundreds of private school students who ride Mason buses also were affected.

"If they thought this was a joke, it wasn't funny," said Warren County Prosecutor Rachel Hutzel in a press statement. "These illegal acts disrupted the lives of every parent and child in Mason.

They committed a felony

and they will soon learn that there are consequences for their actions."

The teens were each charged with one count of

disrupting public services, a fourth- degree felony,

and one count of criminal trespassing, a fourth-degree misdemeanor, according to Hutzel.
Previously
.
(HT:
WLW
)
Posted by: Old Grouch in In Passing at 16:15:03 GMT | No Comments | Add Comment
Post contains 224 words, total size 2 kb.

Adventures in technology 1: The ISP
So last Tuesday the Sibling– we were at the Aged P's place, visiting– says to me, "why don't you fix the internet so I can check my e-mail."
Now the Aged P's "internet" consists of a single
Dell
.
laptop
hardwired to a DSL modem via a router. (His
previous
.
location
had wireless, but it also had a CATV-over-IP network, which the present site lacks.) Aged P himself does practically nothing with the internet– he uses the computer for a daily round of solitaire– but the WS has an e-mail account and does some online shopping. (There are also some grandkids and Helpful Neighbors who have installed all kinds of music software and stuff, but that's another story...) The DSL installation went in
since I was last here
; it's the first time I've seen it.
Anyhow, a quick examination of things revealed that: Aha! The modem is not attached to the phone line. The desk on which the computer sits does have a double phone jack (with both jacks connected to the same line), but for some reason someone had decided that a space less than 6 feet wide needed two telephones, and had disconnected the modem to attach a second one. (The extra "phone" jack on the modem is already occupied by the fax machine. All clear?)
So I removed the extra phone and reconnected the modem.
Problem solved?
[channeling Ed Wynn as the Mad Hatter:]
Don't lets be silly!
more...
Posted by: Old Grouch in Geezering at 01:44:04 GMT | No Comments | Add Comment
Post contains 2019 words, total size 16 kb.
Wednesday, 21 January 2009

What didn't happen
Rustmeister
posts a list
.
And yes, they are idiots, with the collective intellect of throw pillows.
(Dang, gotta remember to steal that one...)
Via:
Tam
Posted by: Old Grouch in Linkage at 21:03:01 GMT | No Comments | Add Comment
Post contains 28 words, total size 1 kb.
98kb generated in CPU 0.04, elapsed 0.1426 seconds.
52 queries taking 0.1111 seconds, 225 records returned.
Powered by Minx 1.1.6c-pink.