Tuesday, 03 June 2008

Viewed from the deck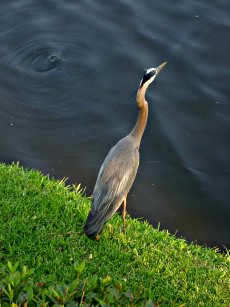 Great Blue Heron
(Ardea herodias)
Description:
39-52", Wingspread 70"
A common,
large, grayish
heron with a yellowish bill. Flies with neck folded, whereas the Sandhill Crane flies with the neck extended. In Florida an all-white form, the "Great White Heron," differs from the Great Egret in having greenish-yellow rather than black legs.
Voice:
Hoarse, guttural squawk.
Habitat:
Lakes, ponds, rivers, and marshes... This large heron is frequently found standing at the edge of a pond or marshy pool, watching for fish or frogs, which are its principal food...
- from
The Audubon Society Field Guide to North American Birds, Eastern Region
(1977)
Not more than 12' from my position, this heron affects nonchalance, but is about to be harassed by the neighborhood red-winged blackbird, whose nest is about 4' off-camera to the left.
Previous view from the deck
here
.
Posted by: Old Grouch in Dear Diary... at 17:38:47 GMT | No Comments | Add Comment
Post contains 143 words, total size 2 kb.
Comments are disabled. Post is locked.
66kb generated in CPU 0.04, elapsed 0.1423 seconds.
51 queries taking 0.119 seconds, 207 records returned.
Powered by Minx 1.1.6c-pink.