Saturday, 25 December 2010

Christmas Lynx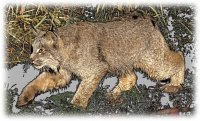 The search for Handel's

Messiah

.
"Handel is the composer. The Messiah is the piece of work that he composed. It's one of the arguably most famous classical works EVER. It's a Christmas work. There are flash mobs singing bits of it at malls.

Maybe you've seen it on youtube??

"
She's lucky they didn't try to sell her a copy of
Carmina Burana.
Office Christmas Party Food Forensics.
"JUST the snacks, Ma'am."
Next week, The Refrigerator Chronicles.
Christmas Eve 2010:
"Only One Hocking Day Till Christmas!"
Carols for another Christmas:
All new recordings by the original stars!

Have Yourself A Merry Little Forgive The Expression

– Nina Totenberg

Go Don't Tell It On The Mountain/Deck The Halls Of Montezuma

(aka "Don We Now Our Gay Apparel") – The United States Military "Do Ask – Do Tell!" Chorus

The Twelve Days Of Lame Duck

– Harry Reid & Nancy Pelosi

Away With Your Mangers!

– The ACLU Chorus with The CAIR Community Choir

Do You See What We See?/Feelhiz Nobbyrod

– The TSA Screeners Orchestra featuring Pat Downes
When you absolutely, positively, want to be politically incorrect:
Full-flavored smoking enjoyment in open defiance of Nanny-state killjoys, splashy holiday graphics in bright red and green, and Ronaldus Magnus Maximus his own self.
A copy should be hung on every cubicle wall (with care).
Just to bug 'em!
The first Green Christmas:
11

And there were in the same country shepherds abiding in the field, keeping watch over their flock by night. And they were doing a bit of knitting, like shepherds do, yea even their teatowel headgear was sustainably generated.



12

And lo, the angel of the Lord came upon them, and the glory of the Lord shone round about them, and they were sore afraid.



13

"We are sore afraid,

"

they said.

"

Have you any idea how much energy you're wasting with all this ostentatious glory-shining? You could at least tone it down a bit using a low-energy halo."



14

And the angel said unto them, "Fear not, for behold this halo is a low output, flicker free, non-stroboscopic Compact Fluorescent Integrated Glow-Ring. For God phased out all the filament haloes in the heavenly firmament long ago."
Deck the halls with lots of frivolity:
America is a place where people feel that if they can imagine it, they can make it come true. Although that doesn't always lead to success, the aggregate impact of all of that creativity on the country is tremendous. Think about how many things that you know of that are so fundamentally unimportant from the perspective of surviving in this world, but impacted the lives of the people who invented them or used them. Silly Bandz. The Snuggie. College apparel. A dozen flavors of Coke. Personalized M&Ms. Car wrap advertising. Pet manicures. Cheesehead hats. QVC. Having it your way at Burger King. McMansions.

[Stick-on reindeer]

antlers are the perfect example. They're utterly frivolous, but they let people express the fun side of Christmas and maybe make others smile as well.
A Christmas Memory:
Whose Christmas can you make better, with a small effort, a kind word, a little encouragement? If nothing occurs to you, maybe you should look a little harder.
Posted by: Old Grouch in Linkage at 07:26:28 GMT | Comments (2) | Add Comment
Post contains 527 words, total size 7 kb.
1
You've heard the one, no doubt, about the golf-loving executive with the big, purring cat of a secretary who could honestly tell his wife he spent Friday afternoons on the lynx.
But that's beside the point. Merry Christmas!
Posted by: Nathan at 12/25/10 14:24:11 (cBrDo)
2
Merry Christmas! Hope to see you in the upcoming New Year.
Posted by: Brigid at 12/25/10 19:48:37 (yKDjw)
Comments are disabled. Post is locked.
72kb generated in CPU 0.03, elapsed 0.1131 seconds.
53 queries taking 0.093 seconds, 210 records returned.
Powered by Minx 1.1.6c-pink.