Wednesday, 23 March 2011
"Don't you know there's a crisis on?"
Instapundit links a
New York Times

story
on how relief efforts by the U.S. military
[1]
are helping to strengthen Japanese-American ties. The
Times
reporter notes one wrinkle:
At the crowded refugee center in Minamisanriku, where 250 survivors slept on the floor, Mr.

[Osamu]

Abe

[local official]

said the most urgent thing needed was medicine for colds, fever and allergies. But the American airmen said they could not hand out medicine without the permission of the Japanese government, which they did not have.

Something similar happened after the deadly Kobe earthquake in 1995, when foreign medical supplies and even doctors were turned away at the border by Japanese bureaucrats.

This time, the Americans promised to ask the Japanese for quick permission to hand out American-made medicine, and for help in translating the directions into Japanese.
That brought to mind another example, from yesterday's
Wall Street Journal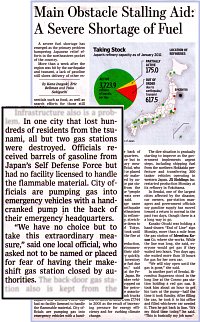 ("Main Obstacle Stalling Aid: A Severe Shortage of Fuel" by Kanna Inagaki, Eric Bellman, and Toko Sekiguchi, link not available):
In one city that lost hundreds of residents from the tsunami, all but two gas stations were destroyed. Officials received barrels of gasoline from Japan's Self Defense Force but had no facility licensed to handle the flammable material. City officials are pumping gas into emergency vehicles wht a hand cranked pump in the back of their emergency headquarters.

"We have no choice but to take this extraordinary measure," said one local official, who

asked not to be named or placed for fear of having their makeshift gas station closed by authorities.
Glenn
comments
:
The consensus-based Japanese bureaucracy doesn't seem to deal with emergencies as well as with peacetime.
Well, I don't have a lot of confidence that our homegrown officials would perform much better under the same circumstances. Fortunately, there are still parts of America where bureaucratic obstructionism in the face of disaster would be met with a smartly-delivered smack upside the head.
----
Posted by: Old Grouch in In Passing at 16:10:44 GMT | No Comments | Add Comment
Post contains 322 words, total size 3 kb.
Comments are disabled. Post is locked.
68kb generated in CPU 0.36, elapsed 0.3125 seconds.
51 queries taking 0.2598 seconds, 207 records returned.
Powered by Minx 1.1.6c-pink.