Thursday, 30 October 2008

General Mills blows a chance for a marketing bonus
Once upon a time there was an organic produce company called
Cascadian Farm
. Formed in 1972, over time it became successful and partnered with other organic producers to form
Small Planet Foods.
The rising demand for organic produce attracted the attention of large food processors, and at the end of 1999, the Small Planet and its Cascadian Farm brand were
acquired by General Mills
.
The "organic" end of the food industry is noted for its free spirits, and Cascadian was no exception. Says "
pop
":
Around 7 years ago, my friend and I were... wandering the local Safeway... My friend, who at the time was the head purchaser of organic foods for another grocery chain, excitedly dragged me over to the frozen foods aisle to show me packages of not only broccoli, but corn and other frozen items as well, with teeny tiny little faces [Photo]shopped in to very inconspicuous places. My friend, who dealt with the company regularly, told me that they were the faces of employees and their children.
Hey, is that cool, or what? Unfortunately...
Months later, I would remember this experience while shopping with a new girlfriend. I dragged her over to show her the faces, but alas there were none to be found, and I was thought to be insane. I called my friend right there on the spot and he confirmed to me that the company had changed hands or management or something, and the little heads had stopped appearing.
"About seven years ago" would have been just after the General Mills acquisition.
Fast-forward to 2008. Many of the package designs have been replaced with plain-Jane ones, but not all, as the ladies who run the
Bread and Honey
foodblog
discover
:
...she suddenly remembered this crazy broccoli package in her freezer she wanted to show me. She handed me the box and I studied it carefully, squinting, even allowing my eyes to blur, to try and see what I was missing. She pointed- "Do you see?" See what? I didn't see anything. Just broccoli. Her finger tapped on a certain part of the box and she urged me to look closer. "There- right there. Do you see it..?"
As might be expected, reader reactions included the standard comments about subliminal marketing– and
Soylent Green
, but as people learned the story behind the faces, most found the idea pretty clever.
Apparently too clever for the suits at General Foods. An inquiry by B&Hs Alicia Carrier elicited
this somewhat-embarrassed-sounding explanation
:
"Dear Mrs. Carrier:

"Thank you for contacting us concerning Cascadian Farm... We appreciate the opportunity to address this matter. Unfortunately, there is no one available for you to interview...

"The tradition of hiding names or faces on Cascadian Farm packaging began over a dozen years ago. It was unspoken tribute by the package design department to the friends & family of Cascadian Farm.

The faces won't be included on our redesigned packaging.

"
Well, bah!
Here General Mills had something going that enhanced its brand both internally and externally. It gave its employees recognition and "ownership" of what are normally commodity products ("See, there's my daughter's face!"). It gave customers something to discover: A little "lore" that they could use to one-up their friends. And it was a "plus" that made Cascadia's products
different.
All done at hardly any cost, and without imparing the value of the brand in any way. Just like something out of one of those "use creative distinctions to enhance your brand and make your company special" textbooks.
Shot down, for whatever reason. Like something out of one of those "how unimaginative management turned _____ into just another _____" textbooks.
The readers are disappointed:
On

October 28, 2008 4:59 PM

,

LMinVT

said...


Personally, I would have thought that people may have started buying them out of curiosity, and found that they are good, and continued to buy their products.
At

11:20 AM on Wed Oct 29 2008

,

emilymarion333

said...


I like the little faces...too bad. Cascadian Farms is in my hometown so we always bought this brand growing up.
At

2:52 PM on Wed Oct 29 2008

,

Ein2015

said...


@emilymarion333: I second the liking of the faces. Nice story behind it, too!
At

11:21 AM on Wed Oct 29 2008

,

SkokieGuy

said...


I'm saddened by this. What a charming and cool tradition and why discontinue? Look at all the publicity this generated.



Dear Cascadian Farms:
The benefit of discontinuing the hidden faces is?
And what if, as commenter Angela
opined
:
HA! "Unspoken tribute" aka... the design studio probably snuck them in for fun and didn't bother to tell anyone else until after it got printed. I work in a design studio, I should know
Well then, maybe somebody in that design studio deserves a promotion to brand management.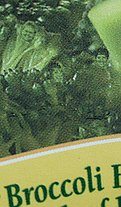 Elsewhere:
Posted by: Old Grouch in Rants at 23:49:55 GMT | No Comments | Add Comment
Post contains 813 words, total size 11 kb.
Comments are disabled. Post is locked.
75kb generated in CPU 0.03, elapsed 0.105 seconds.
51 queries taking 0.0874 seconds, 207 records returned.
Powered by Minx 1.1.6c-pink.