Friday, 08 June 2007

Magic (?) box
(Day late, but wotthehel!)
Today in 1946 [actually June 7th, see note], television in Britain resumed after the war. The announcer Leslie Mitchell said: "As I was saying before I was so rudely interrupted ..."
Which is sufficient excuse for posting some television history links:
John Logie Baird
produced the first moving television image (in 1925) and the first public transmissions (at 30 lines!) in 1930.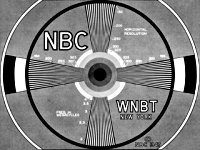 Test Cards
-- rarely seen nowadays.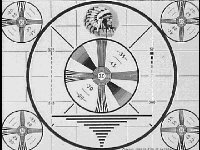 Not from a card, but from a tube. The RCA "Indian Head" monoscope image. Chuck Pharis recovered the original artwork, and has
prints for sale
.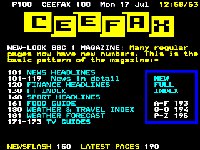 Teletext
never got off the ground in the U.S., but elsewhere...

NBC, ABC, and CBS
color presentation logos
from the '50s and '60s. (That's not a logo, that's Uncle Miltie!)

More to come...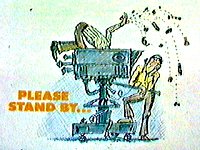 Posted by: Old Grouch in Linkage at 05:17:08 GMT | No Comments | Add Comment
Post contains 127 words, total size 3 kb.
Comments are disabled. Post is locked.
67kb generated in CPU 0.05, elapsed 0.1827 seconds.
51 queries taking 0.155 seconds, 207 records returned.
Powered by Minx 1.1.6c-pink.